With the lion's share of China's domestic narrowbody cabins still disconnected, Lufthansa Technik and Honeywell are eager to gain a foothold in the market with a China-approved Ka-band IFC solution that will talk to the ChinaSat 16 satellite when flying in the region but can be easily tweaked to support Inmarsat Global Xpress service elsewhere.
"Lufthansa Technik can now offer a Supplemental Type Certificate (STC) in China for an inflight connectivity solution on Airbus A320 family aircraft," said MRO giant Lufthansa Technik in a 9 August statement, after its EASA STC covering installs of Honeywell's JetWave satcom hardware — already executed on over 300 A320ceo and neo aircraft in Europe — was validated by the Civil Aviation Authority of China (CAAC).
This specific hardware and software package for the China market is branded by Honeywell as MCS-8420, and features "a software solution that gives flexibility, with a more capable antenna to make better use of the spectrum in China at the same time", Honeywell Aerospace vice president and general manager, software and services John Peterson later explained to Runway Girl Network in an interview.
He didn't mince words when he said: "I want them all" in reference to disconnected tails operating domestic flights in China and those overflying China. But, to get started, he said: "We're after the narrowbodies that fly a mission inside of China and we imagine that it will expand out into the widebodies over time."
Multiple parties came together to ensure the solution met China's stringent requirements, and to facilitate roaming on GX when required. Peterson noted:
What we've done is we've worked with ChinaSat and Inmarsat and all of the Chinese authorities. Ameco [a JV between Air China and Lufthansa] is a big part of what we're doing there. To put it all together requires a big team. What Honeywell is doing is constantly reinvesting in the right technologies to keep moving them forward. We've reinvested in the JetWave system.

The antenna and what the system has been advanced to do is to not only work on ChinaSat's network, but if an airline wants to roam, it was important for airlines to roam on Inmarsat's [GX] network when not on the ChinaSat network so that they have seamless coverage for international operations.
For its part, Lufthansa Technik adapted the aircraft installation to meet Chinese requirements. Company head of connectivity solutions Lukas Bucher explained:
Technically speaking, the antenna and the modem have to be able to talk to the available satellite and respective ground infrastructure. Since the Chinese infrastructure is different to the Inmarsat infrastructure, the units were modified adequately. This also included the different certification of the unit and PMA [parts manufacturer approval] to cover the new part numbers.

Aircraft integration and certification must adhere to the local Chinese regulators' requirements. As part of the validation process such was assured.

The current EASA STC (in revision 11) already covers the majority of the A320fam aircraft that were ever delivered; while not yet covered sub-models and weight variants are added upon specific request within a few months.

Eventual certification is always aircraft specific (per individual MSN), based on the STC already covering the aircraft type (A319, A320 or A321), the sub-model (e.g. A320-312,…) and the weight variant. As part of the detailed agreement with the specific operator, Lufthansa Technik will support aircraft surveys, check the specific aircraft configuration for 'individuality' and certify any aircraft specific deviations. In other areas of the world such work would be referred to as redlining. All of the above has already happened or happens continuously as part of the specific projects.
Lufthansa Technik and Honeywell are certainly not the first to provide an IFC solution that will talk to ChinaSat 16. Qingdao Airlines has been fitting its A320 family aircraft with Ka-band IFC from FTS. And an upstart IFC provider called Aerkomm Inc said last year it is working with Airbus Interior Services, ThinKom Solutions and Kontron on a Ka IFC system for Hong Kong Airlines that will operate via ChinaSat 16. But Honeywell's MCS-8420 JetWave system, with Lufthansa Technik's CAAC-approved STC, offers the advantage of being able to roam onto GX when outside of China. This functionality would require some small adjustments.
"We're not really changing the form or function but you want it to point to a different satellite so there will be small adjustments based on the modem configuration that they want. Some [airlines] may want a modem that is ChinaSat and Inmarsat; others may just want one that is just the ChinaSat modem [depending on how and where they deploy their aircraft]," said Peterson. He confirmed that Saint-Gobain, the radome provider for JetWave supporting GX, is providing the radome for this MCS-8420 solution.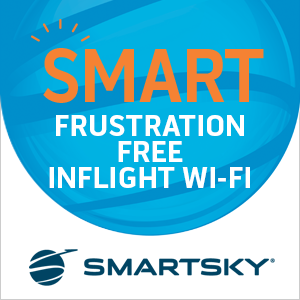 Crucially, Peterson stressed, as an aircraft moves out of the ChinaSat 16 footprint and onto a GX satellite, Honeywell's MCS-8420 JetWave system can redirect itself "and maintain that seamless coverage. And Honeywell, our ground infrastructure and the way we've built our software, we can keep the same IP address. So if you're doing something on an aircraft, say you're on a VPN, we'll hand that off. It doesn't break your connection. It seamlessly moves through the networks, providing that high level of passenger experience that the airlines want."
There were some technical hurdles be overcome, which Honeywell mainly managed with software. So, for instance, if a packet of data needs to terminate inside of China, "you need to deliver it inside of China, you can't terminate it one place and float it over to China, so basically it's a [proverbial] steel box nobody can see and that box never gets opened until it's at that Internet service provider in China. It's a key technical solution," said Peterson.
The Honeywell executives believes airlines will want consistency throughout their fleets, offering "the same solution". As such, he suggested that current EASA STCs covering JetWave for the 787, A350 and other types are natural candidates for pivoting to MCS-8420 once the CAAC signs off. "I would look at it from two perspectives. The first is updating the STCs in place for those who want to move to the new antenna and the second perspective is expanding the CAAC STC to other models in China."
Now identifying as a "software company", Honeywell has been advancing its software exponentially year-after-year. Peterson points to the MCS-8420's ability to securely work on the 29 GHz frequency and securely deliver to an ISP in China. "We're breaking away from just an antenna solution."
Related Articles:
Featured image credited to Lufthansa Technik