Something good is brewing in Burbank. At least that's my takeaway after spending a recent afternoon with the newest airline in the US, Avelo.
The bare-bones, few frills, ultra low-cost carrier (ULCC) arrived on the scene only a few weeks back, making its inaugural flight in late April. Aimed squarely at leisure travel, its self-described mission is "refreshingly smooth travel", with inexpensive tickets to and from its Burbank, California hub alongside a promise of a better, more streamlined travel experience.
The inexpensive tickets initially piqued my interest: as low as $19 one-way, systemwide. That works out to an incredibly low base fare of roughly $4, about the same price as a gallon of gas.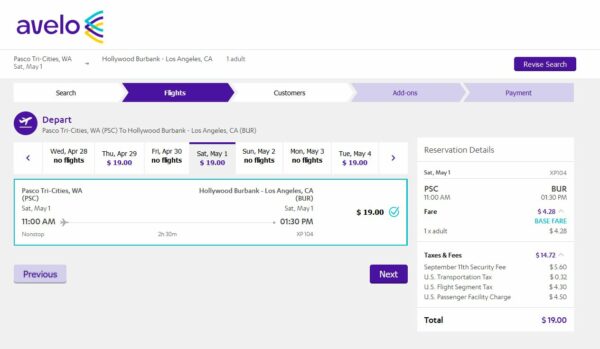 But it was the carrier's tagline — refreshingly smooth travel — that really got me interested. ULCCs in the US don't typically have fantastic reputations, and often for good reason. Take the booking process, for example. Far from streamlined, the hallmarks of purchasing a ULCC ticket are a maze of add-ons, bundle packages and upsell screens. The process is often confusing and can feel, at times, like the carrier is straight up obfuscating total out-of-pocket costs.
But that isn't the case with Avelo. The booking process is simple and easy to understand. Choose your flight, choose your date, and enter personal information. Add-ons — and remember this is a ULCC so everything is an add-on — are confined to a single page. Running totals appear clearly on the right hand side of the screen, updating the total cost with each selection. Then it is on to the credit card information before receiving a pdf ticket in your email inbox. The option to call Avelo's reservation line is free of charge.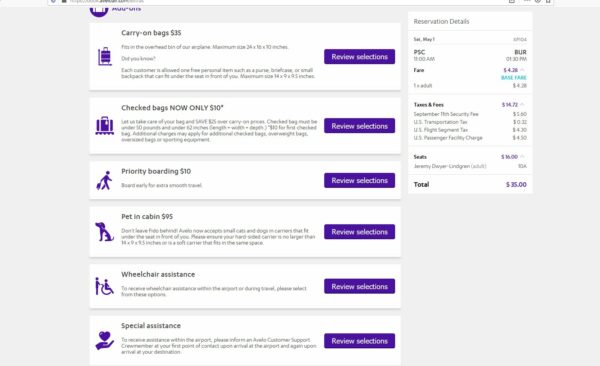 By the time I'd finished booking a one-way flight from Pasco, Washington to Burbank, just under three minutes had elapsed. And that included adding a $16 window seat up front. Grand total: $35.
Compare that to my recent experience with Frontier, where the booking process took the better part of fifteen minutes and a pad of paper to track how much I was spending (other than that, the Frontier passenger experience was fine for the price).
Avelo flies exclusively into smaller, more passenger friendly airports. Its current route network is a mix of secondary airports near bigger cities — think Burbank, its hub, instead of LAX — and underserved, smaller cities like Eugene, Oregon and Grand Junction, Colorado. Pasco fits into the latter category, a smaller underserved city in the southeast corner of Washington State.
Passengers can check in online, or — unlike some ULCCs — at the ticket counter for no additional charge. An attempt to check-in online didn't work out for me, not because of technical reasons but because of poor phrasing on the airline's COVID declaration page. So, I headed to the counter.
A small line had built up at the counter, where two employees were slowly but steadily printing tickets ($0), and checking bags (+$10 for the first, +$20 for the second). It was apparent that they hadn't quite settled into their new jobs yet, and second-guessing was common, especially for some of the more complicated bookings ahead of me. With no bags and nothing fancy, they seemed relieved to simply hand me a ticket.
Avelo does not yet have a relationship with TSA Pre, subjecting all passengers to the full TSA freedom search treatment. Not that it really mattered: as the only flight of the hour, the wait time was negligible.
The terminal itself is a stress-free delight: spacious and airy, with a few shops and restaurants to browse through prior to boarding. Seating was plentiful, and power ports easy to find. Big, floor-to-ceiling windows make for a great view too, not that there was much happening on a Saturday morning.
Boarding began on time, with the 60 or so passengers split into six groups. Apart from paid priority tickets (+$10), I couldn't tell you why six groups were necessary, or what the differences between them were. Meanwhile, on the ramp, a handful of old hands in the industry were busily teaching new hires how to work the underside of the airplane, aiming to make the scheduled 40-minute turn time.
Avelo operates without jetways at Pasco, as do most flights, instead using a roll-up gangway. Walking out to the airplane is a treat, I think.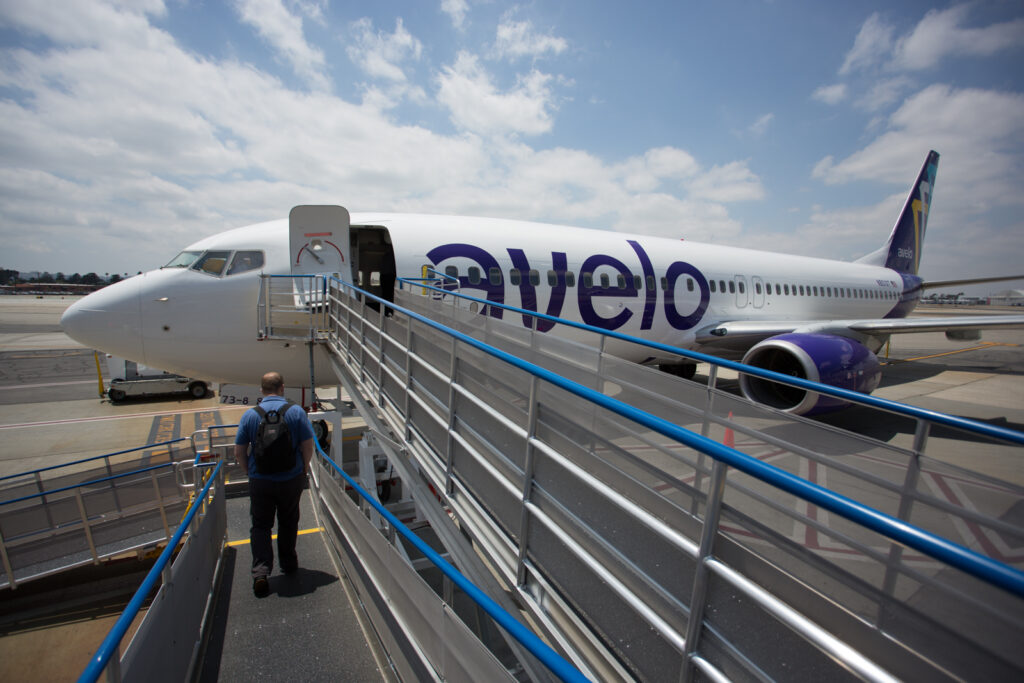 As I stepped onto the Boeing 737-800, a crew member in a smart, light grey uniform greeted me with a warm smile. The interior itself leans toward bland, with dark blue seats breaking up the otherwise off-white interior. Inoffensive light rock music wafted through the cabin as I took my seat in 10A (+$16, though seat selection ranges from $4 to $40).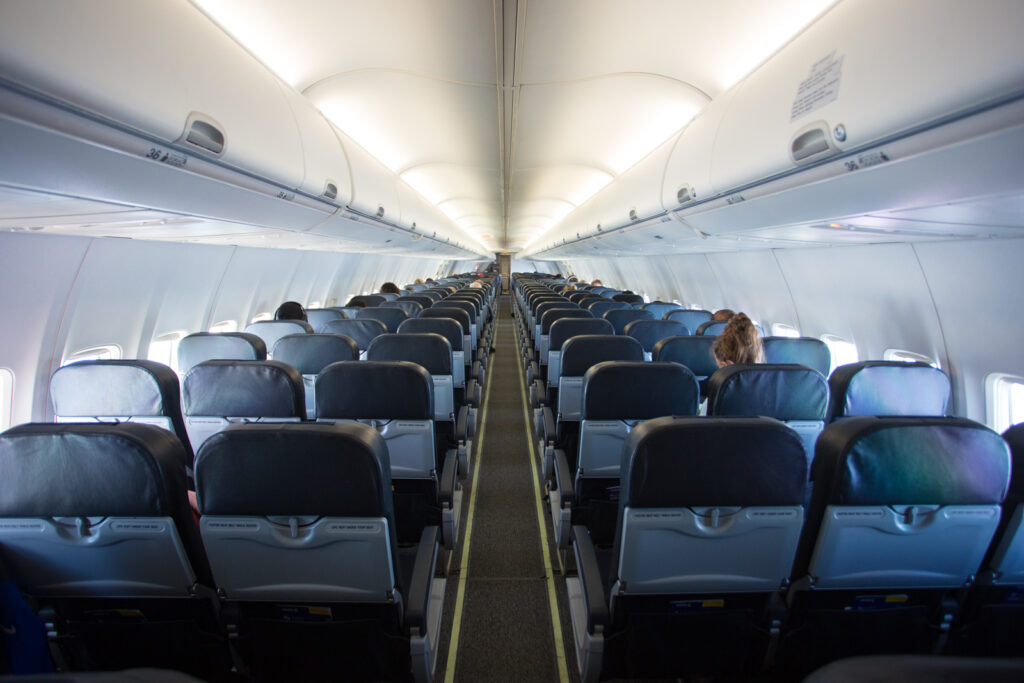 The airplane seats 189 in a 3-3 layout, literally the maximum that the airplane can carry legally. Unsurprisingly, that makes things tight. Though several rows have extra legroom, with seat pitch measuring between 31 and 34 inches, most of the cabin is subjected to a tight 29 inches.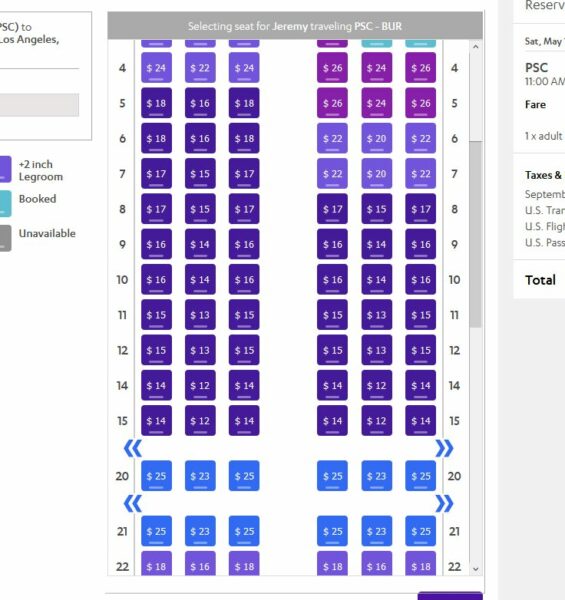 Yet, I was pleasantly surprised at the plush nature of the seat, even more so that it reclined. I'm on the leaner side and I welcomed its cushiness (larger passengers may prefer a more slimline profile, especially when the seat is pitched at 29″).
Though I had to awkwardly shimmy my way through the row anytime I needed to get in or out, I've flown on far less comfortable seats on non-ULCCs with some regularity. (Update: it appears the airline runs a few different seat types depending on the aircraft, and others have the increasingly common slimline seats).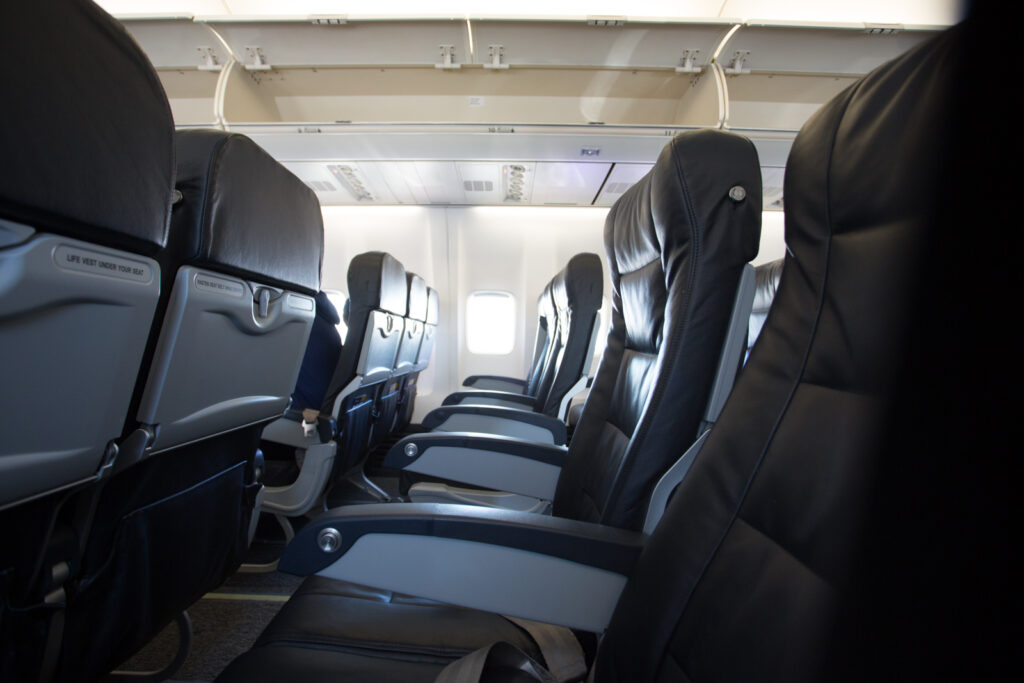 With a light load of less than sixty, there was plenty of overhead bin space. However, with a hefty add-on fee of $35 for carry-on bags, space is likely to be easy to find even on a full flight.
That same light load cost us a 20-minute delay, as the crew had to reseat most of the passengers ahead of row ten behind the wing to address a weight and balance issue.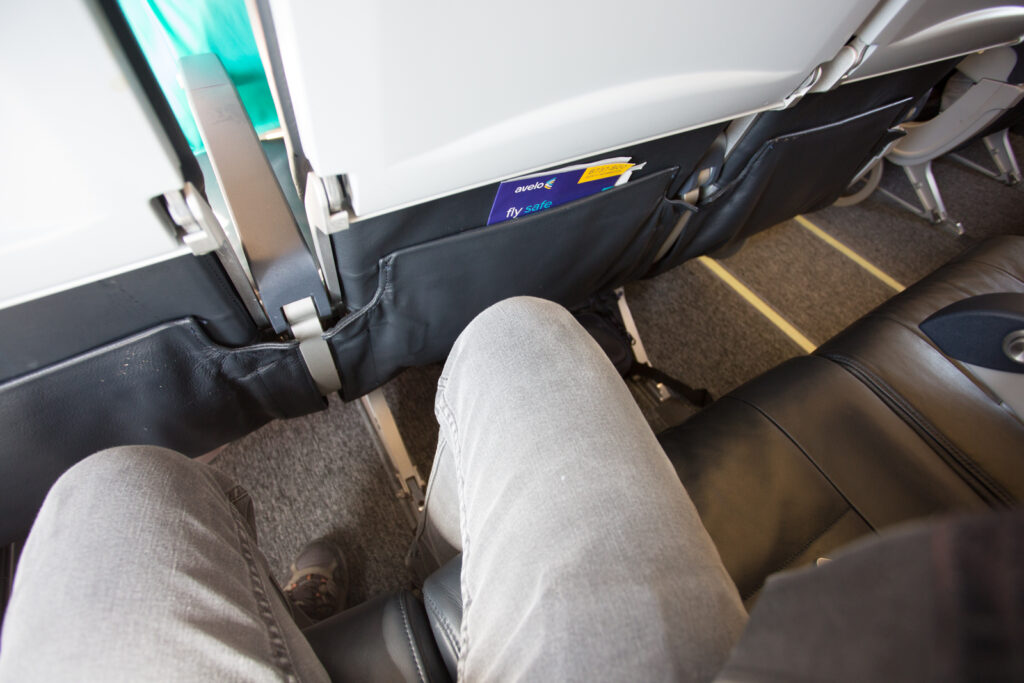 The airplane leapt off the runway and started the two-hour, 833-mile trek to Burbank. The incredibly friendly cabin crew came through early on to offer passengers a free snack pack. It was a modest affair: a bottle of water, cookie, napkin, and Purell packet sealed in branded plastic-wrap. Avelo has said it will offer buy-on board options down the road.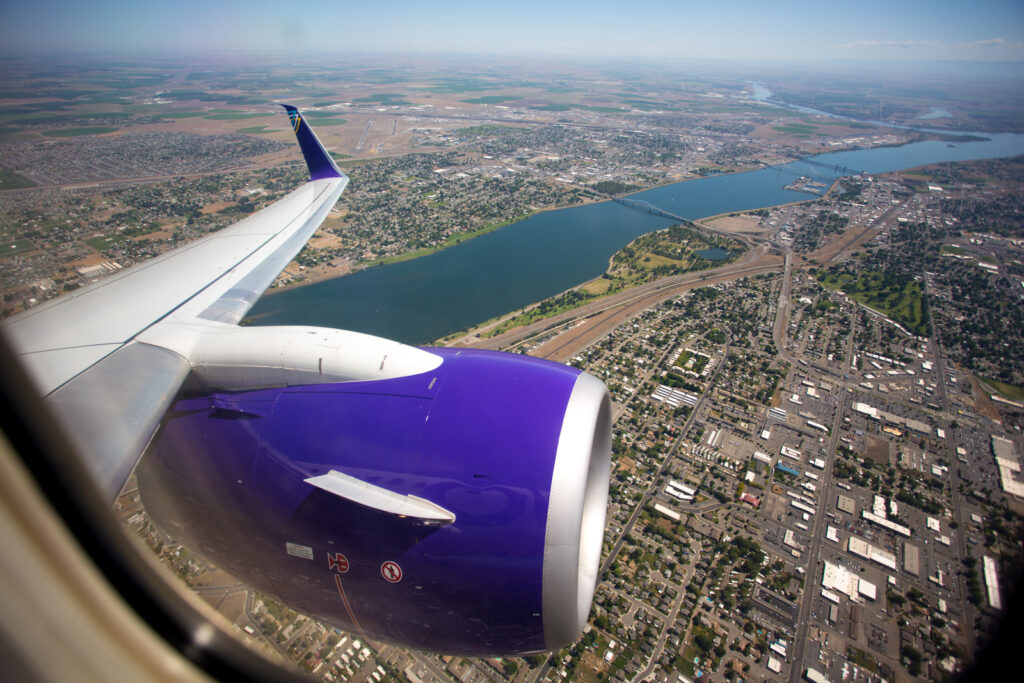 After that, there isn't much more to say. It's a ULCC, so there are no frills outside of the seat itself and the surprise snack pack. No power ports, no onboard Internet, no seatback or streaming inflight entertainment. Just the thrill of looking out the window or the excitement of reading a good book.
The landing in Burbank is always an adventure, thanks to its short runways and often-turbulent approach, but crews had us off in no time at all. Thanks to the airport's small size, I was out on the curb in minutes, enjoying the California sun.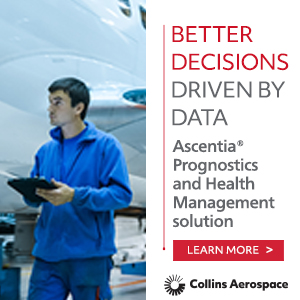 In the end, three things stuck out to me, and you might already have guessed what they are.
1. Website. I'm a big fan of the simple, intuitive user experience. That is just not how it usually goes with other ULCCs, and if Avelo is serious about its "refreshingly smooth travel" mantra, it will hold onto this.
2. Fees. First, as noted above, they are easy to understand. Second, the price points are on par with competitors or cheaper. Sometimes substantially so. Take checked bags for example. It costs the same amount to check two bags on Avelo — $30 — as it does to check a single bag on Alaska, Delta, or United. Fellow ULCCs Allegiant, Frontier, and Spirit cost more and come with confusing charts and/or mini website to figure out exact amounts, though total costs can be lowered through bundled fares.
It did not go unnoticed, too, that Avelo doesn't charge at all for things that others charge for, like talking to a person at the counter, talking to someone at reservations, or changing a reservation. Part of me wonders how long these will last. After all, there's a reason ULCCs can afford jaw-dropping low base fares, but it sure would be nice to see that structure stay.
3. The airport choice. Smaller regional airports are usually less stressful and more enjoyable than their bigger counterparts, and neither Burbank nor Pasco proved an exception. Sure, Burbank isn't exactly the nicest airport in the LA area, but it was easy. The only potential drawback is that such facilities don't always have reliable or consistent mass transit connections, but perhaps that's something home cities can work on improving where needed.
At least in my experience, Avelo polished off many of the rough edges I tend to associate with ULCC flying in the US. Something refreshingly good is brewing in Burbank. And if you ask me, it's Avelo.
Related Articles:
All images credited to Jeremy Dwyer-Lindgren