After securing all international inflight rights to IMG's popular Sport 24 and Sport 24 Extra channels, Panasonic Avionics early this year revealed it had begun working with other inflight connectivity providers to ensure they can pick up its live sports streams on behalf of their airline customers. Now, Viasat has emerged as the first IFC provider to do so.
"I can confirm that Viasat is the first IFC provider we have worked with to deliver Sport 24 and JetBlue is the launch airline customer," a Panasonic spokesman told Runway Girl Network after the Lake Forest, California-based firm announced it will provide Sport 24 on board JetBlue's A321LR, which will operate the carrier's new transatlantic service to London later this year.
The A321LR is fitted with Thales AVANT monitors and Viasat's inflight connectivity network. A JetBlue spokeswoman confirmed that Sport 24 will be part of the carrier's live television line-up on these long-range narrowbody aircraft:
Yes, Sport 24 will be one of the live TV channels we'll have onboard, in addition to CNN International, BBC, CNBC and Sky News.

Live TV will be available on the seatback screens only.
Given that Sport 24 will ride on Viasat's Ka-band satellite-based Internet service, but be shown over Thales' 10.1 inch, 1080P high definition screens, this is an intriguing integration project. After all, Panasonic is accustomed to competing with Thales and Viasat to provide IFEC hardware to airlines. In this instance, it is providing exclusive content.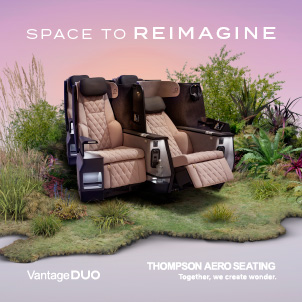 But the news isn't terribly surprising either. Dominic Green, senior director of digital product management at Panasonic Avionics, told RGN in January that the firm's deal with IMG "basically places us as a gatekeeper exclusively for Sport 24 channels for the inflight market", enabling Panasonic to provide the channels to any airline, regardless of the IFE system or connectivity network they use.
That puts Panasonic in an enviable position. Broadcasting 24-hours a day, 365 days a year, Sport 24 features live action from the world's top sporting events, including the NFL, NBA, NHL, all four Tennis Grand Slams, all four Golf Majors, the NRL, the UEFA Champions League, English Premier League, Bundesliga, and more. Green noted that there are "no other globally available live sports channels" outside of Sport 24 and Sport 24 Extra.
"We're thrilled to be working with JetBlue to bring the world's best sporting action to their passengers, live in-flight," said Panasonic Avionics CEO Ken Sain in a statement. "This reinforces Panasonic's ability to offer its services to any airline, on any inflight connectivity provider. Together with JetBlue, we are making flying something that passengers can look forward to, again."
Mariya Stoyanova, director of product development, JetBlue, added: "JetBlue's commitment to our customers' onboard experience is one we take extremely seriously. Installing this award-winning live sports platform on our new international fleet of A321LRs will ensure they remain entertained and connected at 30,000ft."
Related Articles:
Featured image credited to JetBlue