While New York City and the country reeled from the effects of Covid-19, the overhaul of LaGuardia Airport continued on course.
In June 2020, LaGuardia's new Terminal B Headhouse opened to the flying public, when air traffic was at its lowest levels in modern history.
But because the new terminal opened at a time when many people were avoiding air travel entirely, a lot of folks are only just now discovering the brand new structure that replaces the prior decrepit Central Terminal Building.
Last week, your author got the chance to fly from LaGuardia and check out the new building. I must say that the changes are incredible.
Step into the facility from the parking garage or bus stop and you are greeted not by low ceilings, dim lighting and cramped check-in areas, but by a comparatively enormous main hall flooded with natural light with actual room to spread out.
The change is as dramatic as it could possibly be. It's immediately clear that this is no longer your grandfather's LaGuardia.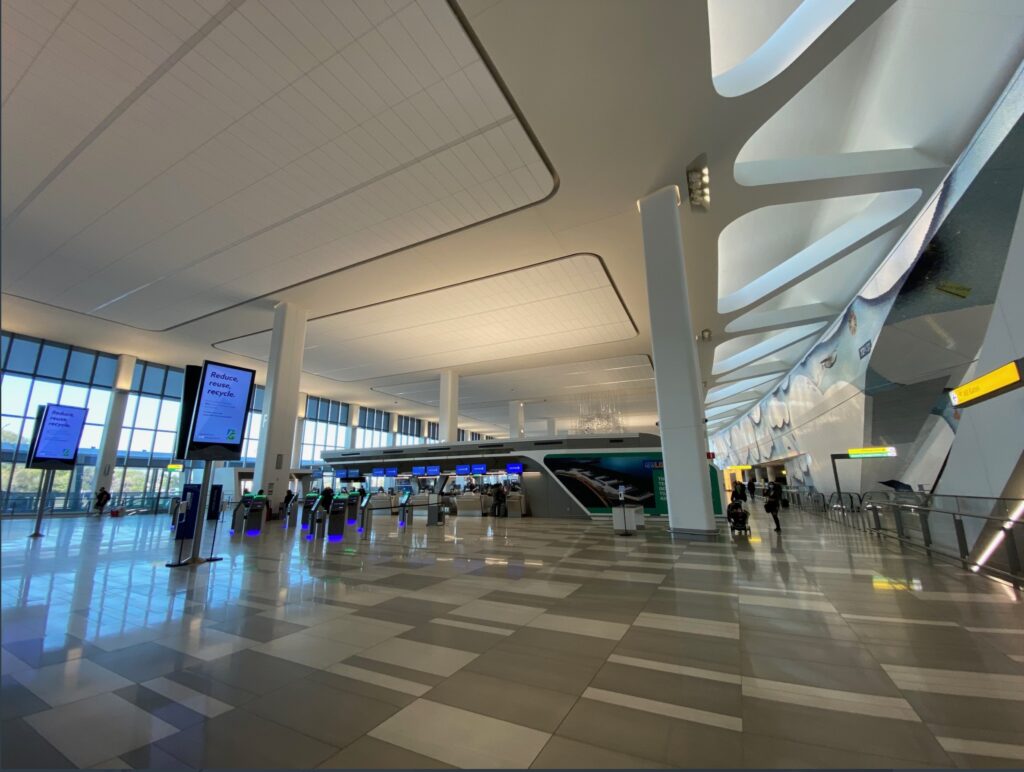 The four airlines currently using the new Headhouse (American, Southwest, United and Air Canada) are spread across four check-in counter piers with ample space separating each kiosk.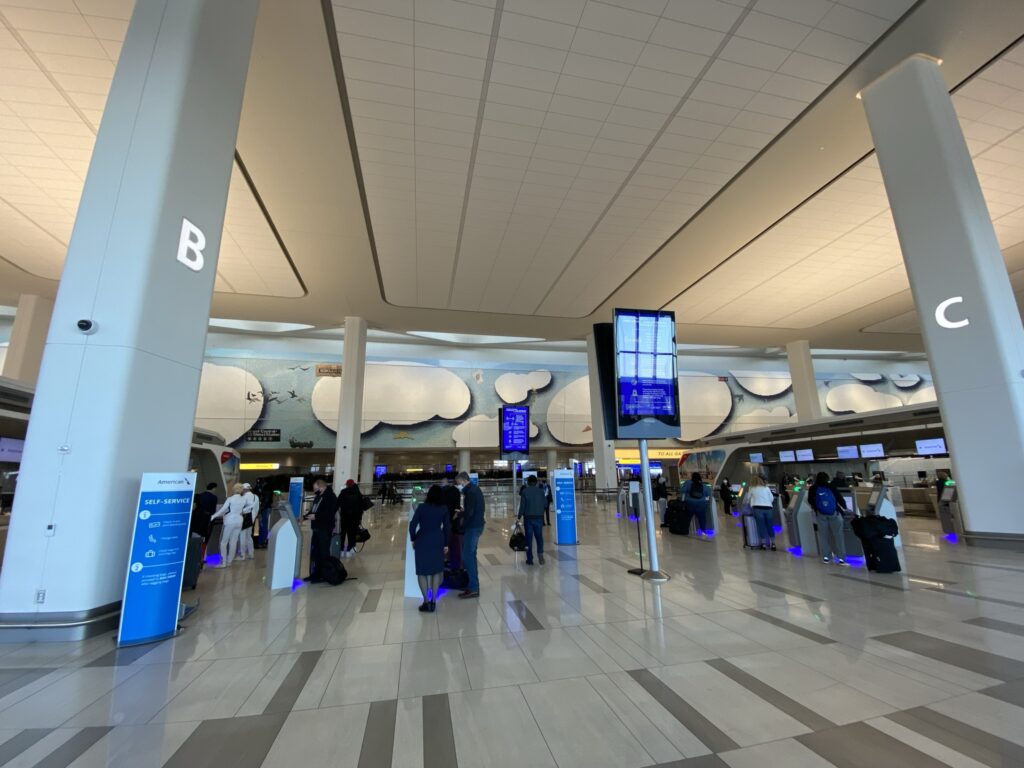 Artwork is a major theme throughout the new space and starts on a large scale in the check-in hall. The northern wall of the building is lined end-to-end with a subway-inspired tiled mosaic mural, featuring various New York City icons.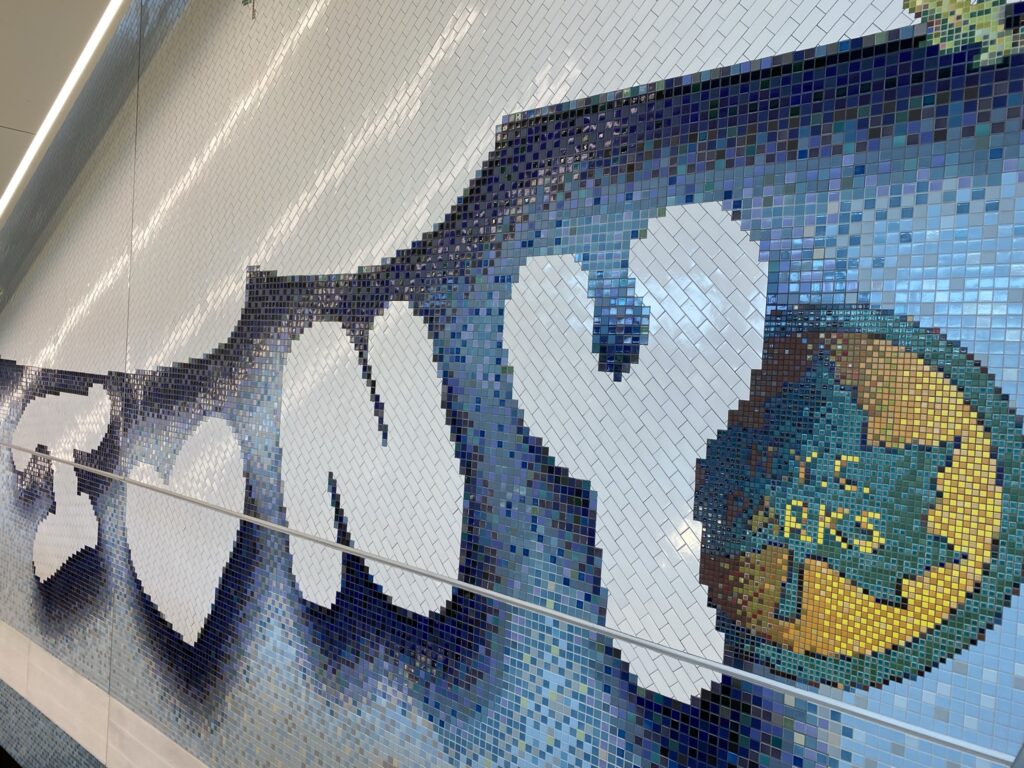 An aluminum and steel centerpiece titled "Shorter than the Day" hangs right in the center of the hall.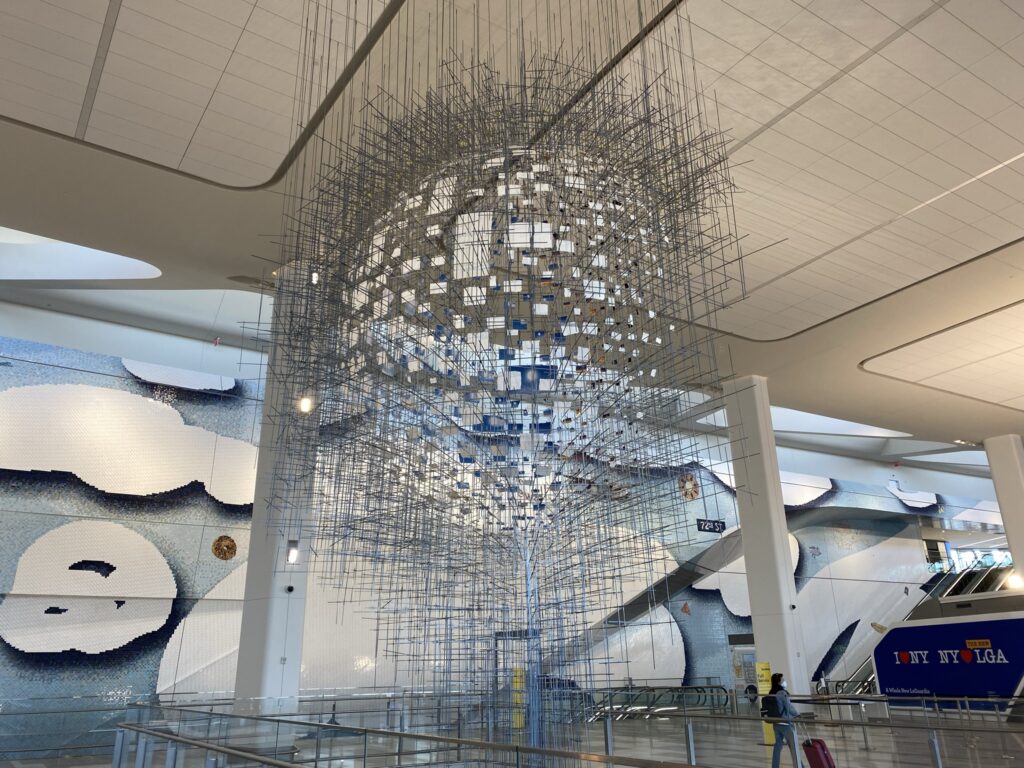 A new TSA checkpoint also represents a stark contrast to the old terminal, properly splitting out regular and TSA Precheck passengers into two different streams. The security hall looks as if it could easily handle the busiest of holiday travel days so long as TSA properly staffs it.
There is also ample space on the other side of security for passengers to reorient themselves. After security, passengers travel up escalators into what is essentially a small duty free maze, albeit without the duty free benefit.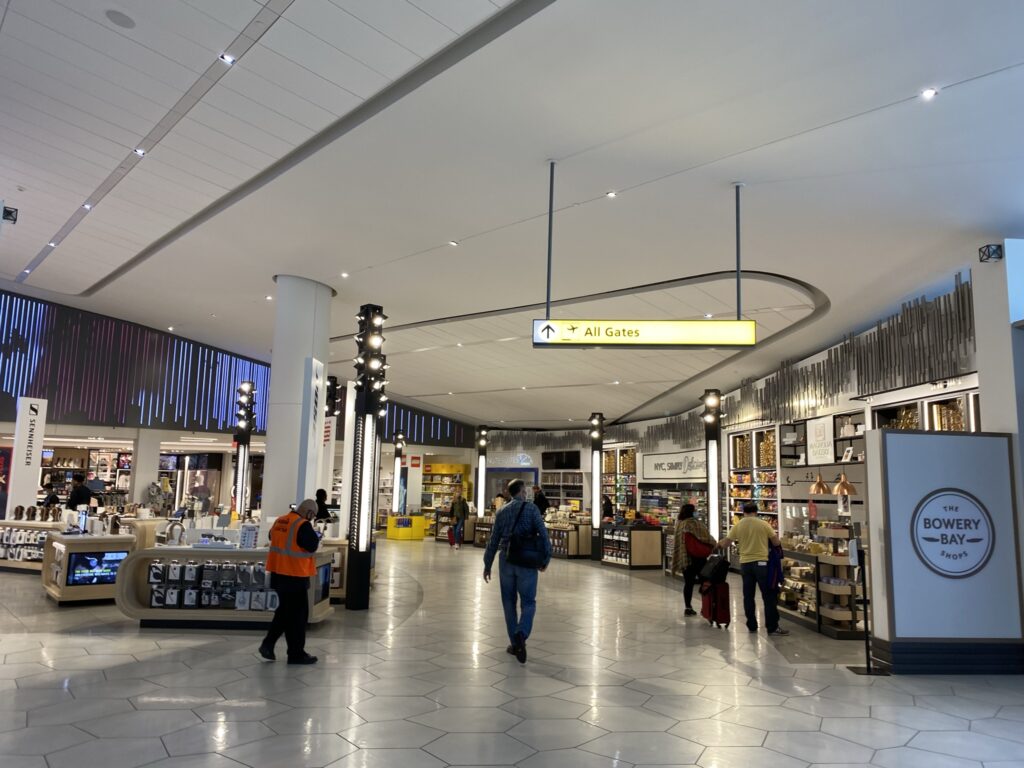 Once through the maze, passengers find themselves in the main departure hall and food court, and this is where the phones really come out to take pictures.
LaGuardia used to be famous for its previous water features like missing ceiling tiles and garden hoses that collected leaking roof water into garbage cans.
Now, however, front and center in the food court is a water feature that many are comparing to a miniature version of Singapore Changi's Rain Vortex.
The water feature has a light show synced with music that touts various New York icons and runs every 15 minutes. The new LaGuardia really wants you to know that you are in New York and not let you forget it.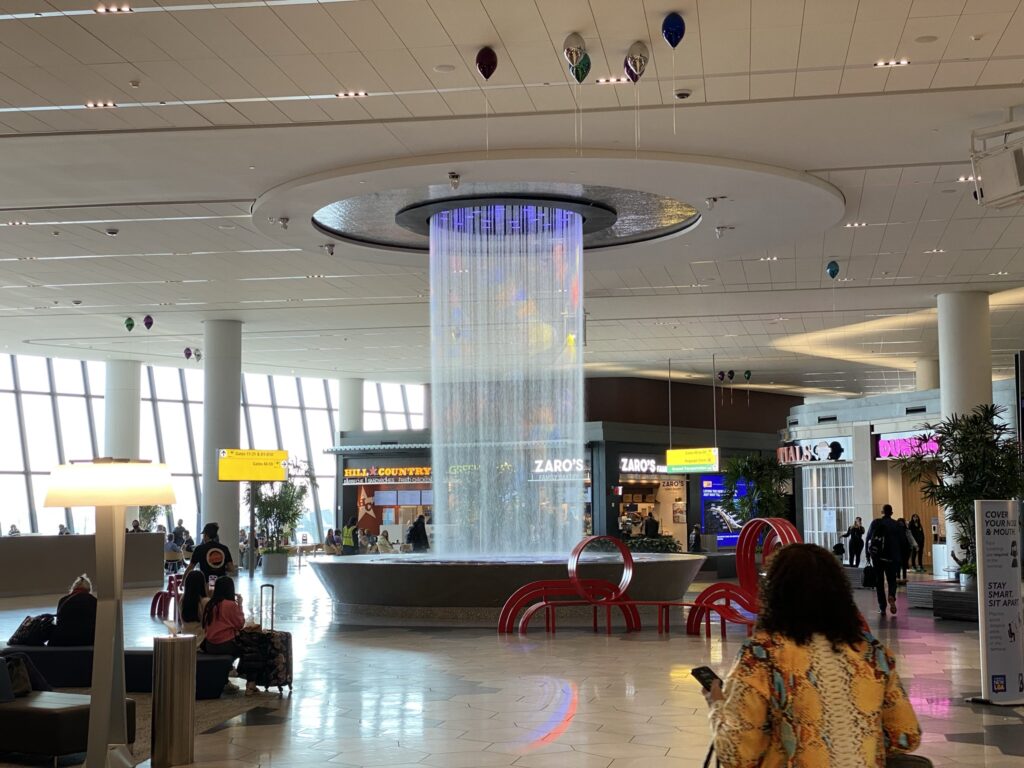 While the old terminal building did have a food court, modern security needs meant that it sat outside of security where most passengers did not go.
The new food court at Terminal B Headhouse features multiple options, including Brooklyn's own Junior's Cheesecake, Hill Country BBQ, and Zaro's bakery.
Once again, large windows flood the hall with natural light and views of Flushing Bay. I'm not sure if it is due to insufficient space or social distancing, but a packed house may see a lack of tables for passengers to dine comfortably at.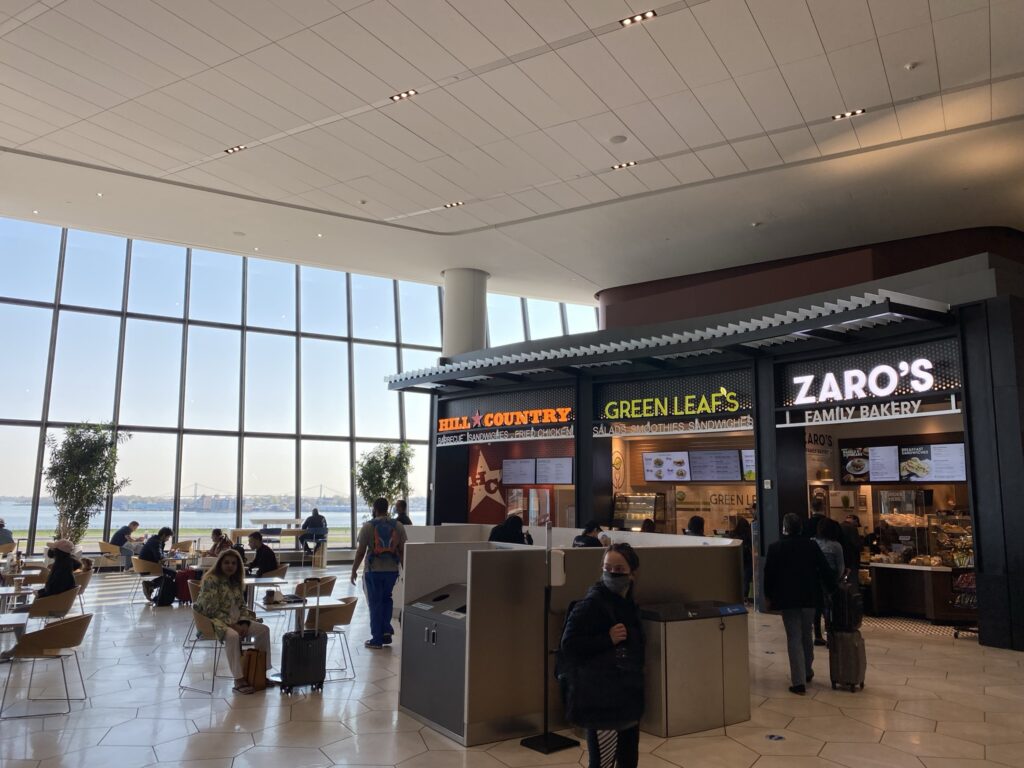 Passengers are currently guided to one of the two new concourses or to the last remaining old departure concourse of the Central Terminal Building.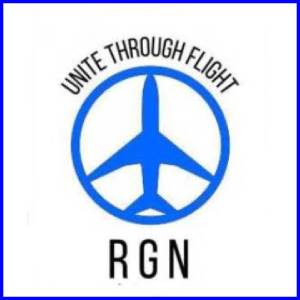 On this trip I pulled the short straw and ended up back in the 1960s in the old concourse, the D pier.
Here, the lighting is dim, gate areas are woefully undersized, and everything is basically the complete opposite of what I had just walked through.
The last new concourse is scheduled to be completed in 2022.
Opening in the worst days of a pandemic was unfortunate timing, but it did allow the Port Authority and Terminal B to work out all of the early hiccups and finishing touches to have something truly ready for passengers once they returned to the skies.
As a lot of people begin to rediscover air travel, many will be surprised and delighted by what the new LaGuardia is offering.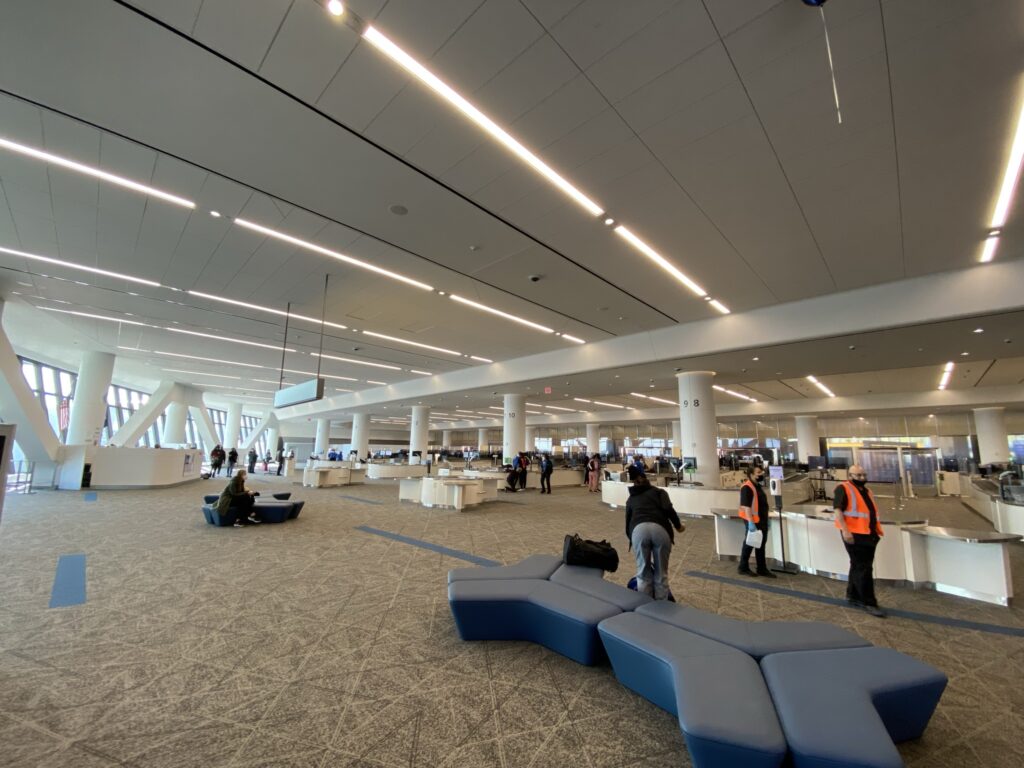 Related Articles:
All images credited to Jason Rabinowitz