Panasonic Avionics has today announced the appointment of Andrew (Andy) Masson as Vice President of Product & Portfolio Management.
Andy joins Panasonic from Adient Aerospace, Boeing's aircraft seat joint venture with Adient, where he served as CEO.
At Panasonic, Andy will lead its global Product & Portfolio Management team and guide the company's product and services strategy to deliver innovations and value to customers. He will improve and expand customer-focused product management processes and manage development and execution across the product lifecycle for Panasonic's market-leading IFEC products, digital solutions and aftermarket services.
Andy will report to Ken Sain, Chief Executive Officer of Panasonic Avionics. Sain says: "I am confident that Andy's broad and relevant experience, track record and enthusiasm will greatly enhance Panasonic's product portfolio to benefit customers worldwide.  He will build upon a legacy of innovation as we continually strive to make flying an experience everyone looks forward to."
Prior to his tenure with Adient Aerospace, Andy held several leadership positions at Boeing, including Director of Engineering and Chief Engineer for Modifications and Freighter Conversions, and Director of Interior Modifications and Inflight Entertainment (IFE).  Andy also served as Executive Vice President, Engineering and Operations for Continental Data Graphics (CDG) and UK Managing Director.  He began his career at CDG as Operations Director, 787 Operations Manager and Service Bulletin Retrofit Engineer.
Andy holds a Master of Business Administration and a Bachelor of Engineering degree from the University of Hertfordshire in the UK and will be based in Irvine, California.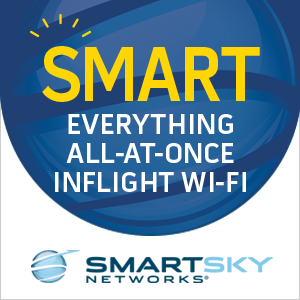 About Panasonic Avionics Corporation  
Panasonic Avionics Corporation is the world's leading supplier of inflight entertainment and communication systems. The company's best-in-class solutions, supported by professional maintenance services, fully integrate with the cabin enabling its customers to deliver the ultimate travel experiences with a rich variety of entertainment choices, resulting in improved quality communication systems and solutions, reduced time-to-market and lower overall costs.
Established in 1979, Panasonic Avionics Corporation, a U.S. corporation, is a subsidiary of Panasonic Corporation of North America, the principal North American subsidiary of Panasonic Corporation. Headquartered in Lake Forest, California with over 3,500 employees and operations in 60 global locations, it has delivered over 15,400 IFE systems and 2,500 in-flight connectivity solutions to the world's leading airlines.
Featured image credited to istock.com/JakeOlimb