AVIC Cabin Systems (ACS) in recent years has, through its cadre of aircraft interiors businesses, introduced a collection of innovative passenger experience products designed specifically for supporting the growing demand for single-aisle aircraft. The integrated group company's latest premium seat, the VantageSOLO suite made by its Northern Ireland-based Thompson Aero Seating unit, is being rolled out by JetBlue, starting this summer.
But other economy, business class and galley products for narrowbodies are in the works, ACS revealed today.
"The possibilities for single-aisle aircraft are rapidly growing, with longer-range flights being regularly introduced. Whilst the distances are possible, it is vital that airlines also make the journeys comfortable and pleasurable. ACS is working to introduce bespoke products that will align the single-aisle long-range passenger experience with twin-aisle," said company VP commercial Andy Morris in a statement.
For instance, ACS's China-based seating specialist, Jiatai, is now developing a new economy-class seat, the JT32XE, designed specifically for extended-range single aisle platforms. Morris noted that the new seat is targeted for the Chinese market. For business class, Jiatai will also be introducing the JT220B seat, said the firm.
ACS's AIM Altitude unit, meanwhile, is offering a new single-aisle galley concept, which will be launched later this year. A photo provided by the firm revealed the concept to be based on its groundbreaking ARCA galley design — a Crystal Cabin Award finalist — which takes a timely boxed-up approach to overall meal storage and delivery, with meals stored in aesthetically pleasing full-height fridges. This, however, is the widebody version of ARCA.
The concept for single-aisle aircraft will offer "a reduced footprint, enabling greater cabin density or, alternatively for longer range flights, more space for additional hot meals and snacks within the current galley footprint," said the firm.
ACS is riding a wave of excitement, after JetBlue took a fully bespoke version of Thompson Aero Seating's VantageSOLO for its 'Mint 2.0'-branded business class suite, pictured at top. All seats feature suite doors which is a first for a business class cabin on an A321.
VantageSOLO, as a baseline architecture, adds ACS, "has been developed and designed specifically in response to the rapidly emerging medium- to long-range market now being serviced by single-aisle aircraft. From only a 33" seat pitch, the VantageSOLO offers a fully horizontal flat-bed with direct aisle access for every seat."
Meanwhile, a new LAV4ALL design, developed by ACS's Austrian MRO provider FACC Aftermarket Services, seeks to make narrowbody lavatories accessible while occupying the same compact space as existing lavs, as reported by RGN last year.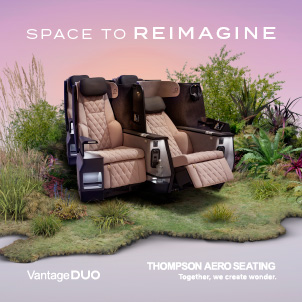 "FACC's LAV4ALL is a completely barrier-free lavatory for passengers with reduced mobility," explained ACS in its statement today.
"With the same external dimensions of a standard A320 lavatory, the tapered geometry offers passengers significantly more space. The arrangement has been devised so that people who use wheelchairs can use the LAV4ALL without any assistance for lifting. A carer can be accommodated, the available space being much larger than in conventional aircraft lavatories."
As accessibility advocates have pointed out, there is an urgency to ensuring that narrowbody aircraft lavatories are accessible. Airlines increasingly rely on smaller aircraft to make longer flights, a trend that is only expected to increase as industry adapts to new market conditions after the COVID-19 crisis. Today's tiny lavs create an untenable situation for disabled passengers. LAV4ALL seeks to address these issues.
"Even the mirror is adjustable, offering reduced-mobility passengers the same facilities as able passengers. The LAV4ALL is designed to support passengers with other additional needs, such as hearing-impairment, or parents requiring baby changing facilities," said ACS.
Morris is excited that AVIC Cabin Systems' brands are able to come together in this fashion "to make a complete offering for  airlines. We are very much looking forward to more collaborations like this, which will  benefit airlines in terms of innovation, differentiation, and profit margins."
Featured image of JetBlue's implementation of VantageSOLO credited to JetBlue, provided by AVIC Cabin Systems