Bluebox Aviation Systems and dnata catering Australia have signed a Memorandum of Understanding to develop and market offerings based on the deployment of Bluebox wireless in-flight entertainment (IFE) solutions across Australia, New Zealand and a number of other Pacific Ocean territories.
The companies will support each other in product customisation and processes for delivering joint solutions to customers in the region.
"COVID-19 has changed the landscape for in-flight catering and logistics, and by partnering with Bluebox we'll be able to help our customers mitigate some of the restrictions required in this new touch-free world. This means allowing airlines to minimise contact and dialogue between passengers and cabin crew but still delivering an excellent service and a full range of food, drinks and retail goods that are such an essential part of the ancillary revenue income for many airlines," said Duncan Greeney, General Manager Retail, dnata catering.
"Aiming to appear seamless to passengers, integrating complex systems – in this case an IFE platform and catering logistics – can actually be quite complex technically, and in the present climate our customers need solutions that are simple and quick to deploy. By establishing this formal partnership with Bluebox – with its award-winning and rapidly deployable W-IFE systems – we're positioning ourselves to resolve current constraints and keep our customers' on-board services running smoothly and safely."
"IFE as we knew it was already evolving to deliver so much more than in-flight entertainment, and COVID-19 expedited our delivery of touch-free payments for on-board retail and the digitisation of materials that support ancillary revenue generation, such as digital menus and magazines which provide significant advertising revenue for airlines," said David Brown, Business Development Director, Bluebox.
"Now, though we have the expertise in the passenger interface, content integration, secure payments and the wireless technology to deliver it all, by partnering with dnata catering we can expand the platform further into the on-board logistics systems, integrating the catering and retail elements they provide. So we're really delivering an in-flight engagement platform for enhancing the passenger experience on board – still 'IFE', but well beyond entertainment."
Added Brown: "We are committed to having partners to support our commercial and technical activities where we think that best serves the market. With dnata now part of our partner network, we are able to deliver comprehensive propositions into markets where they have much more extensive reach."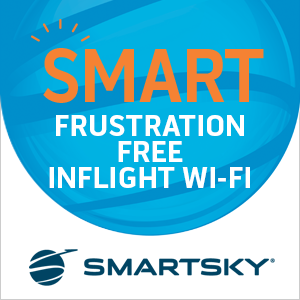 About Bluebox Aviation Systems Ltd.
Bluebox Aviation Systems Ltd. specialises in software solutions for the aviation industry. The Bluebox in-flight entertainment (IFE) portfolio provides airlines the latest technology to enhance the passenger experience with cost-effective and revenue-generating alternatives to seatback IFE systems.
Bluebox wireless IFE software is available on a range of hardware platforms to provide services on passengers' own devices, including on-board retail and IFE content (movies, TV, audio, games and other digital content), in any aircraft cabin. As part of any wireless IFE deployment, Bluebox also provides user interface development, content integration, and ongoing system support.
Headquartered in Dunfermline, Scotland, Bluebox has a global support network in Europe, the US, Australia and Singapore.
About dnata catering
dnata is one of the world's largest air services providers, offering ground handling, cargo, catering and travel services to more than 300 airlines in over 30 countries on 6 continents. The company's catering division has a dedicated team of employees delivering high-quality catering, inflight retail and food & beverage solutions from 65 facilities in 12 countries.
dnata catering is Australia's largest inflight caterer, with operations in all major Australian cities, and employing over 3,000 people. As well as traditional inflight catering services, dnata catering provides a range of ancillary services for airlines, managing buy-on-board catering programmes, providing inflight retail technology, training and marketing solutions and operating airport lounges