India's Ministry of Civil Aviation currently disallows the use of in-seat entertainment touchscreens on board Indian carriers as a health and safety measure to help prevent the spread of COVID-19. But sources tell Runway Girl Network that operators will be permitted to offer seatback IFE from 25 November.
Still, the news comes as a bit of a blow to full-service carrier Vistara, which presently plans to launch thrice-weekly Boeing 787-9 service to London on 28 August, followed by 787-9 flights to Frankfurt and Paris.
It would seem that Vistara's promise to "provide a premium and world-class flying experience to travelers from and to India" will not be fully realized for at least two months.
Owned by Tata and Singapore Airlines, Vistara took delivery of its first 787-9 in March. A second 787-9 arrived on 15 August, India's 73rd Independence Day. The carrier also recently accepted delivery of its first Airbus A321neo. Both aircraft types are installed with Panasonic's X Series in-seat IFE system, as well as Panasonic's Ku-band satellite-supported inflight connectivity service.
Vistara is also the launch customer for Panasonic's new Arc inflight map and e-commerce platform, as well as gaming, which is part of Panasonic's new "Theatre" solution. This content is expected to be available on international flights once the in-seat IFE system is activated on the 787-9s.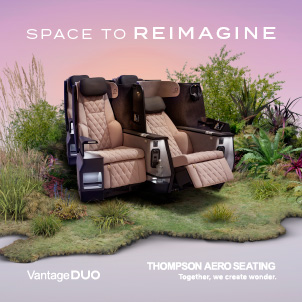 The Indian carrier also hopes to provide onboard Internet to passengers on 25 November, in tandem with seatback IFE. Unwilling to share specifics on pricing of the Internet service on board, Vistara chief commercial officer Vinod Kannan said: "We will have better clarity of revenue once the pricing has been finalized and the service is ready to be launched post all approvals."
RGN has learned that talks are underway with telcos Bharti Airtel and Jio concerning inflight mobile connectivity charges (whereby passengers could use their own mobile data on board and be billed monthly).
"Passengers can access the Internet through onboard Wi-Fi, 3G mobile data through GSM and GPRS for SMS and MMS services, subject to necessary regulatory approvals," said Vistara in a statement released earlier this year.
Vistara's newly-delivered Airbus A321neo, meanwhile, is intended for use on short to medium-haul routes. The carrier expects to start flying domestic routes with the type before the end of the week, once regulatory approvals are cleared.
International service to countries within 6-7 hours of flying time are also being eyed, as travel bubbles are agreed with nearby countries. Singapore is a strong contender.
More broadly, a temporary ban on serving free food on domestic flights may have taken the shine off Vistara's full-service proposition, which is billed as being a differentiator for the carrier. However, the BlueBox Wow portable wireless platform aboard the carrier's A320s – which streams content to passengers' personal electronic devices – will continue to ensure a level of value-add, as industry grapples with the challenges of the COVID-19 crisis.
Image at top: Vistara 787-9 premium economy, and credited to the airline.
Related Articles: