Despite challenging conditions due to the COVID-19 crisis, Gogo Business Aviation is seeing sales momentum for its AVANCE L5-branded air-to-ground (ATG) connectivity system and little sister AVANCE L3. And it continues to boast thousands of satcom-fitted tails.
In a statement issued today, the Broomfield, Colorado-based Gogo unit said AVANCE L5, a 4G system, is now installed and flying on 1,000 business jets, a milestone reached "in less than three years following the first installation". Additionally, Gogo is nearing 450 installations for its AVANCE L3 kit, a smaller, less expensive system that delivers 3G speeds.
At the end of the second quarter 2020, Gogo Business Aviation reported 5,399 aircraft flying with its air-to-ground systems, including legacy ATG solutions, and 4,704 aircraft flying with satellite systems on board.
Runway Girl Network sought color about the satcom-fitted tails. Gogo Business Aviation director of public relations and communications Dave Mellin said: "We have approximately 4,500 aircraft with Iridium and just under 200 with [Inmarsat] SwiftBroadband. There are a few with both systems on board. We have five VVIP aircraft flying with 2Ku and a couple more that are being installed currently."
A few years ago, Gogo announced it would be a global provider of high throughput Ku connectivity to the business aviation community offering "nominal speeds of 25 Mbps". The solution was to feature a tail-mount antenna system for Gulfstreams, Dassault jets, and other types.
To date, however, Gogo's Ku IFC for business aviation has been tailored for VVIP aircraft types (such as BBJs and ACJs), using the 2Ku antenna hardware commonly seen on aircraft flown by Gogo's commercial airline customers. The network supporting 2Ku can achieve speeds of up to 70 Mbps, according to Gogo.
A tail-mount IFC solution for smaller business jets is not yet available, with Mellin confirming to RGN:
We do not at this time offer a tail-mount Ku solution for smaller jets.
There are other options in the market. Collins Aerospace and satellite operator SES are offering a new Ku-band IFC solution – branded LuxStream – for business aviation. The service is billed as offering speeds of 25 Mbps down in the United States, and 15 Mbps globally. Business jet operators can also avail themselves of Viasat's near-global Ku-band connectivity for large business jets, in addition to Viasat Ka and hybrid Ku-Ka (with various distribution partners); as well as Inmarsat's GX Ka-band satellite-powered Jet ConneX service through various value added resellers including Satcom Direct.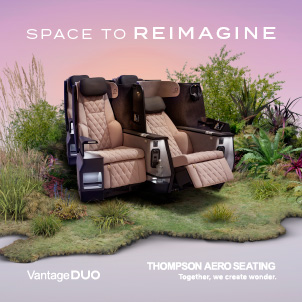 While satellite-based IFC solutions can enable near global coverage – Iridium is global including the poles – ATG-based IFC systems are lighter, less costly and easier to install. So business jet operators flying in North America often gravitate towards ATG.
Gogo's L3 and L5 systems are linefit factory options "on the majority of business jets of all types and sizes from the world's largest business aircraft manufacturers", the firm noted today. Moreover, the US Federal Aviation Administration has granted more than 200 supplemental type certificates to facilitate the retrofit of L3 and L5 across business aircraft types.
L5 provides the easiest and most economical upgrade path to Gogo 5G when it launches, said Gogo. SmartSky Networks, meanwhile, is prepping to launch its own nextgen ATG solution in business aviation in the US.
Celebrating today's milestone, Gogo Business Aviation president Sergio Aguirre said: "Even during the COVID-19 pandemic that has had such a dramatic impact on all of aviation, we continued to see a healthy demand from the market for our AVANCE systems."