Delta Air Lines has informed Gogo that it plans to diversify its inflight connectivity provider base in order to generate competition between providers, and that it intends to split its fleet between the Chicago-based company and a competitor, Gogo said this morning.
The news is not a complete surprise. Gogo CEO Oakleigh Thorne previously warned investors that Delta was contemplating such a move.
According to Gogo, Delta does not believe there is currently enough Ku satellite capacity over North America to meet its extensive user experience expectations for free Wi-Fi service on its desired timeline. In order to meet the carrier's expansive capacity needs, Gogo has been working to provide a Ka-band IFC offering for Delta, which would entail an overnight conversion from its Gogo 2Ku installations to a "2Ka" installation.
As Delta moves to offer free Wi-Fi, the carrier will transition from a turnkey contract with Gogo – which sees Gogo control Wi-Fi in exchange for subsidizing 2Ku equipment installs – to an airline-directed model whereby Delta will pay directly for the provision of inflight connectivity services.
On 5 June, the two parties amended their five-year-old 2Ku IFC pact to provide for its early expiration on a fleet-by-fleet staggered schedule beginning in November of this year and running through July of 2022, as outlined in a Gogo 8K filing with the SEC.
The original 2Ku agreement covers 575 predominately single-aisle, mainline jets. Gogo expects to lose some of these aircraft, but the amount of planes has not been communicated to the provider as yet.
Gogo has outlined the fleet expiration dates: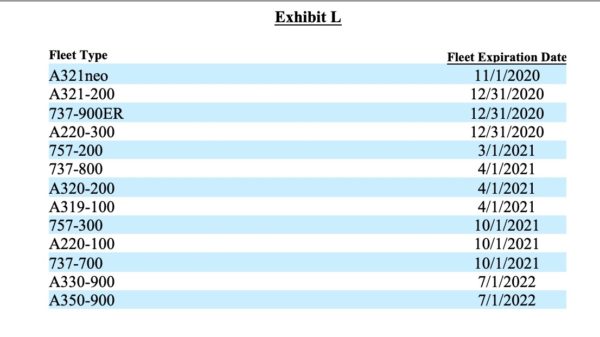 The amendment also deletes a section of the 2Ku agreement which gave Delta the right to terminate the agreement if a materially improved IFC product becomes commercially available and the failure to offer an alternative would likely cause Delta competitive harm.
"Though we do not relish the idea of having a competitor join us at Delta, this amendment gives us time to complete our 2Ka offering and add capacity to our 2Ku network and will enable us to compete effectively for the fleets in question," said Thorne in a statement.
"We are also very pleased to see Delta's continued focus on providing free Wi-Fi despite the impact of COVID-19 and view that as a positive for the in-flight connectivity industry as it will drive demand. We look forward to continuing to work with Delta to drive its vision."
Image at top credited to Jason Rabinowitz
Related Articles: