SES is optimistic that the coronavirus pain being experienced by its mobility customers is "very temporary" and that satellite capacity needs for aero and maritime will be the same – if not greater – when the world comes through the crisis.
The satellite operator is, however, currently in discussions with mobility clients "to find the right balance" between supporting them through these challenging times, whilst "serving the needs and objectives of our own business", CEO Steve Collar said during an earnings conference call to report first quarter revenue of EUR 478.9 million, down slightly from the EUR 480.6 million reported in the year-earlier period.
Broken out, Video now represents 59% of the group's revenue, while Networks now represents 41%. Mobility business within the Networks segment stood out in the three-month period ended 31 March "with 29% growth year-on-year as we have seen the full year contributions of important customer contracts signed during 2019", said Collar.
That's certainly a solid gain for the quarter. However, some of SES's mobility customers are now facing unprecedented struggles. Gogo has furloughed 54% of its workforce and is renegotiating terms with suppliers. Before the pandemic, Global Eagle was already in the midst of reducing its headcount; it is now reportedly seeking relief from lenders. Both Panasonic and Thales have implemented layoffs, including in IFC.
Collar was asked specifically by an analyst to describe how the company's assistance to its aero and cruise customers might unfold. For example, would SES just wipe out revenues for a quarter or more with the likes of inflight connectivity providers "Gogo and Global Eagle" or take a cut to those revenues and then restart? And will business come back to the same levels as before, he asked.
Said Collar:
As you'd expect, every discussion with a customer is fairly unique to the particular situation of the customer, so whether we're talking about cruise customers, aeronautical customers or sports & events, it's sort of very different. So, it's very hard to be sort of generic about it and we're not going to get into specifics around customers.

But in the main, it falls, as you'd expect, into customers who are challenged by a cash standpoint or customers who require less service on a temporary basis.

I would say in almost all cases – and maybe all cases – this is very temporary, and we would expect to return to the same level of service if not higher service once we're through the COVID-19 environment.
Left undefined by SES is the amount of time it will take to get through the crisis. There is growing consensus from industry stakeholders – including Gogo's premier airline customer Delta – that a full rebound in air travel could take three years. At the same time, it could be argued that connectivity, including on aircraft, is now more important than ever, given our penchant for remote working, learning and socializing.
In the short term, SES is bracing for an impact to business in aero and cruise, which together represent 11% of group revenue. While the firm was not materially impacted by the pandemic in the first quarter – aero growth during the three-month period benefitted from 2019 market gains in both commercial and business aviation (LuxStream was, perhaps, a notable highlight) – it said it is not updating its outlook for the year "given the early stage in the development of the pandemic and the uncertainty of the scale and pace of the recovery".
Moreover, SES has proactively taken "substantial COVID-19 mitigation measures" including targeting a cut to 2020 discretionary spending in the "mid-double-digit millions" and reducing capital expenditure of EUR 180 million over the period 2020-2024.
Suggesting that SES's messaging "doesn't seem to kind of tally" insofar as it is reducing CapEx for 2022 and 2023 but at the same time doesn't expect business to be permanently impacted by the pandemic, an analyst pressed Collar as to why the firm is taking out additional CapEx.
"On the CapEx, look, we're talking out CapEx this year as well," said Collar. "We're taking out more than EUR 20 million in 2020 and you know I think it's just taking a very hard look at the business and sort of protecting it wherever we can, and that includes being really laser-focused on what capital investments we need to make. We do have a significant capital investment program. We've got a big investment coming up with particularly O3b mPOWER in 2021. So, I think in the short term it's really about helping in the mitigation around what is a tricky environment for us all, and I think in longer term, it's about making sure we're really lasered on CapEx needed to sustain and grow our business but no more than that, right? And so I think there's no more mystery there."
SES appears to be in a solid position. Roughly 85% of the company's expected revenue for 2020 is already secured, which was "pretty much consistent with last year", noted management. And the group's EUR 1.2 billion revolving credit facility was fully undrawn as of 31 March.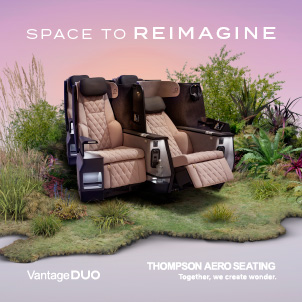 Going forward, the satellite operator is keenly focused on launching its O3b mPOWER network in Medium Earth Orbit (MEO) and the Thales Alenia Space-built SES-17 Ka-band satellite on time and on budget during 2021 (the latter is ultimately expected to support Thales InFlyt Experience's high-speed IFC on Spirit Airlines).
Both the mPOWER and SES-17 programs are important to driving revenue growth, said Collar, and SES reckons that given the timing of the launches – and the timing of when the satellites are in service – SES will be "well beyond the COVID-19 environment then" and will start to see significant revenues at the backend of 2021 and 2022. Presumably, then, it defines "very temporary" as roughly a year-long to 18-month period.
The company feels good about its MEO positioning, noting that "what happened with OneWeb" – it filed for Chapter 11 bankruptcy protection in March – underscores the challenges of deploying in Low Earth Orbit. Collar suggested SES can expand and scale the mPOWER constellation, which is "hard to do in Low Earth Orbit".
Looking beyond COVID-19, SES said it is also making progress on the potential separation of its Video and Networks businesses to support pure-play verticals.
Related Articles: