Despite the challenges posed by the COVID-19 crisis, Safran says it is working to "reclaim its position" as a leading provider of aircraft interiors.
The French aerospace giant, a tier-1 supplier of engines, systems and equipment in aerospace and defense, added profound interiors content to its portfolio in 2018, with the acquisition of Zodiac Aerospace. In the years prior, Zodiac had grappled with a variety of difficulties, including production issues that delayed some major premium seating programs at American, United and others.
Following the acquisition of Zodiac, Safran quickly began to streamline the structure of the new Safran Group of companies, and create synergies. It now offers complete integrated cabins, overhead bins, lavatories, galleys and catering equipment, as well as first, business, economy, and crew seats, and a popular line of inflight entertainment systems.
Though Safran is stepping up a cost-cutting plan in the near-term given the plummet in air travel demand due to the pandemic, the company assured today that "the main thrusts of the Group's strategy remain relevant".
In an update following its general meeting of shareholders, Safran said:
Safran intends to consolidate its position as a fully-fledged engine manufacturer, continue its development in the equipment sector, pursue its niche strategy in defense, and reclaim its position as a front-ranking player in aircraft interiors.
If it achieves its stated goal, Safran will be better positioned to compete against aircraft interiors behemoth Collins Aerospace, which is now owned by Raytheon Technologies, following the recent merger of Raytheon and Collins' then-parent United Technologies.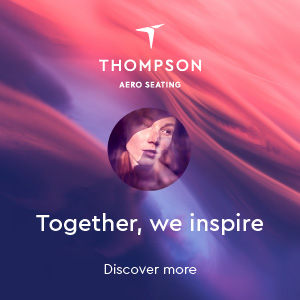 In the near-term, a cost adaptation plan put in place by Safran management at the beginning of the year in response to the shutdown of production for the 737 MAX "has been significantly stepped up", given the present crisis, noted Safran, which together with GE builds the LEAP engines for the MAX via their CFM International joint venture.
It said some 35% of employees across the Group have been furloughed on a worldwide basis as of 18 May, and Safran is scaling back purchasing programs in line with the decline in deliveries.
Though Boeing announced yesterday that it has resumed production of the 737 MAX at the company's Renton, Washington factory – following a temporary suspension that began in January – it admitted that production is "at a low rate" as the airframer implements initiatives focused on enhancing workplace safety and product quality. The 737 program will gradually ramp up production this year, said Boeing.
For its part, Safran said today it now estimates that less than 1,000 LEAP engines will be delivered in 2020 (in addition to Boeing's MAX, the LEAP engine powers Airbus A320neo and Comac C919 aircraft).
As expected, the impact of the COVID-19 crisis observed in March "accentuated markedly" in April, with Safran Group revenue down around 50% on April 2019. However, free cash flow generation was positive over the first four months of the year, it said.
At 30 April, Safran's cash and cash equivalents amounted to €3.248 billion (unaudited data). It also has a €2.52 billion undrawn credit facility available until December 2022, and is pulling a variety of other financial levers to continue securing its long-term sources of funds and extend the maturity of its debt.
The Group's aim is to significantly reduce its costs and to lower the breakeven point for its businesses in order to benefit from industry recovery "when it occurs".
Related Articles: