Astronics Corporation, a prominent supplier of in-seat power, IFE-related equipment and other commercial aircraft content, has implemented a number of cost-cutting initiatives, including reducing headcount by 30% to 2,000 employees, as airline traffic has bottomed out and airframers have cut production rates in the face of the COVID-19 crisis.
The workforce reduction, coupled with Astronics' decision to freeze wages, eliminate cash bonuses, slash capital expenditures and restrict marketing and other discretionary spending for the remainder of 2020 will result in savings of $55 million to $60 million for the year, according to Astronics, which this week reported first quarter sales of $157.6 million, down 24.3% from the year-earlier period.
During an earnings conference call to discuss the results, company chairman, president and CEO Peter Gundermann described the firm's aggressive cost adjustments as positioning Astronics "not only for survival during the pandemic, but for success afterwards. We want to come out of this thing as strong or stronger than we have been in the past. And we feel like we've taken valid steps to do that."
While Astronics' defense and government work – representing 20% of sales in 2019 – continues to appear strong, commercial aircraft build rates are poised to drop and the airline aftermarket is expected to weaken considerably, which will materially impact business in 2020.
An estimated 55% of Astronics' sales in 2019 were driven by the production of new commercial aircraft and business jets, with commercial transport being the more significant of the two. "Most producers across the board have talked about planned production rate reductions of about 30% to 35% or so. This planned reduction presumably will affect us almost directly and we feel we need to model in 30% to 35% reductions assuming that the aircraft OEMs stick at those rates at least for the time being," said Gundermann.
The coronavirus pandemic is not the only factor creating pain in the commercial sector. The protracted grounding of the Boeing 737 MAX has impacted Astronics both directly as a supplier to the program and indirectly in the aftermarket. Astronics provides exterior lighting, passenger service units (PSUs) and optional in-seat power in support of MAX production.
Management assumed in early December 2019 that the MAX would be re-certified at year-end. "That was important for us," said Gundermann, "because the grounding as it went on through all of last year had begun to create a capacity challenge for the airlines which we felt was depressing our aftermarket sales simply because they didn't want to take aircraft out of service to put on our kind of IFE-related type products, which we sell in the aftermarket and which is an important part of our business. Turns out that assumption [that the MAX would be re-certified by year-end] was obviously wrong."
He noted:
The MAX recertification slid into the New Year and at this point is still a little bit up in the air. Conventional wisdom – or most people anyway – think that that's likely to occur late summer or early fall. We're hoping that's the case. But things actually even degraded a little bit further from that.

We have a pretty good linefit position on the 737 MAX. We were delivering through all of 2019 to the tune of about 40 ships a month at $95,000 per ship, making it the largest aircraft production program that we had as a company in 2019 … Boeing suspended production of the 737 as we entered the New Year so our first quarter went from 40 ships a month essentially to zero, which hurt our revenues.
Astronics' third demand stream, the aftermarket, sees the company selling IFE-related equipment to commercial airlines around the world. It represented 25% of the firm's sales in 2019.
Given that financially-struggling operators have slashed schedules, grounded aircraft and are being cautious with spend, Astronics' expectation is that "that force of demand" in the aftermarket "is going to drop dramatically. We figure perhaps 80% to 90% by the end of the year," said Gundermann.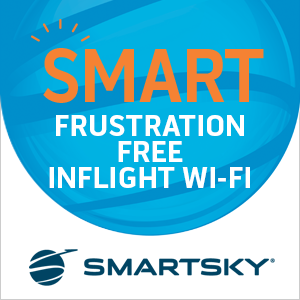 The company also supplies a variety of systems to the business jet community. Its tail-mount antenna work for Collins Aerospace's new LuxStream-branded Ku-band satellite-based inflight connectivity service is "actually going really well", said Gundermann. While Astronics does not expect its AeroSat antenna business to be profitable in 2020, it believes the work for Collins puts AeroSat on a good track. "We have always been enthusiastic about demand for that particular corner of the market and we may have found the avenue to get there."
Evaluating demand from the markets it serves, and considering first quarter results, Astronics overall expects "a significant decline in sales in 2020″ and has restructured the business to be cash flow positive even if sales were to decline between 30% to 35% from total sales of $773 million in 2019.
"We cannot know exactly how the COVID-19 pandemic will impact the commercial transport market, but we are prepared to take additional measures as required to achieve our objective of, at a minimum, cash breakeven results. Likewise, should there be a recovery, we will be in a position to timely deliver our products," said Gundermann.
Related Articles: