Flying to Toulouse for the unveiling of Aeroflot's new Airbus A350 last week, as information was still coming in about the rise of coronavirus cases in Europe, was a cause of some concern. So little is known about the spread of the disease and its ultimate scope, even now, that it's difficult to judge whether it's wiser to stay at home or to continue with business as usual.
In my case, business as usual won out, but I took the recommended precautions including washing my hands often (easy, as this is habit) and not touching my face (harder than it sounds, but I tried my best and used a fresh tissue whenever I needed to scratch an itch).
I didn't know what to expect, but there was a decent line of people waiting at security when I arrived at Denmark's Billund Airport. It was managed with customary efficiency, but there were no noticeable special procedures in place at the time.
Everything about this trip was remarkable in its normalcy. The travelers I saw along the way, at Billund, in Toulouse and on both of my stops through Brussels, treated this as just another ordinary travel day. I didn't spot a single person wearing a mask. The cafés were full and so were the shops and the boarding gates. I hoped that this would continue to be the case, but as we know this is a very changeable situation. Even as I landed back home, I learned that ITB Berlin had been cancelled. Yesterday, the PaxEx industry's largest exhibition, the Aircraft Interiors Expo, was postponed. It was originally scheduled to take place a the end of the month.
This was my first flight since the introduction of the new TripIt carbon footprint calculation. It would have been impractical for me to get to Toulouse and back by train, but I am conscious of my carbon footprint so I used the new TripIt feature to keep track of my impact.
According to TripIt's CO2 footprint calculator, the first leg of my journey (Billund-Brussels) contributed 0.1 tCO2 to my overall carbon footprint – enough energy consumption to power a home for four days. The app suggests that I either plant two trees, recycle four trash bags or donate 7 kroner (a little more than a dollar).
The Brussels-Toulouse leg added 0.13 tCO2 to my footprint each way, or the equivalent of five days of home energy consumption or 9 kroner worth of CO2 offsets.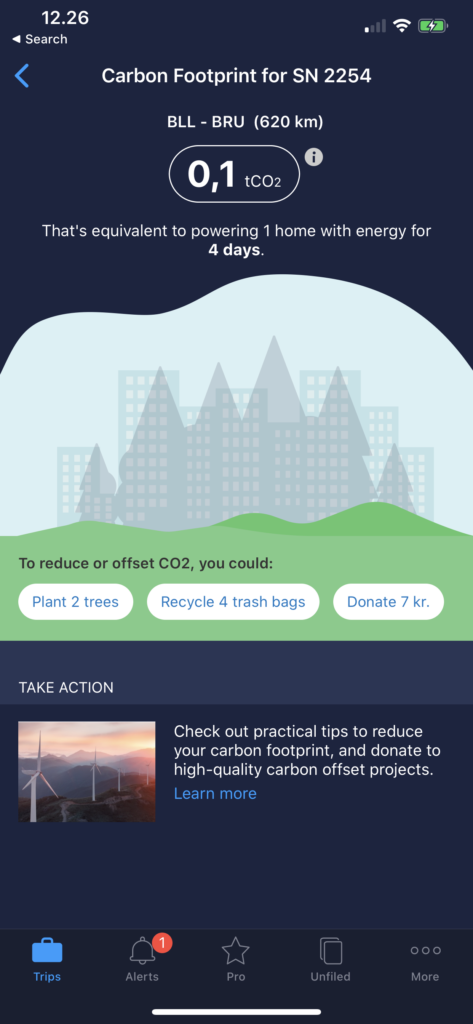 The TripIt app provides information on my carbon footprint, it doesn't offer a quick link to buy carbon credits available for my flight. This is a gap that TripIt could resolve by working with airlines which have carbon-offset programs in place.
But there is a "TAKE ACTION" section, below the carbon footprint information, which offers a link to more information from TripIt. There, you'll find a link to Gold Standard vetted carbon offset programs and can make a direct donation. I purchased one ton of carbon credits for the Utsil Naj program, which is installing better cookstoves in rural homes in Mexico, Guatemala and Honduras.
I have to say that there is an advantage to this approach. It feels like you are making a more immediate positive impact, with better visibility of how your money will be used.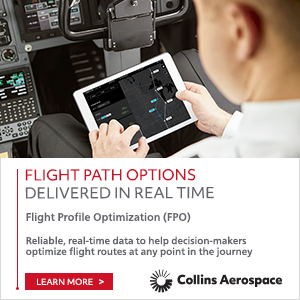 Some airlines have previously indicated that there is low uptake on carbon credits on their airline booking platforms. It might serve airlines well to highlight specific details of the carbon offset programs that are part of their portfolio, in the same way that Gold Standard does.
Buying carbon offsets is a very abstract concept. Ensuring children can go to school, instead of spending time searching for firewood, is a more concrete and accessible notion.
We talk about reducing air service to protect the planet, but it's important to also remember that a reduction in travel can have a significant negative impact on the global economy, with lasting repercussions that affect vulnerable people.
The full impact of COVID-19 related groundings is yet to be defined, but we already have reason to believe that it will be significant. IATA estimates airlines will collectively take a $113 billion hit.
We are going to need to find a balance between sustaining the powerful economic engine of travel and making travel sustainable in the decades ahead. Perhaps the only balance possible is to do more good than we do harm.
All images are credited to the author, Marisa Garcia
Related Articles: