They say you get what you pay for. But if you've paid for a Delta Air Lines seat with recline functionality, can you rest assured you'll be able to recline without first obtaining permission from the passenger behind you?
That's the question many travelers are asking after Delta Air Lines CEO Ed Bastian suggested in an interview with CNBC's Squawk Box that "the proper thing to do is if you're going to recline into somebody that you ask if it's okay first, and then you do it."
During the interview, Bastian was asked specifically to weigh in on #ReclineGate, the alarming incident involving a male passenger on American Airlines who repeatedly hit the seat in front of him, after the woman occupying the seat reclined back. A Squawk Box interviewer asked Bastian: How would you handle this situation?
Bastian replied: "Well, we haven't reduced our pitch in our aircraft in years. In fact, we're going the other way. We've been adding a lot more pitch and a lot more seats with more space on our aircraft, more premium seats, more room in coach, etc. You know, we ask all of our customers to do the very best to show respect to their fellow customers. We want all of our customers to have a great time, when they're here with us at Delta. And we generally do not see that issue on Delta."
Asked by a Squawk Box interviewer to explain the appropriate etiquette, and whether a tall passenger can reasonably ask the person in front of him not to recline, Bastian said:
I think customers have the right to recline. We've been testing reduced recline and seeing response on that. We actually have a fair amount of our fleet on a reduced recline as a result of that. But I think the proper thing to do is if you're going to recline into somebody that you ask if it's okay first, and then you do it.
Pressed again for clarity on whether the etiquette is to ask to recline, Bastian told Squawk Box:
I think if someone knows there's a tall person behind them and they want to recline their seat, I think the polite thing would be to make certain it was okay. I never recline because I don't think it's something that since I'm the CEO of the airline I should be reclining my seat. And I never say anything if someone reclines into me.
Unsurprisingly, many travelers are confused. Recline functionality is part of Delta's product. Indeed, the carrier markets recline for Basic Economy and Main Cabin as being standard, up to 4″. On its extra legroom Delta Comfort+ product, Delta advertises recline as being "up to 50% more than Main Cabin Seat, available on long-haul international and select domestic flights". See Delta's "compare experiences" chart, a side-by-side comparison on its web site.
Last fall, The Points Guy reported that Delta is testing reduced recline on Airbus A320 and Boeing 717 twinjets. However, recline is still very much part of the Delta passenger experience (#PaxEx).
Given the context of the questions posed to Bastian – in specific reference to #ReclineGate – as well as the inappropriate behavior of the male passenger on American, and in light of Bastian's suggestion (twice) that the proper thing to do is ask for permission to recline, Runway Girl Network has posed the following questions to Delta.
Why did Bastian not denounce the inappropriate, unruly behavior of the male passenger when asked to weigh in on the topic? The man being referenced by the Squawk Box interviewer was aggressively banging on the seat of the woman in front of him. Would this sort of behavior be tolerated on board Delta Air Lines? Does Bastian plan to clarify that he condemns the actions of the male AA passenger?
Recline functionality is part of Delta's product. Indeed, the carrier touts this fact in its product marketing – across all its seating products. Given that Bastian is now advising people to ask for permission to recline, can Delta reasonably continue to sell recline as a benefit? In short, how can recline be sold as a benefit if one is advised to adhere to the wishes of the passenger behind them? Does the opinion of the passenger behind you trump the rights of the customer who paid for a seat with recline functionality?
If a passenger wants to recline his or her seat, and the passenger behind them says "no", can the passenger still recline the seat on Delta? Is Delta not concerned that, in advising passengers to ask for permission to recline, that unruly behavior events will increase should passengers continue to recline their seats even if the passengers behind them say "no"? Is Delta advising crew in how to address such situations?
Given that Bastian is urging passengers to ask for permission to recline from the person behind them, does Delta plan to provide formal etiquette guidance for passengers? Does Delta plan to add this advice to its crew announcements? Will the messaging be shared via Delta's inflight entertainment and connectivity services?
Women are concerned that their right to recline on Delta will be infringed, with many female travelers noting that the AA male passenger would not have done what he did if the passenger in front of him was male, and also that, when given the opportunity, Bastian did not denounce this behavior, but rather suggested that passengers seek permission to recline. What advice is Delta providing to women passengers who are now concerned?
RGN has also sought an update on the number of aircraft involved in the reduced-recline experience, and whether Delta plans to update its marketing materials.
A Delta spokesman said the carrier is not commenting further beyond what was said in the CNBC exchange. "Today, as before the interview occurred, if any customer has a question or issue about seat recline (on either side of the seat), they are free to either engage their fellow passenger or they can seek assistance from a flight attendant if there's a need for assistance of an issue," said the spokesman.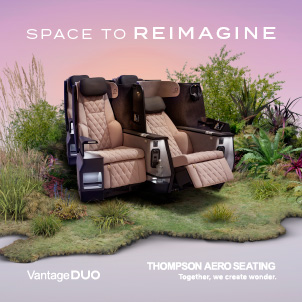 In a prior exchange, the spokesman told RGN that Delta has not changed its policies.
Delta is testing adjusted seat recline on the A320 and part of the 717 fleet, he noted. "We have not announced plans beyond those current modifications."
Beyond the #PaxEx implications of Bastian's comments, RGN is more broadly concerned about the lack of condemnation from industry of the male passenger aboard the American Eagle flight (operating as American), who banged on the seat of the woman in front of him. Unruly passenger behavior is a very real problem, and the International Air Transport Association (IATA) now regularly sounds the alarm.
Given the context of Bastian's exchange with the Squawk Box interviewers, some women see Bastian's response as tone deaf at best and outright gaslighting at worst.
Related Articles:
Featured image credited to Jason Rabinowitz