Aisle or window seat? The favorite traveler quandary has new meaning when flying during the outbreak of the novel coronavirus. Just ask Chinese regulator CAAC.
"Passengers should try to choose a window seat," according to guidelines the CAAC posted on 6 February in Chinese. "Sit as far away as possible from other passengers."
The CAAC describes its preventive measures as a "battle without gunpowder smoke".
The passenger experience (PaxEx) has rapidly changed in the three weeks since the extent of the new virus became known with no clarity on its origin or treatment, stoking memories of Asia's experience during the SARS outbreak in 2003.
Checking-in on the American Airlines app prompts a question if the passenger has been to mainland China in the last 14 days due to entry restrictions adopted by many countries. Cathay Pacific has suspended mobile boarding passes to markets where travel history needs to be checked. China Airlines will not uplift catering at mainland Chinese airports or Hong Kong. Airlines are even removing the duty free catalog.
Most intercontinental airlines have pulled all mainland China flights. Within the mainland's domestic market, the world's second-largest, over 70% of flights have been cancelled. For those still flying, service changes are partially about reducing interaction and spread of germs. They are also perhaps psychological.
The CAAC seeks to combat the myth that flying is high-risk due to re-circulated air. "The aircraft's vertical ventilation system allows air to flow up and down instead of back and forth," it says in its new guidelines. "The air flow in the longitudinal direction of the fuselage is small."
Air flows out from above and below overhead bins, sometimes visible if the air is cold while cabin temperature is warm. Vents at the bottom of sidewalls capture the air, which, along with fresh air, passes through filters. These are usually HEPA, which the CAAC says filter 99.97% of particles on Boeing aircraft and 99.99% on Airbus. If a passenger becomes sick during the flight, the CAAC advises changing the HEPA filters on landing.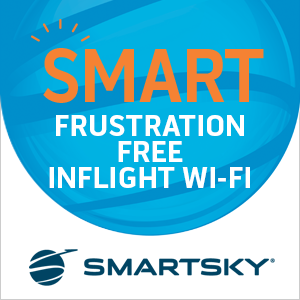 There are more precautions. In expectation of low load factors, check-in staff should seat passengers throughout the cabin, according to the CAAC. A 2017 Emory University study found an infected passenger was unlikely to infect passengers more than one or two seats away. Those in window seats have the least exposure to the rest of the plane.
Flight attendants should only serve a few sections of the cabin at a time and then restock to curb risk of cross-contamination.
Even better, limit food and water intake, the CAAC suggests. This will reduce having to take face masks off, which are recommended (one report says a mask is mandatory for passengers). Reduced eating also limits the need to go into the aisle, such as to visit the lavatory. "Since cleaning and disinfection cannot be done in time during the flight, try not to use the toilet," the CAAC says. The Emory study found 38% of passengers never leave their seat during the flight.
For those who do eat, catering is simplified. Long-haul business should provide a main meal in a foil box with disposable cutlery, cups and napkins. There are no canapés, soups, salads, bread or desserts. Pillows and blankets are no longer distributed. Questions? Keep them brief: the CAAC advises crew to limit communication.
Passengers are already stepping up hand washing and sanitization, but airlines in multiple jurisdictions are increasing sanitization. China Airlines said staff would particularly clean overhead bin latches and hand grips while Cathay Pacific's Hong Kong lounges have signs saying handrails are sanitized every two hours. Cold food that used to be left uncovered now has cling wrap over it, but accessing the food requires hand contact or tricky use of tongs.
Not too many changes at Cathay's Hong Kong lounge. Plastic wrap on food that used to be open air (but germs accumulate on plastic?), handrails sanitised every two hours, no printed newspapers/magazines (use digital library). pic.twitter.com/aN9L0fmS53

— Will Horton (@winglets747) February 9, 2020
In a worst case scenario, the CAAC designates the last three cabin rows as a quarantine area if a passenger during flight shows symptoms, such as a fever. Chinese airlines now carry onboard non-contact temperature detectors, similar to the ones used at airports to check passengers.
Guangzhou Baiyun International Airport alone has 67 fixed temperature detectors and 500 handheld ones. Shanghai's airports encourage passengers to complete a health declaration digitally, allowing for faster identification if needed later.
Some changes could be better for the long-term: there are efforts to have more fresh air in the terminal. Some say greater awareness of cleanliness during SARS saw fewer cases of the common cold and flu. Coronavirus will one day end, but general sniffs and coughs will persist without changed passenger behavior.
Related Articles: