Having recently expanded their partnership to develop One-to-Many (OTM) technology applications for high-speed connectivity, Denver-based optical wireless communications specialist BridgeComm Inc and investor Boeing HorizonX will soon have a key decision to make – whether to focus on first bringing the technology to the aviation industry or to instead pursue new space applications, BridgeComm CEO Barry Matsumori told Runway Girl Network in an interview.
"Right now, what we've done is prove the technology in the laboratory and shown the capability. That's a lot of what this joint work with Boeing is about, to go to the next step and develop applications with interest to both partners. Is it an aero application, a space application, etc? That's one of the decisions we'll make in this period," said Matsumori after the two parties published a joint PR statement about taking their collaboration to the next level. Boeing HorizonX first invested in BridgeComm in 2018.
OTM is billed as enabling optical wireless communications systems to create bi-directional mesh connectivity similar to, and complementary with, radio frequency systems. Data can be beamed from one transmitter to many different transceivers at the same time versus the more traditional one-to-one relationship using a single transmitter and single transceiver. It would initially augment environments where RF spectrum is limited or congested.
Explaining the technology with the most basic of analogies, Matsumori said, "Fundamentally we are a communications company that happens to be focused on using optical communications instead of RF electromagnetic waves."
All of us [including LiFi stakeholders] are family with optical communications because we all played with flashlights to do Morse code, but we do that with a higher rate of speed and a much narrower beam. That's the fundamentals around the company, to augment RF with optical because of the limitations in the RF world around spectrum and speed.

We happened to start in the space business, hence why we have assets in space, but we do airborne and terrestrial systems. And the Boeing partnership has a lot to do with both airborne and space business, because Boeing is obviously in the airline business and space business.
In aero specifically, BridgeComm sees applications for #PaxEx and operational benefits. "Let me give you a simple example, for things you're very familiar with, inflight systems, that currently we all realize what improvements could be made. And we're talking about an ability to take the performance we're seeing, whether 1 Mbps, 5 Mbps, whatever [with current IFC], to 100 Mbps-plus per plane, so the experience that passengers will see will be night and day. We obviously don't have that actual design in place, but we modeled it and our analysis came up with these kinds of numbers."
He added in reference to airlines operations, "[A] very significant point is one of the desires is that airplane diagnostics be delivered more timely than it currently is. It takes a lot of bandwidth so that is one of the features that we will focus on … to get much more real-time diagnostics to the ground."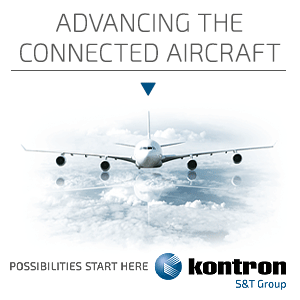 But even if BridgeComm and Boeing decide to first train their attention on new OTM space applications (a Boeing Space and Launch executive is quoted in the release), Matsumori assured that aero will be pursued down the road. To wit, aero terminal development is underway. Asked if he envisions VAMs being involved, Matsumori said: "I would imagine we are manufacturing the base terminal and some of the firmware and software and integrated by someone else. I don't think we're that company."
Though the technology is broadly pitched as an augment to RF, RGN asked if BridgeComm sees an opportunity to ultimately replace it in aero. "Potentially," said Matsumori. "It's too early to answer the question. In the case of optical systems, they tend not to like a number of atmospheric conditions, for example dense fog; it's difficult to get photons through. But the beauty of these commercial airlines is they fly at an altitude where those atmospheric [issues] are limited, so space-to-airplane is quite good to propagate the signal to the airplane."
BridgeComm is not the first company to consider bringing optical comms to aero. Airborne Wireless Network, which wanted to create a high-speed airborne mesh network for use by telco customers, told RGN in December 2017 that it was readying for inflight tests that would use its radio mesh to aim a laser between two airborne Cessna 172s, after scratching a plan to use two ex-American Airlines Boeing 757-200s stored at Roswell. In the fall of 2018, Airborne Wireless Network admitted it was not able to replicate lab results during field testing due to issues with hardware and software. The company's Facebook page is still up, but comments from shareholders have been scathing.
But BridgeComm's optical tech isn't the exact same, with Matsumori explaining that Airborne Wireless Network was "going to build a kind of a mesh network in the air using optical links but they were traditional optical, point-to-point signal link, not multiple. I'm aware of them, unfortunately, the optical solution they chose did not work out for them, and they ended up not succeeding (and there may have been other reasons). They were using single, not what we have."
There is a mesh component to BridgeComm's aero plan, he confirmed. "The short answer is yes. So mesh networks have two components, they have the linkage of getting the bit from point A to point B and the management of that bit through multiple nodes. So a mesh network has both of those components, and the management is going to be a little bit from the thing that carries the bit (us) and also who owns that network. So a mesh network is not a single entity, it will have multiple entities involved because it's really a network management exercise with a physical and upper layer of management of each of the nodes … [We] will obviously work with the operator of whoever that network is, for example if it's an airline – and they want communications between airlines – the operator will have a big say about how that network is managed."
Like wireless IFE and digital services provider Immfly and antenna company Isotropic Systems, which each boast Boeing HorizonX as an investor, BridgeComm is in a favorable position to tap Boeing resources. That relationship represents "the ability to not only do investments, but to work between the Boeing companies and to work to develop new product lines so it's an interesting unit in that it's unique among the aerospace companies", explained Matsumori. Since Boeing has business units that touch all three of BridgeComms' interests – space, aero and terrestrial – its applications will focus on those units in time.
Related Articles: