Dane County Regional Airport in Madison, Wisconsin is a scenic and surprisingly relaxing facility. On a recent three-hour layover at the airport – during which I penned my review of United Airlines' new CRJ550 service – it was finally time to make the slog back home to Seattle via the US major's Denver hub.
The Airbus A319 assigned to this Madison-Denver route pulled up to the gate, and boarding began on time. United has a fairly lengthy set of boarding groups much like many airlines these days. With an economy class ticket in hand, I found myself in Group 4, which is definitely not the fourth group allowed to board.
I settled into seat 20D, located in United's extra legroom Economy Plus cabin.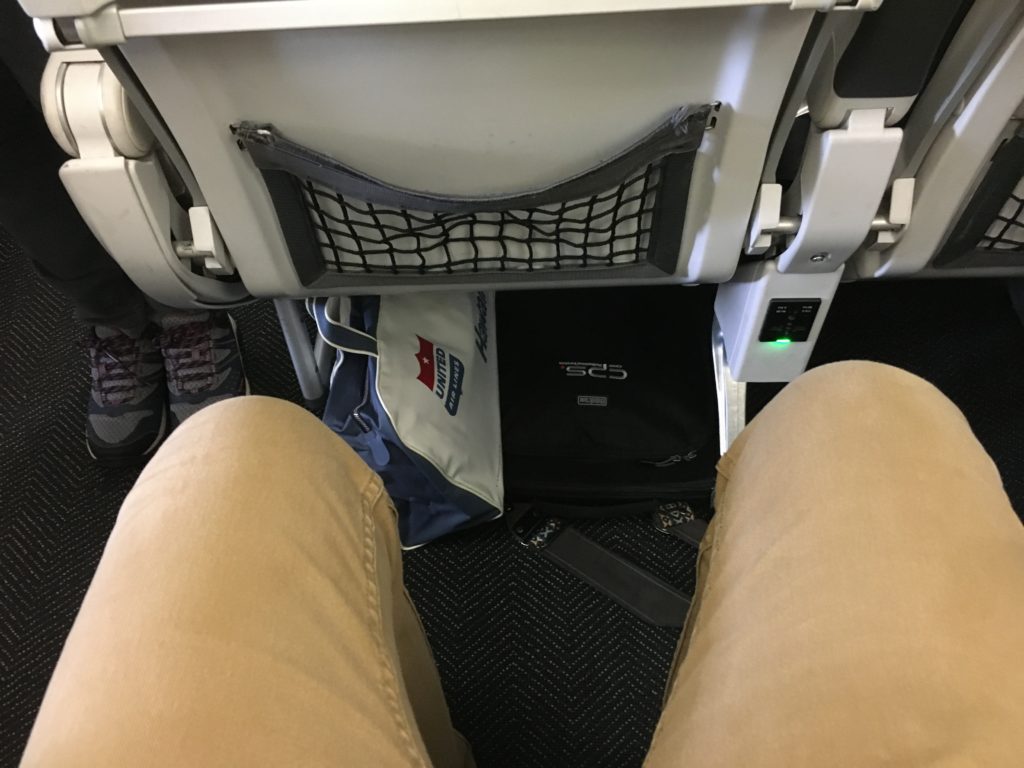 The seat's 34 inches of pitch and adjustable headrest with wings made it easy to take a badly needed nap. But space became tight when the person in front of me leaned back, taking a noticeable amount of my real estate. A 110v power outlet kept my hungry-for-power phone juiced up.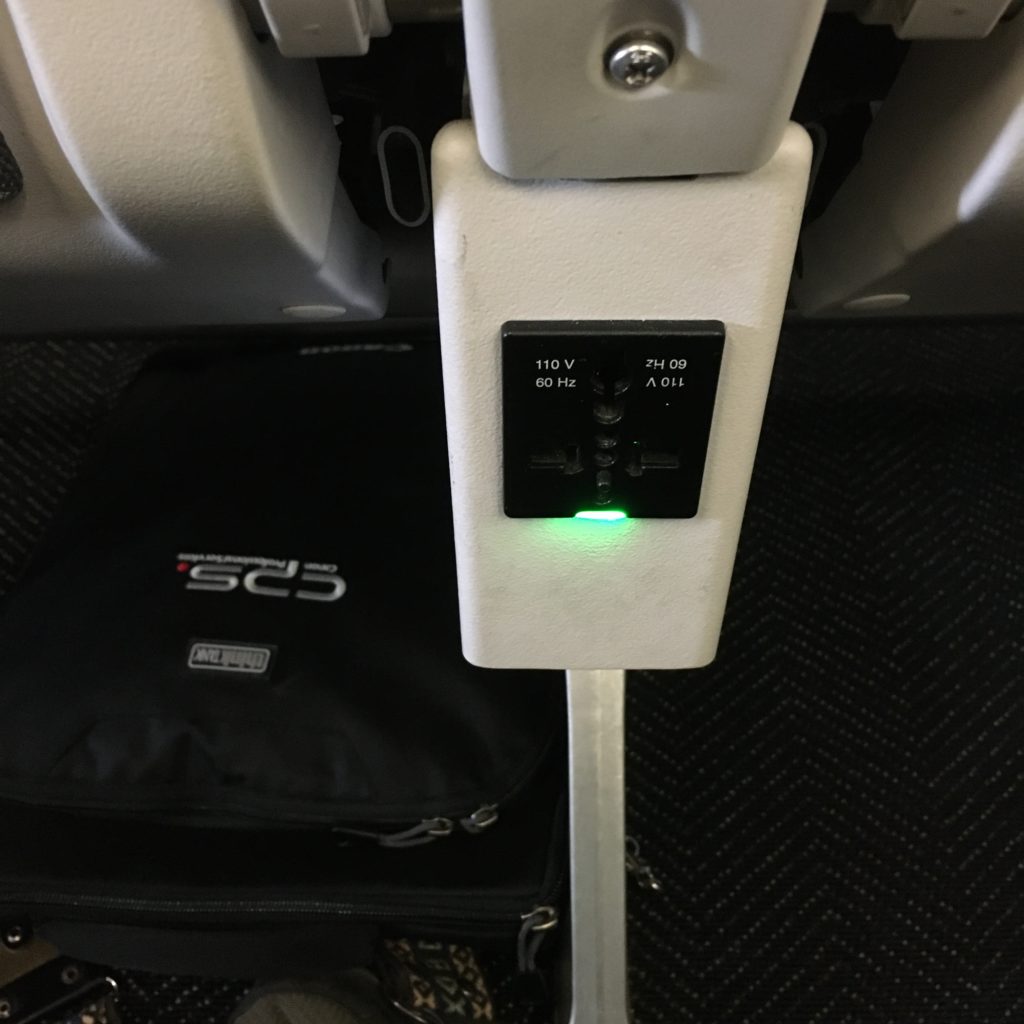 Flight attendants began a complimentary drink and snack service 30 minutes into the flight. A standard fare of soft drinks were available, along with adult beverages starting at $8 and up. United deserves props for offering a moderately good beer selection, which included one of my personal favorites, Elysian Brewing Company's Space Dust IPA.
The flight crew came through the cabin twice more, offering water and coffee to passengers.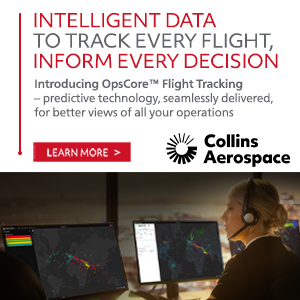 Snacks included pretzels, Biscoff cookies, and the well-loved Stroopwafel. The passenger next to me asked for two bags of pretzels, but the crew member declined, saying she didn't know if there would be enough for everyone. She said she would return to let him know either way.
Much to my surprise, she appeared ten minutes later, a second bag of pretzels in hand. What a nice touch. United is really upping its game on the "surprise and delight" front these days, as evidenced by a growing number of accolades on social media. Even small but meaningful efforts can make for a more pleasant #PaxEx all-around. My seat mate certainly appreciated the goodwill.
Buy-on-board options were available as well, averaging at the $10 mark. A handful of meals looked tempting, such as the smoked sausage sandwich for $10 and the Mezze snack sampler for $10, though it's one thing for a photo in the magazine to look good and quite another to see what actually ends up on the tray. Had I not filled up on bar snacks from my prior CRJ550 flight, I would have swung for one of the two.
United offers on-demand streaming content to personal devices via Panasonic Avionics' wireless IFE solution. Called United Private Screening, the service offers a generous number of television shows and movies. It requires the United app in order to work, something that is not advertised until after it is too late for many passengers.
But with the app already installed on my phone, I watched a show in the last 45 minutes of the flight. The system worked without any issues.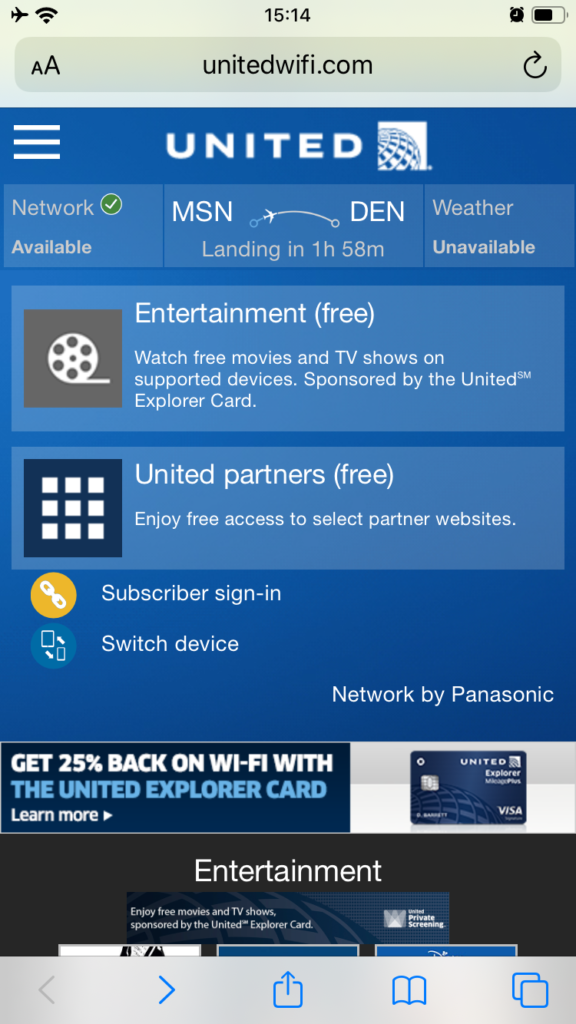 Inflight Internet, powered by Ku-band satellites, is also available, and this too is provided by Panasonic. Pricing ranged from $3.99 for 30 minutes to $8.99 for the whole flight. As mentioned, I opted to nap and then watch a program, and I so didn't fire up the Internet service.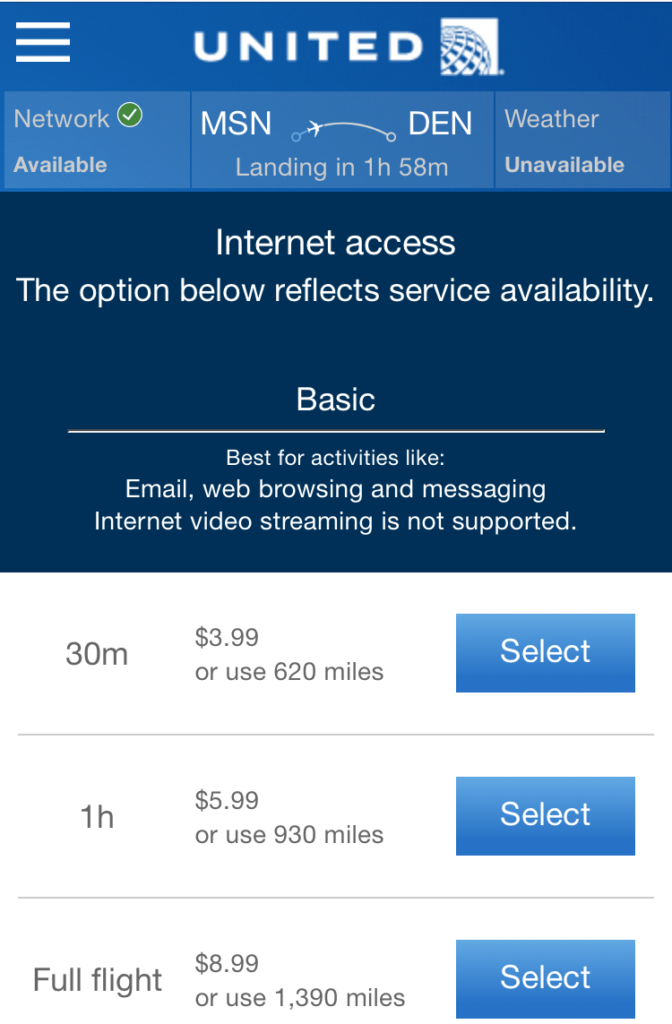 As an aside, I found it astounding how widely United's domestic Wi-Fi pricing varied by system. Gogo charged $8 for 30 minutes on my 26-minute CRJ550 flight, while this two-hour hop to Denver using the Panasonic system cost only one dollar more for literally quadruple the connection time. (On the final leg back to Seattle, Internet service was provided by Thales's Ka-band solution, which is powered by Viasat satellites. But the cost was double, coming in at $16 for a 150-minute flight. Talk about inconsistent.)
My flight landed on time in Denver, with the United app dutifully informing me that my flight to Seattle was on time, and where I could find it.
Overall, the experience was perfectly fine. I started out in Wisconsin, and ended up in Colorado as planned. The good service from cabin crew and of course the stroopwafels were a nice bonus.
United Airlines covered all travel for this trip. All images are credited to the author, Jeremy Dwyer-Lindgren
Related Articles: