Fewer passengers have filed complaints with the US Department of Transportation related to involuntary denied boarding, which suggests that airlines' actions to resolve overbooking are proving effective, a Government Accountability Office (GAO) report finds.
However, the data also show that airlines have frequently qualified for regulatory exceptions to the rules governing denied boarding compensation for passengers.
The study undertaken by the GAO and its resulting report comply with a provision in the FAA Reauthorization Act of 2018, which called for the office to examine airlines' overbooking practices. These practices were thrown into stark relief a year earlier, when Dr. David Dao was dragged off a United Express aircraft by officers after refusing to give up his seat to accommodate airline crew members.
The GAO report looked at trends in both voluntary and involuntary denied boardings at airlines, and at passenger complaints submitted to the DOT from 2012 through 2018. The GAO also reviewed seven airlines' overbooking and denied boarding policies: American Airlines, Delta Air Lines, Frontier Airlines, JetBlue, Spirit Airlines, Southwest Airlines, and United Airlines.
In its analysis of the data, the GAO reviewed relevant statutes and DOT regulations, and previous GAO work published in 2018 on denied boardings. The office also interviewed DOT officials, one airline industry association, two consumer advocacy organizations, and three airline revenue management specialists to gain additional insights on trends which were included in the report.
Their findings show that the number of passengers denied boarding, both voluntarily and involuntarily, has decreased overall. Combined, fewer than 1% of passengers are denied boarding. For every 100,000 passenger boardings in 2018, only 43 passengers were voluntarily denied boarding and about one passenger in 100,000 was involuntarily denied boarding.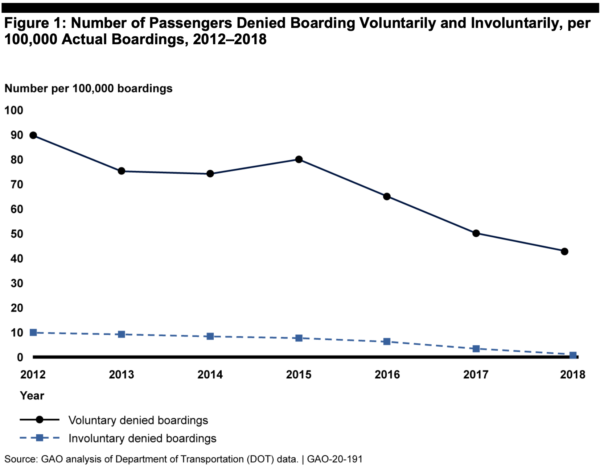 Consumer complaints filed with the DOT over denied boarding are also generally low, though the number of consumers who will complain to the DOT rather than to the airline – or in addition to the airline – is generally much lower.
The GAO had previously found that for every complaint submitted to the DOT, airlines received 50 complaints. It has requested complaint data from airlines, but airlines argue that this information is proprietary.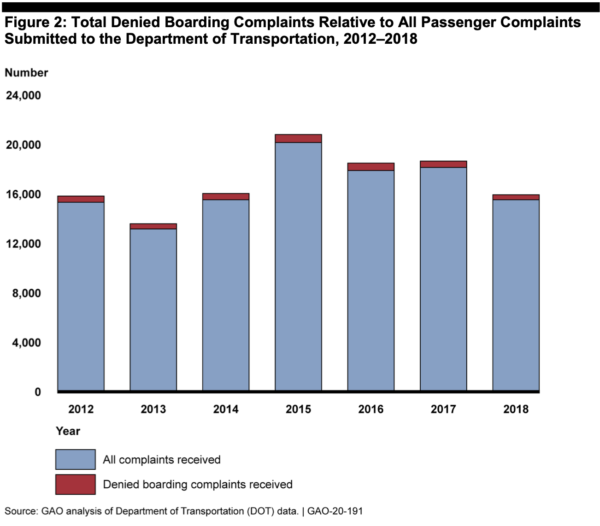 Airline actions to reduce overbooking have helped. These include requesting volunteers earlier on in the travel process, using technology to get passengers to volunteer for alternative flights, and a better management of their aircraft capacity.
Importantly, some airlines have also stopped overbooking as an operational practice.
But, as mentioned, airlines have also benefitted from regulatory exceptions to rules for denied boarding compensation. The GAO review found that the percentage of passengers who were involuntarily denied boarding but who qualified for compensation decreased from 76% in 2012 to 64% in 2018 and that may be attributable to airlines' decision to swap aircraft for a particular flight. The DOT's 14 C.F.R. § 250.5 rule states that passengers are not eligible for involuntary denied boarding compensation under certain circumstances including aircraft change.
As the GAO reports, "One airline that does not overbook experienced a number of operational issues in 2016 and 2017 that forced it to operate many of its flights with smaller aircraft. As a result, the airline had to deny passengers boarding involuntarily, and these passengers were not eligible for compensation."
It adds, "From 2015 to 2018, most of the passengers who were denied boarding involuntarily and were not eligible for compensation were ineligible due to airlines using smaller aircraft on some flights."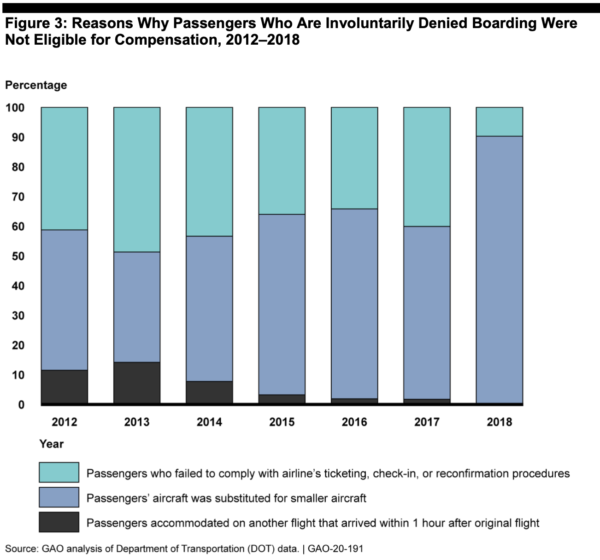 At the same time airlines are increasing their compensation to consumers who are involuntarily denied boarding. According to the GAO, the average compensation has increased from about $780 in 2012 to $937 in 2018.
But consumer advocates argue that this amount may still not be enough to offset the impact of being denied boarding. They point out that passengers face other costs including lodging, meals, and transportation, and other negative impacts including missing work and critical engagements.

While airlines may previously have been able to book passengers on another flight within an hour of the original departure, the number of passengers denied boarding who now face a longer window of delay is increasing. "In 2012, 11.5% of rebooked passengers were accommodated on such a flight, compared to 0.11% in 2018," the GAO finds.
This is primarily because airlines now operate with higher passenger load factors, which leaves fewer available seats for re-booking. Moreover, they have reduced schedules for smaller communities.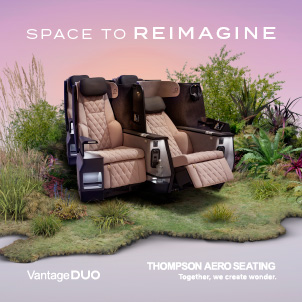 Consumer groups suggest that overbooking as a practice should now be eliminated entirely because airlines are experiencing fewer negative impacts of no-shows given higher load factors, new fare restrictions and fees for cancellations.
But some airline revenue managers told the GAO that eliminating the practice could still have a negative impact driving higher average fares, more flight restrictions, and even cutting service in a small percentage of routes.
Even if all airlines eliminated the practice of overbooking, there might still be occurrences of denied boarding for factors that may be outside of an airline's control.
Consumer advocates are asking for greater airline transparency on compensation. The FAA Reauthorization Act of 2018 requires that the DOT issue a rulemaking that will better inform passengers of their compensation rights.
The department has committed to issuing a final rule by July of this year. In November 2018, the GAO made recommendations to the DOT, including raising consumer awareness of their rights and efforts to capture more data on including getting more feedback directly from passengers.
Related Articles: