Though it might not garner many headlines, the "copper versus fiber optics" debate is raging within aviation, as industry stakeholders consider the best conduit for quickly transmitting an ever-increasing amount of data to 4K cockpit screens, in-seat IFE, and aircraft health monitoring systems.
With a core that carries light to transmit data, fiber optic cables have a much larger bandwidth than copper wires, and are able to deliver high data rates over long distance. That's been a draw for some OEMs and integrators. To wit, when Airbus was developing the A350 XWB, your author learned that a 1 Gbps fiber optic cable would directly connect Panasonic Avionics' IFE head-end server to each seat column in the XWB cabin. At the time, Airbus noted in its catalogue that the cable would be "simple and lightweight with no EMI challenges", offered a "redundant option" insofar as fiber could connect both ends of each seat column, and that it would offer high speeds and "support for HD video". So, a certain amount of fiber has been on the proverbial menu for a while.
Another plus is that fiber optic cables are much lighter than copper. But repairing them on in-service aircraft can be cumbersome and costly, to say the very least.
"What we have been hearing in the market is that the number one concern about fiber is if you break a line or if there is any sort of repairability issues. And on the aircraft that can be extremely painful and sometimes not even possible. So, if it's in a certain area of the aircraft you basically have to pull the entire line out and, you know, reinstall it. Imagine trying to do that with an already installed harness," says Jeremy Moore, product manager, aerospace fiber optics at W. L. Gore & Associates, which is working to grow its fiber content on aircraft. Little wonder, then, why Airbus was touting redundant cables all those years ago.
Another issue, says Moore, is that terminating a fiber optic cable on aircraft is an expensive proposition. "You need to fly a special technician out if it's an aircraft-on-ground (AOG) situation."
A supplier of both copper wires and fiber optic cables, Gore says it is tackling the challenges posed by fiber on a number of fronts.
In order to ensure its fiber optic cables can resist crushing, kinking and abrasion while maintaining signal integrity before and after installation, Gore uses a unique dual buffering system that sees a layer of its signature stretched PTFE wrapped around the glass core. This allows Gore to have "basically a semi loose tight construction", which might sound like an oxymoron, but is actually what people are labeling it in the industry. "It's resistant to actually kinking or to damaging, and so the fiber is being protected. It's not violating its bend radius; it's not seeing any microbends or kinking or anything like that," notes Moore.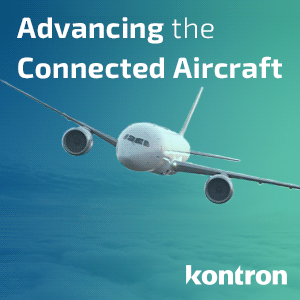 Gore also engages in rigorous testing. "One example is we have done a cable flex endurance test, which is a tick tock test which is one of the hardest tests you can perform on a cable in general let alone a fiber optic cable. And essentially what you are doing is you are hanging a weight on the fiber optic cable and you are basically going into this motion that is completely 180 degrees back and forth," explains Moore. "The standard test for that is about .4kg and for a 62.5-micron [fiber optic cable] you have to hit I think it's about 25,000 cycles. For a ruggedized cable, I think you would have to hit about 100,000 cycles. We have tested [our cable] with a kilogram and we've gotten over a 150,000 cycles on our cable. So that's the kind of level of mechanical robustness and integrity that we are trying to share with people and saying that 'alright you are doing copper to fiber and we really want to minimize your risk and minimize your fears on making that switch because it is inevitable.'"
Moore claims there have been issues in the past with 1.8mm simplex fiber optic cables that required some stakeholders in the industry to have to double jacket fiber optic cable. "So what we have recently done is we have performed tests on our fiber optic cable, our 1.8mm simplex that actually passes the double jacket specifications or standards. So essentially if you have a 2.5mm double jacketed cable, that weighs about 10g per meter and a 1.8mm cable is about 4gm per meter, so you're saving about 60% weight just by using a cable like ours that can pass those types of specifications."
The company's work has already garnered attention in the defense market, which requires very ruggedized solutions. Moore notes that Gore's product meets the Arinc 802-3 standard, and recently qualified to "EN4641 Part 301 and that is basically for the Eurofighter in Europe … so we have recently qualified for that and a lot of these have some very serious tests that mimic harsh environments."
To streamline fiber terminations, Gore boasts a strategic partnership with an Ohio-based specialist named Cotsworks, which works with "a lot with the major players in the field and have some very close relationships in the aerospace industry", says Moore. Cotsworks has come up with a solution to splice cables in under five minutes.
On the commercial side, Gore is working with "basically all the major relevant players, OEMs, system integrators on our fiber optic cabling and guiding people from the transition from copper to fiber. People are very hesitant still."
As mentioned, a certain amount of fiber has been in play for years in the inflight entertainment world. One now-defunct company, called Lumexis, even extended fiber all the way to the IFE screen. "I thought their technology was really good. It was smart and I think it might have been just a little bit too early. And I think now we are starting to see people really get into the realms of speeds that require fiber optic cabling," says Moore.
Stressing that his opinion on this matter is "just total speculation", he posits that fiber-to-the-screen might make a comeback, particularly as industry graduates to 4K IFE content. "I wouldn't be surprised if there was ultimately a fiber-to-the-seat solution again. To me that just seems to make sense to minimize how much space you are taking up within the seat. And there's also a lot of concern about EMI immunity as well [for IFE]."
But while Gore has regular conversations with IFE providers, "they are mostly dictated by the OEMs over which fiber they are using", he says. On the OEM front, "we see people trying to switch over to fiber". For instance, the Boeing 787 has fiber on it "and the 737 MAX had even more and the 777X has the most", says the Gore executive, so a gradual shift to more fiber on board is underway. He also notes that Gore has a "databus cable that runs on the 777 and that's getting designed out for a fiber solution".
People are also "trying to use it for sensors," for aircraft health monitoring as part of the digitization of aviation. "And big data, everyone wants all of the data they can get so weather radar systems, 4K in the cockpit" are also applications, he adds.
Moore confides that Gore is "trying to get into as many of these insertion points as possible with our smaller form factor robust solution to say 'it's okay to use fiber and this is the best way to use it' and really be able to make that transition successful because it is the future. It is where people are headed. People want to future-proof their systems even though they might only be running 10 gigs now. In a couple years they might need, they probably will need 50, 25 Gbps, 100 Gbps."
Related Articles: