After flight-testing its new LuxStream-branded connectivity service on a specially configured Boeing 737, Collins Aerospace this fall announced that Vista Global would fit its 116-strong business aircraft fleet with the solution, powered by SES Networks' Ku-band satellites. Installations are slated to begin in the first quarter of 2020.
The service uses a dedicated business aviation pipe; it won't share with commercial airlines. Even with 50 passengers on the 737 testbed, high-definition streaming was still possible, reveals LeAnn Ridgeway, vice president and general manager, Information Management Services for Collins Aerospace.
Informed sources suggest that LuxStream delivers more connectivity "power" to an individual business jet than SES usually supplies to a cruise ship.
Speeds of up to 25 Mbps are being publicly promised for LuxStream-fitted aircraft in the US, whilst speeds of up to 15 Mbps are expected elsewhere in the world. LuxStream will be available as part of Collins' ARINCDirect portfolio of services.
That all sounds good, but there are already plenty of connectivity options on offer for business jet operators, and global Ku service is under development by Gogo. Why should customers choose LuxStream?
Ridgeway notes that the system's performance is linked to an innovative pricing model.
Customers aren't locked into a one-size-fits-all package, or a package that doesn't fully meet their needs. Instead, they can purchase as they go or chose a more suitable package, which means very flexible pricing. We're also wrapping a full complement of United Technologies services around LuxStream.

As ARINCDirect, there was a degree of separation between us and Rockwell Collins, but now we're offering a full nose-to-tail solution that includes our global services support. And we've refreshed our dashboards and other features to complete a really innovative solution.
The LuxStream hardware will be produced either directly by Collins or by other suppliers, but the entire package is covered by a turnkey Collins Aerospace services and support solution. Collins' rollout schedule meshes with the hardware sales timeline recently highlighted by Astronics, which will provide the tail-mount antenna.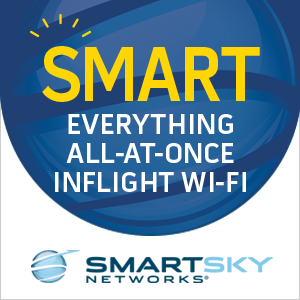 Collins' own cabin router will direct connectivity to the cabin and cockpit which, Ridgeway says, "will enable us to configure and grow along the way. And the beauty of partnering SES is the speed, which we're able to increase as we expand the offering."
It won't surprise you to learn that Collins sees its Venue cabin management system as an optimal choice for CMS integration with LuxStream.
Customer support for the LuxStream service will be provided via two 24/7/365 centers.
Following several months of flight-testing LuxStream on the 737 testbed, Ridgeway told RGN at NBAA that her confidence in LuxStream is 'through the roof'. The service is obviously "out of the box" with a major order to fit Vista Global's fleet. So what's the plan for ensuring efficient equipage?
"We've done a lot with our supply chain, so they're ready with their quality control processes. And we've done months of training with SES, having them train us, while we've also been training them; it's a really close partnership. Finally, we've worked very closely with Vista Global to prioritize their aircraft in terms of installations when they're down for heavy maintenance and hitting STCs at the time they need them," she says.
The process inevitably means STCs created to suit Vista Global will pave the way for other operators flying the same Bombardier Global and Challenger types. But Ridgeway notes that STCs generated for aircraft in United Technologies' own flight department will also smooth the installation process.
She says Collins received an overwhelmingly positive response from potential LuxStream customers at NBAA. It's a product operators want, but waiting in line behind 116 Vista Global installations won't be an attractive prospect. "On no, that's not going to happen," Ridgeway counters. "It's another beauty of the broader United Technologies. We're using our whole global dealer and service network, and we're certain our hardware suppliers can meet demand, so the pacing factor will be only the STCs."
Collins' announced foray into Ku IFC for BizAv came one year after Intelsat announced the launch of its new managed FlexExec end-to-end service for business aviation. Intelsat's plans – and those of its partners – have been challenged by the loss of Intelsat 29e satellite. Intelsat vowed that the new service will not share capacity with airlines, and now Collins is doing the same in partnership with SES.
Related Articles: