Boasting an 80-year history in providing aircraft components and three decades worth of experience in developing modification packages and Supplemental Type Certificates in aviation, Carlisle Interconnect Technologies has a uniquely educated perspective on the challenges posed by STCs, the approvals required to modify an aeronautical product from its original design
That's why, when CarlisleIT announced this week that it has become a member of the new Independent Aircraft Modifier Alliance (IAMA) – joining founding members EAD Aerospace, Envoy Aerospace, Etihad Airways Engineering, and Lufthansa Technik – Runway Girl Network reached out to the St. Augustine, Florida-based company to gain a better understanding of the pain points it has observed in the STC process and how IAMA might address them.
Jeff Behlendorf, director of product management, integrated products at CarlisleIT, said there are three significant challenges with STC work that CarlisleIT is hoping IAMA can help improve.
"The first, and probably easiest, is to publish guidelines for what a STC should include. That encompasses contents of the engineering package, best practices for demonstrating compliance with regulations, as well as the continued airworthiness and maintenance of the modification," he explained. "Second is to take advantage of these guidelines with regulators to have a more consistent approval process across jurisdictions. Currently there can be significant differences in the required documentation, the review process, as well as the timing for activities based on [who] the approving agency is. This includes the large government agencies as well as their delegates operating as an ODA [Organization Designation Authority] or DOA [Design Organization Approval].
"Third is a long term STC support portal. Aircraft operators need access to STC data for maintenance long term and being able to have a single repository for all of that documentation from IAMA members brings added value to those customers and replicates the direct support they have for other manufacturers' documentation today."
Having this type of repository would be particularly beneficial to industry, according to Nicole Noack, aircraft modification – head of IAMA. If an airline opts to use a third-party STC, there may be questions about how the modification affects the warranty of the aircraft, she noted in an interview this year with RGN. And if the aircraft is leased, then the lessors' requirements need to be taken into consideration, as all retrofit decisions affect the asset and must be tracked.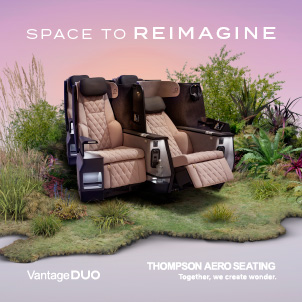 Establishing standards for STC data packages and support is certainly a key part of IAMA's work. And in this regard, CarlisleIT can share its own best practices. "Like all of the IAMA members, CarlisleIT considers safety to be the most important factor when performing STC modifications to aircraft," said Behlendorf. Some examples of best practices employed by CarlisleIT include regular training of staff by the FAA and EASA, robust configuration management and change processes, high-quality maintenance instructions and support for operators, and collaboration with regulators when developing qualification and test procedures for new equipment on the aircraft.
CIT holds more than 200 STCs for upgrade of Part 25 aircraft avionics, systems, and special mission equipment from regulators globally. The majority of these are for primary avionics systems and equipment, including weather radar, ADS-B Out, GPS navigation, TCAS, Electronic Flight Bag, Enhanced Ground Proximity Warning Systems, ACARS, Multifunction Displays, and even cabin equipment like coffee pots. But CIT also holds about two dozen STCs for satcom or air-to-ground (ATG) connectivity, TPED, and WiFi networks, reflecting the recent emphasis on these systems with airlines.
This portfolio encompasses a tremendous amount of intellectual property. How will CarlisleIT ensure it protects its IP in the alliance? "IAMA members are voluntarily sharing their experience and best practices as part of the alliance. Specific product IP, including STC technical data, will be held by IAMA under NDAs.  Since IAMA will be independently administered, members don't have access to this data from their peers," said Behlendorf.
But it's also true that CarlisleIT has a long history with all of the IAMA founding members, given that it is both a significant aircraft component OEM as well as a long-term STC provider. That history can be as "customer, supplier, competitor or all three, but CarlisleIT definitely sees IAMA as a way to deepen those relationships and find new ways to work together in the future", said the CarlisleIT executive.
Moreover, by working together, IAMA members can offer a broader product catalogue to the market that fulfills airlines' unique needs. So, what is CarlisleIT's expectation for securing new IFC provisions/equipment package business through its work with the alliance?
"CarlisleIT believes that being a member of IAMA provides airlines and other STC customers a list of reputable companies to solicit bids from. Selecting an STC provider is an expensive business decision, and choosing a bad one can mean delays in getting your product to market, busted budgets, and unwelcome surprises along the way,"responded Behlendorf.
The creation of IAMA will also help its members better respond to major airframers' decision to move more and more cabin upgrades in-house. But Behlendorf noted, "Part of the mission of IAMA is to promote the STC as a way to modify and upgrade aircraft. That includes both collaboration and competition with the airframers. Ultimately airlines decide what is best for them, and they have always been the main force keeping independent STC providers in business when the airframers can't, or won't, perform a modification in a timeframe or at a cost that meets their business goals.
Related Articles: