2019 has turned out to be a year of restructuring for Astronics. The global provider of power, connectivity hardware, lighting, interiors, structures, and test equipment recently announced it will reorganize its loss-making aero antenna company, Astronics AeroSat, and consolidate much of the business into its Connectivity Systems & Certification (CSC) organization in Chicago during the first half of 2020. Management is also conducting an assessment of AeroSat's initiatives to "determine which we will continue and which we will not, and those decisions will drive our transition plan and timing".
During a third quarter earnings conference call to report adjusted consolidated sales of $175 million, company president and CEO Peter Gundermann referred to AeroSat as among Astronics' three "stragglers"; the other two stragglers are its certification company, Armstrong Aerospace, which is being physically relocated from Itasca, Illinois to an Astronics CSC facility in Waukegan, Illinois (basically taking Astronics' footprint in Chicago from three organizations down to two); and CCC (Custom Control Concepts), the Seattle area company which provides cabin management systems for large VIP private aircraft.
Together, these three struggling companies – which Gundermann called "probably the most important topic" – had "a pretty big negative impact on our quarter" and a $27 million operating loss year-to-date, though Astronics sees a path to reduce or eliminate that number in 2020. Overall, Astronics' aerospace segment sales decreased $11.9 million, or 7.0% year-over-year, to $157.7 million for the quarter.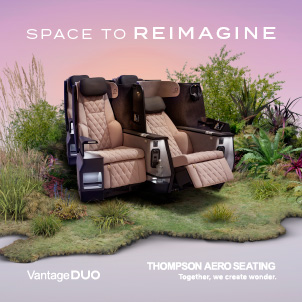 But first, the low down on AeroSat, which provides satcom systems in aviation. As a reminder to readers, Manchester, New Hampshire-based AeroSat supplies traditional Ku antenna hardware in support of Gogo's inflight connectivity service on Delta Air Lines' longhaul flights (pictured above) and on Japan Airlines' domestic flights. The business faced a recent disappointment on the FlexExec program for business aviation due to the loss of Intelsat 29e. It partnered with Phasor on nextgen ESA aero terminals. And in September it announced a deal to supply its tail-mount antenna to Collins Aerospace's new LuxStream Ku-band IFC service for BizAv. In short, AeroSat has been working to grow its connectivity hardware portfolio.
Indeed, Astronics' strategy entailed  growing AeroSat into critical mass. But that strategy "has resulted in significant losses and we're basically reversing course and have made the decision to reorganize the company and consolidate much of its operations also into CSC in Chicago," Gundermann admitted flatly.
While Astronics will maintain an AeroSat office in New Hampshire for certain engineering, program management, and sales functions, the AeroSat manufacturing operations will transition to the new CSC facility in Chicago. By doing that, said Gundermann, Astronics thinks it will be able "to more efficiently leverage the technical and manufacturing resources required to pursue the AeroSat pieces of business, and we're not sure we're going to pursue all of AeroSat's pieces of business. There have been three or four major thrusts, depending on how you count them, and we're reviewing which of those we want to continue and which of those we don't, and we're doing that in conjunction with customers to the extent we can."
As a consequence of the AeroSat consolidation, Astronics will incur a reserve. "The reserve could be significant depending on our final plan, which will be determined by the end of the quarter. We expect the reserve to be at least $5 million and could be above $10 million," warned the firm. The exact figure will be determined by what Astronics decides to move forward with, and perhaps more importantly, what it doesn't move forward with.
A bright spark for the AeroSat unit, however, is the recent announcement that Collins will use a derivative product of AeroSat's tail-mount antenna for its planned new Ku-band IFC service for BizAv. Gundermann reckons the win is "confirmation that there's a lot of potential demand there to draw a company like Collins into it, and we're pleased they've picked our antenna to work with." He added that the firm expects to initiate the sales process in the first quarter of 2020 or so.
As mentioned, AeroSat is not the only part of Astronics which is facing headwinds. The other two "stragglers", Armstrong and CCC, are also challenged, but Armstrong, whose business mission has been refined is "basically out of the woods, operating slightly below breakeven but nowhere near the losses that we have seen", said Gunderman, noting that Armstrong could become a "very significant" contributor in 2020 if it's successful in winning certain pieces of business.
CCC, on the other hand, has struggled with a development program which it won right about the time Astronics bought the company. That development program has turned out to be a source of continued losses with heavy engineering expenditures. However, said Gundermann, the "development program is on track, we believe, to conclude right at the end of the fourth quarter, in the middle of December and if it concludes, that will open the door for a reduction in engineering expenses as we enter into 2020." Astronics believes there is a good chance CCC will be positive in the fourth quarter.
Astronics also grappled with increased China tariffs (an expense of $3.2 million in the third quarter alone) and fallout from the protracted grounding of the Boeing 737 MAX, which is obviously impacting multiple #PaxEx suppliers. On the tariff front, Astronics is adjusting its supply chain where it can to minimize what it buys from China, with Gundermann noting that Astronics is "moving them to elsewhere in the world".
He added, "And those efforts are in an advanced stage and if nothing changes in terms of the tariff structure and tariff topics, as we project into 2020, our tariff exposure should be half of what it is this year. So, we think that's pretty good progress."
Regarding the MAX grounding, Gundermann didn't mince words. Astronics is "being affected pretty significantly by the 737 MAX grounding, specifically. We put a certain amount of product on the airplane linefit and that revenue obviously is not too much affected because Boeing is continuing to build at 42 ships a month. But a lot of our sales thrust goes to the aftermarket to the airlines, and the airlines essentially worldwide are down about 800 aircraft from where they thought they would be at the beginning of the year. So, it's a capacity crunch and it affects different companies [in] different ways, but one of the things that we're being affected by is that the airlines are very reluctant to take airplanes down, to put unnecessarily, to put on passenger amenities, which is largely what we put on commercial airplanes. So, it's hard to quantify the impact of that, but programs in various parts of our business are slipping to the right and it's playing out in our bookings and playing out in our shipments."
Summing up Astronics' overall challenges, Gundermann said in his published statement that the MAX grounding, the resulting capacity challenge affecting the global airline industry, the headwinds including continued losses from the three struggling businesses, the higher tariff costs, a non-cash loss on the sale of Astronics' airfield lighting product line, and an increased reserve for a legal proceeding in Europe (a protracted dispute with Lufthansa Technik) all smarted in the third quarter.
"In total, the detrimental impact of these issues on the quarter's results was $15.4 million," he stated.
Photo of Astronics AeroSat antenna atop a Delta fuse credited to Jason Rabinowitz
Related Articles: