United Airlines, in tandem with regional carrier GoJet, recently rolled out its shiny new Bombardier CRJ550 regional jet at its Chicago, Illinois hub.
The aircraft, for those unfamiliar, is otherwise a standard Bombardier CRJ700, but with 20 fewer seats than normal and a fancy new interior.
Why would United remove seats from an airplane? The basics are simple: due to labor contracts, United can only fly so many jets over 50 seats at once, and the airline has reached its cap. The current crop of puddle-jumping regional jets are mostly all-economy class flying cans. So, no upgrades for frequent fliers, no first class for folks to buy, and less premium competition against United's main rival in the Midwest region, American Airlines.
Runway Girl Network first saw the CRJ700 during United's media day extravaganza in Chicago, but we were also afforded the opportunity to try the jet in the wild a week into service. United paid for the flight, as well as your author's onward travel back to Seattle.
Originally, the plan was to fly to Oklahoma City, the longest flight the jet is currently serving, and really kick the tires. But the CRJ550 turned into a CRJ700 at the last minute. United rebooked me on a flight to Madison, Wisconsin instead, the shortest flight served by the CRJ550.
Boarding began on time, with the gate agent repeatedly taking advantage of the opportunity to mention that bags would not need to be gate checked on this "GoJet CRJ550 Experience".
The very first thing you see upon entering the aircraft is the self-service bar. Full of softly lit sweet and savory snacks and tumblers ready for the taking, it sets a positive, premium vibe right out of the gate. A roll-up closet across the aisle is available for anyone, but fills up with first class and crew bags.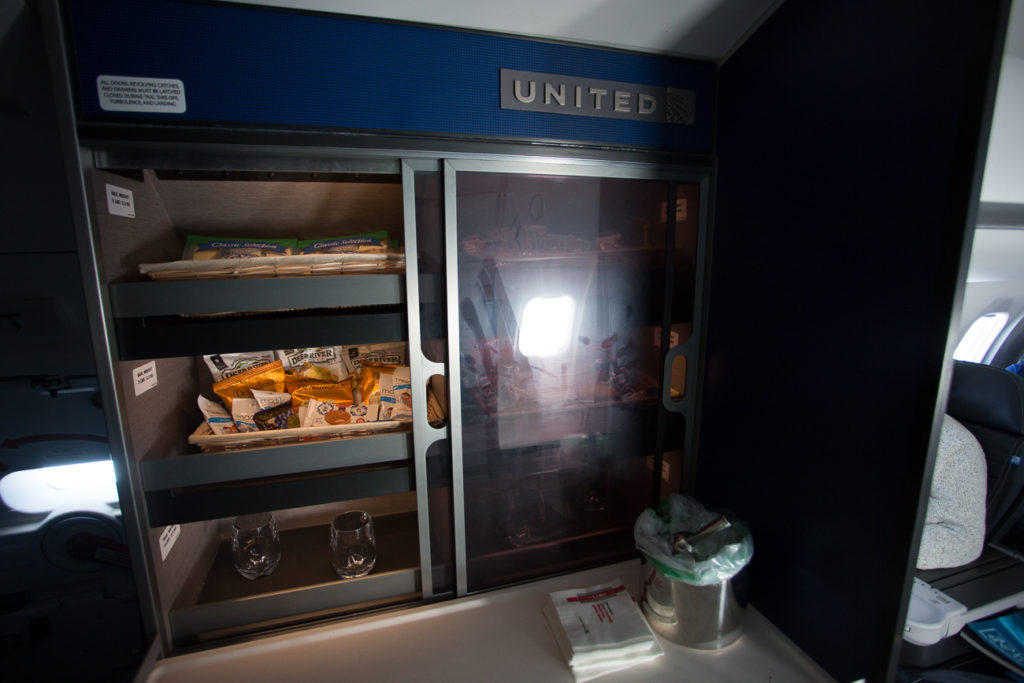 Ten first class seats, in a 1-2 configuration, are all clad in the familiar United blue. Three more roll-up closets and a curtain separate the premium cabin from the 20 extra-legroom Economy+ seats.
A further 20 mainline economy seats round out the rest of the cabin. All Economy+ and economy seats are configured in the familiar 2-2 layout.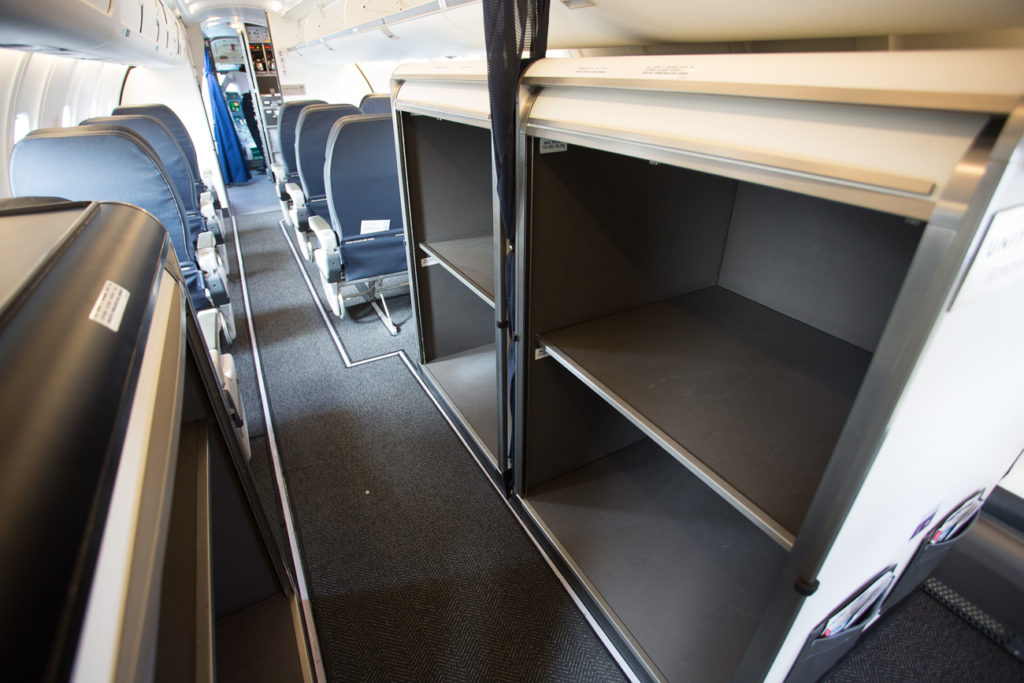 On this flight, first class was half full, while the economy sections were close to completely full. Settling into seat 1A, a water bottle and a sparkling clean seat greeted me.
1A is a bulkhead seat, and I felt as if it offered slightly more space than the 40 inches of pitch elsewhere. It is comfortable, with a modest recline. Power ports are disappointingly absent, though the airline plans to add them down the road.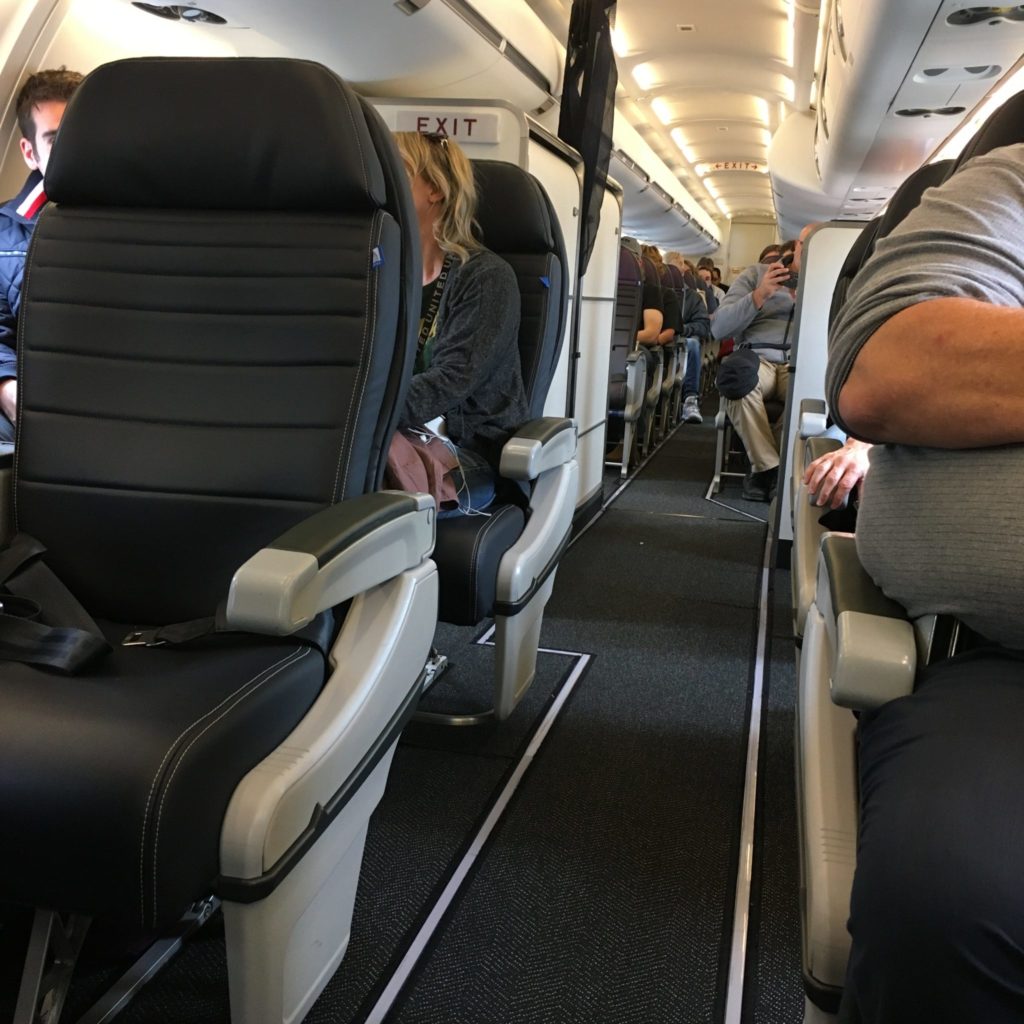 The rear of this aircraft isn't suffering with respectable pitch in Economy+ and economy. Even a 6ft tall human has room to move in the last row of the aircraft, as RGN editor Mary Kirby learned during United's media day.
But if you're any taller than 6ft (or have an inseam of over 37″), you might want to consider upgrading to Economy+.
The four closets coupled with the new overhead bin space lived up to the hype: not a single bag was gate checked on my flight. The flight attendant – and there is only one since this is a 50-seater – came by to take drink orders from first class passengers just before the door was closed.
She noted that the airline's wireless inflight entertainment, United Private Screening, was available as our interminably long taxi toward the runway began. Gate-to-gate wireless IFE is a nice perk, especially considering the taxi times at O'Hare – where the entire CRJ550 fleet is based for now – often exceed flight times.
Once in the air, the Gogo ATG4-supported inflight Internet powered up after passing 10,000ft. Determined to give it a go, I ponied up the [outrageously] expensive $8.99 to Gogo, and had just enough time to send a tweet and run half of a speed test (2MB up, ? Down) before we passed back under 10,000 feet. Gogo, having apparently seen my tweet about the pricing, refunded me without my asking. While I'm glad to have been refunded, it feels like a dangerous precedent to set. Maybe halve the price? Just saying.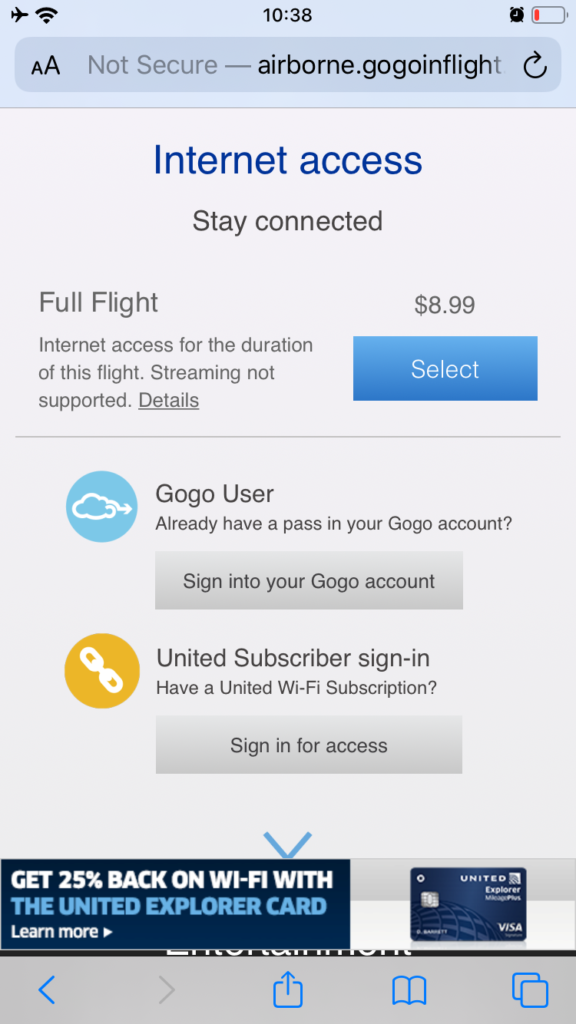 The seatbelt sign was off long enough to make a quick run to the self-serve bar. It offered potato chips, Biscoff, cookies, pretzels, and a few more substantial packaged items.
A slick-looking cooler down below the bar held a pedestrian selection of sodas. I helped myself to a handful of the items in the name of research, and wound up sampling them in the airport after the flight. The cheese plate pack and chocolate covered berries were my favorites.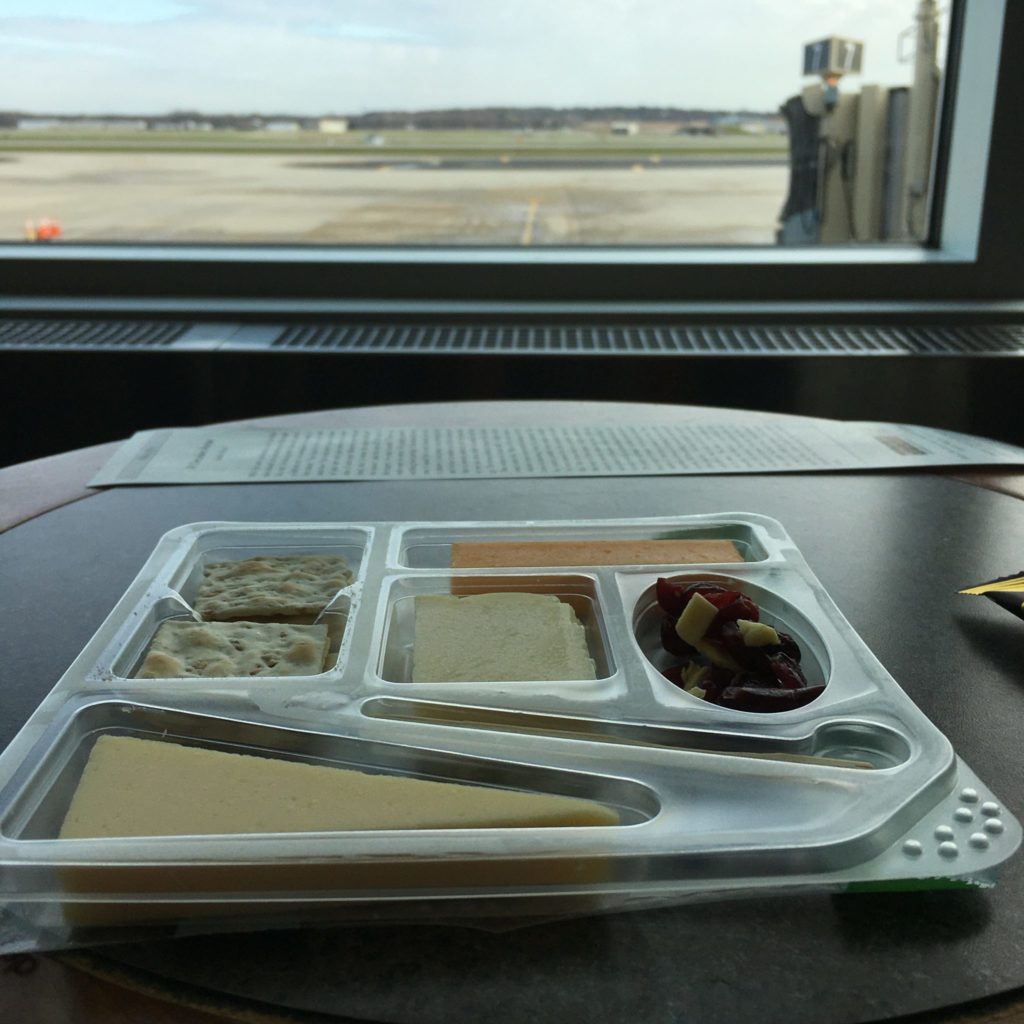 While the bar is a great addition, it wasn't entirely out of benevolence that it appeared. The jet may only be 50-seats strong and staffed by a single crew member, but it now has a first class cabin full of folks expecting to be doted on. Enabling first class passengers to serve themselves everything but the booze should free up valuable time.
On this short flight, however, the crew member – who at no point wasn't working their butt off – served the pre-ordered drinks not long after takeoff. A snack basket, taken from inside the bar, was offered to the first class cabin. And then it was time to button up for landing. There wasn't time to serve the main cabin.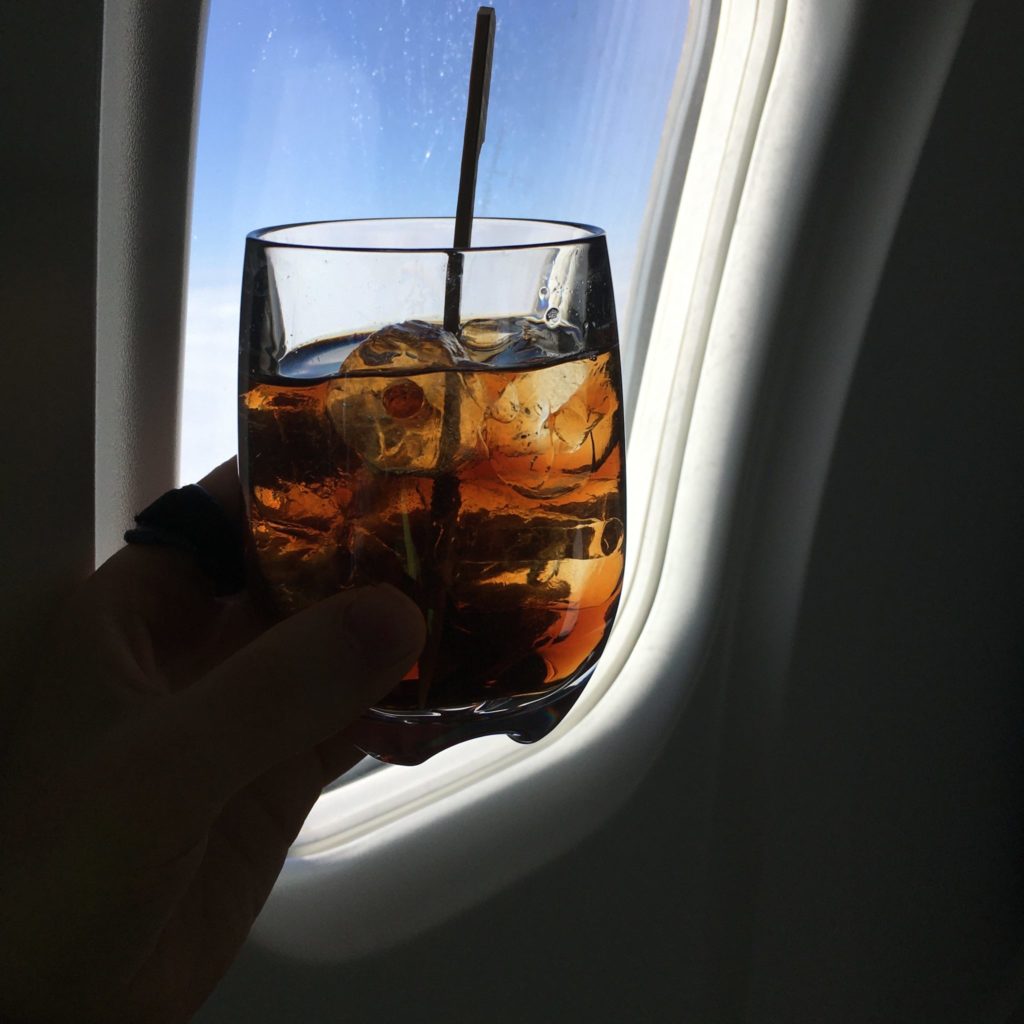 The flight landed on time in Madison. I do wish I'd been on the longer flight as originally planned. I'm very curious about how well the service holds up on 45-60 minute flights, where the flight attendant has time for both cabins but little margin for error. Perhaps some of our readers can fill us in on their experiences.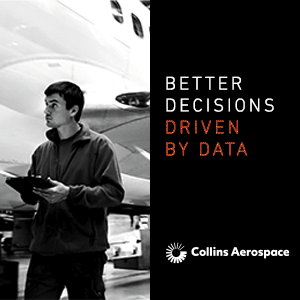 The airline needs to add in-seat power yesterday, the only real misstep I could find, but it's a big one. Passengers clearly expected to have power, and the flight attendant generously offered her personal power port to a passenger at least once. As mentioned, it's a misstep that the airline will correct, though they have not said when.
For folks who are used to flying the 50-seat puddle jumpers on a regular basis, this is a massive improvement. The change for the better was clear as passengers boarded.
Folks stopped to take pictures of the bar, and selfies in their seats, and were clearly relieved to have their bags above the wing.
All images are credited to the author, Jeremy Dwyer-Lindgren
Related Articles: