Though the Chinese domestic inflight connectivity market is in somewhat of a flux at the moment, that isn't stopping IFC industry players from seeking to make their mark.
For instance, Lufthansa Technik recently announced it has inked a five-year agreement with China's Air Esurfing to bring Ka-band connectivity to A320ceos, A320neos, 737NGs and 737 MAX aircraft using Honeywell antenna hardware and China Satcom satellite capacity. To put the pace of satcom activity into perspective, however, LHT and Air Esurfing first signed an MOU back in October 2017.
Your author doesn't doubt that LHT's press release headline – "First ever inflight Internet for China" – raised a few eyebrows. After all, multiple Chinese operators have trialed IFC through the years, from homegrown ATG solutions to Inmarsat SwiftBroadband to Global Eagle Ku-band. In 2017, Global Eagle fitted a 9 Air Boeing 737-800 in conjunction with Boeing Shanghai Aviation Services Co.
Panasonic Avionics, whose Ku-band offering is linefit offerable across most aircraft types, made meaningful early gains on Chinese carriers' long-haul aircraft; the company benefitted for a spell from being the only provider authorized to offer inflight connectivity on flights over the mainland in partnership with major telco China Telecom. And though Panasonic is offering Inmarsat GX to airlines in addition to its Ku eXConnect solution, it has insisted multiple times it is staying the course with its "XTS" plan for Ku, which will see the IFEC giant become anchor client on APT Mobile Satcom Limited's (APSATCOM) high-capacity APSTAR-6D satellite, scheduled to launch this year and provide full China coverage.
Other IFC providers, including Gogo, have been working to crack into the market and provide coverage for their airline partners. In September, Gogo announced it will leverage APSATCOM's Ku-band network – including the APSTAR-6D HTS satellite (called XTS by Panasonic) – to support IFC in China on domestic and international airlines.
To be sure, the press releases about Chinese IFC partnerships have been flying fast and furiously. Perhaps it's understandable given the size of the domestic IFC market that remains up for grabs. "The country's aviation sector continues to grow at pace and local airlines possess largely unconnected fleets of almost 3,700 aircraft, 85 per cent of which are single aisle," noted Valour Consultancy in a July report.
"According to Valour Consultancy's most recent Quarterly IFC Tracker, 168 aircraft registered to airlines in mainland China (all widebody) offered passenger connectivity at the end of March 2019; just 5% of the commercial active fleet," said the report.
But ATG remains a wildcard, with Valour suggesting it will drive adoption in China: "Airlines in mainland China will be presented with an alternative to satellite-based IFC in the form of China Mobile's proposed 5G Air-To-Ground network." Similar predictions have been made in the past, including by Chinese stakeholders.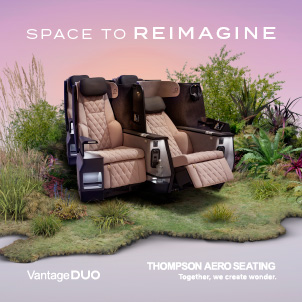 US satellite operator and inflight ISP Viasat has, of course, thrown its hat into the Chinese satcom ring, forging a strategic partnership with China Satcom with the goal of providing IFC services "within China for domestic and international airlines". And while the recent loss of the ChinaSat-18 satellite wasn't rosy news, Viasat is taking it in its stride, given that China's highest capacity satellite, ChinaSat-16, is in orbit.
"For us our deals are all around getting ChinaSat-16 up and running, right. So, we are … still on schedule, we are getting our equipment shipped, we are getting all of the, you know, regulations and everything done for that. We're really focused on that. That gives really good coverage across mainland China," said Viasat VP, commercial mobility Don Buchman.
He said ChinaSat-16 is "going to serve 80% of the flight routes in China. It's going to serve any international customers that we assigned that want to have access to China when they fly in, say from North America. And so, for the future business that we see, it's going to serve our needs and you know, we expect to have more capacity going online."
Buchman also noted that the loss of ChinaSat-18 "hasn't really changed our outlook, how we are viewing China and what our opportunity is. It hasn't changed that at all."
Might the loss open up Viasat's agreement with China Satcom, whereby the Chinese would say, 'okay, when ViaSat-3 comes online, we could do something creative'?
"There's certainly opportunities like that, yeah," said Buchman. "That's definitely going into thinking … "
He added, "Those are the kind of conversations that [happen] pretty quickly. But everyone is kind of in it together right so it's not a zero-sum game, you kind of want to all go forward, sort of have creative opportunities. We will see how that plays out."
In terms of geopolitical challenges – whether it be trade war-related tariffs or national policies – Buchman is unfazed, noting that a number of countries "have sort of histories with that. So that is something you always work into plans. But right now we have a partner on the other end that's really excited to sort of bring what we've been doing kind of elsewhere to their home country and we feel like we are uniquely qualified to help them do that."
"We are still on the mission, right. It's a pretty simple mission. Let's create the best wifi in the sky. The thing we hear all the time is 'we want that JetBlue experience on our flights.'"
Speaking more broadly, your author confessed her surprise to Buchman that the hybrid Ku/Ka-band antenna hasn't seen more take-up.
"I think you'll start seeing some more," said Buchman, noting that Viasat did fly it on Virgin America. "That's how we started. They had it for Hawaii routes. So, it's a real product. It's on all of our government airplanes. So, it's a real product, it's just finding the fit." He noted that airlines really can't take a wait-and-see approach with connectivity. "You can't have a new aircraft that doesn't have connectivity for a year. That's the other thing we are hearing. So, I think that fits the bill really well [regarding the hybrid]."
Aero antenna and modem maker Gilat has suggested to RGN that the Viasat hybrid "would have a challenge meeting the cost target for their solution".
Buchman countered in a statement: "Viasat's hybrid Ku-/Ka-band antenna strategy and pricing have remained consistent. In fact, the solution is not new – it's been deployed and used on government senior leader aircraft and commercial aircraft for years. Today, we continue to talk with carriers that have long-haul aircraft that plan to fly routes outside of today's current Ka-band footprint, but still want connectivity. These aircraft will benefit from the advantages of Viasat's advanced IFC services when in Ka-band coverage, yet still be connected (via Ku-band) when outside the Ka-band reach. That way, carriers do not have to settle for a lower performing system today; instead they get access to Viasat's advanced service capabilities when in coverage, and can leverage the benefits of ViaSat-3 when it comes online."
Since we're discussing hybrids, RGN would remiss not to flag up Carlisle Interconnect Technologies' recent announcement that it has been awarded STC "for the installation of structural provisions and the outside aircraft equipment package for a cabin upgrade incorporating a dual-band (Ka/Ku) terminal" for Boeing 777-300 and 777-300ER series aircraft.
The news comes amid a rumor that Saudia wants to fit longhaul aircraft with the Taqnia hybrid (rolled out in partnership with SITAONAIR). Carlisle and SITAONAIR did not provide comment.
Related Articles:
Featured image credited to istock.com/ozgurdonmaz