Panasonic Avionics is internally studying its content services, and how it can provide "a new value proposition to the airlines that challenges and actually disrupts the traditional" content service provider (CSP) model, the company has revealed to Runway Girl Network.
"So, we're looking into that. We're not ready to disclose it. But really seeing the way we can go to the airlines and say, 'it's not about quantity, but it's quality and optimization … through this capability,'" global head of marketing and product management Gaston Sandoval told RGN in reference to NEXT Insights, Panasonic's new comprehensive data analytics platform, which is the backbone of Panasonic's NEXT generation IFEC solutions.
In the last year alone, Panasonic saw an average of over 4.5 million individual IFE usage records per flight. That's a massive amount of data. The goal of its cloud-based NEXT Insights platform is to use that data to empower intelligent decision-making through actionable insights and advanced analytics. Using descriptive, predictive and prescriptive analytics, its dashboards provide airlines with an in-depth, real-time view of onboard experiences, spot industry and social trends and deliver operational intelligence.
Consequently, said Panasonic executives at the APEX EXPO, airlines are able to get ahead of media trends in theater, optimize advertising placements within Panasonic's new Arc e-commerce and moving map solution, forecast marketplace inventory levels, and increase ROI of the airline's connectivity investments. So purely for example, if an obscure movie title performed particularly well on a certain route, the airline customer could use that insight to pair down its content costs by offering something similar on the next flight instead of, say, a costly blockbuster in its place. NEXT Insights also enables an ecosystem of curated partner product offerings to enhance the airline's investment.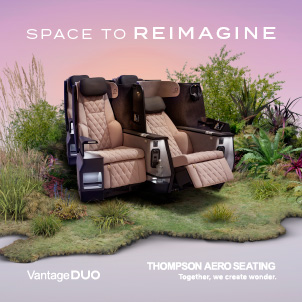 Optimizing airlines' content spend and indeed the early window afforded to the non-theatrical market are top-of-mind in IFE content provisioning these days. To the former point, airlines are eager to explore ways to engage passengers without breaking the proverbial bank on content licensing. To the latter point, long lead times have traditionally been required to encode titles in various formats, deliver them to the IFE hardware companies for integration and quality control, and then load them onto the planes. This model has impeded airlines' ability to quickly offer a more personalized and dynamic experience to passengers.
The largest airline CSP in the world, Global Eagle, put some color around these challenges – and how it is tackling them – during its recent third quarter earnings conference call. "In the third quarter, we renewed our content supply agreement with WarnerMedia and our small airline agreement with Disney-Fox. We have seen some changes in media pricing with pluses and minuses based on the studio and content category. We're adjusting our airline pricing models accordingly and are attempting to guide our airline customers on how to spend their IFE dollars most efficiently," said Global Eagle CEO Josh Marks.
For context, Global Eagle is understood to be able to offer airlines "all you can eat" content from Fox and Warner Bros at a very low cost.
Regarding content delivery, Global Eagle is aiming to disrupt the supply chain via the cloud, as first reported by RGN. Its digital cloud platform, called Open, "has led to important CSP wins", said Marks on the earnings conference call. "In the second half of this year, we expect to transition our airline customers onto Open with full deployment for all our customers in 2020."
Global Eagle is not the only CSP innovating with the cloud. Touch Inflight Solutions, which boasts TAP, Azul, Eurowings, GOL and others as customers, and castLabs in September announced their joint venture, ABOVE, which is an open, standards-based platform for the encoding, storage and distribution of encoded video and related metadata through cloud-based services. ABOVE has been tested and adopted over the last several years with Lufthansa Systems' BoardConnect wireless IFE system.
At the APEX EXPO, RGN had an in-depth interview with Touch and castLabs. During the conversation, your author asked Touch if it is feeling any competitive pressure from big IFE hardware companies yet?
"Feeling it now? I must be honest and say no. We might feel it in the future," said André Valera, director of business development at Touch. But he noted that Touch's work on ABOVE is "our way of anticipating changes I believe will occur in the market. I think that the role of the CSP must evolve, must change and must move into more of a position where it actually brings a solution for the passenger engagement and that solution today needs to be delivered through technology. And our industry … is living in the 80s in terms of technology."
This journalist also posed a similar question to Global Eagle president Per Norén. "No it doesn't surprise me," he said, noting that the CSP ecosystem "has been functioning in a certain way for a long period of time".
Norén said airlines want to have more "one-stop-shops; they want simplifications not so much complexity; they want to deal with one [company] that takes care of the basic needs. So I'm not surprised by that, but the world of being an OEM and hardware provider and the world of being a content acquirer, curator, manager [of] delivery, value chain, etc, is very different. Is it possible? Sure, it's possible …"
But, he added, Global Eagle has a built-in knowledge and understanding of what it takes to be a high-quality supplier and partner to airlines "in terms of what to choose, what to select, how to deliver and how to change cycles and I think if I were in their shoes I wouldn't underestimate the work that goes into doing this as well. But am I surprised? No, not really."
Interestingly, Touch revealed that it is happy to work with Global Eagle and other CSPs with its "totally open" solution.
Considering Panasonic's latest moves in the market – it is stepping up its focus on software, using Arc as an anchor around which the inflight e-commerce and IFE experience is presented, and increasingly providing its own content (whether through its exclusive television program licensing and games partnerships) – disruption to the CSP model seems almost inevitable. Once all aircraft offer cabin connectivity, for instance, Panasonic can more quickly personalize content, serving up the right adverts and content in real time. So too can Global Eagle, which like Panasonic, offers a Ku-band connectivity solution directly to airlines.
The ability to slash an airline's content costs by providing better analytics through NEXT Insights is a key part of Panasonic's proposition. Without the secure NEXT Insights platform, "we could not come in and say, 'hey I can help you optimize your content spend,'" explained Sandoval in the context of our discussion around CSP disruption.
And though the Panasonic executive wasn't ready to put meat on the bones of the exact plan, he agreed that CSP disruption is a natural progression in a digitized world. "Because as you know, that traditional model is more of a pricing war that has almost no margins … and there are new ways to disrupt the market. So how do we change those dynamics to being a new value proposition that is more about quality and that idea of, for this type of target passenger type, what is the right mix, what is the right content mix, what is the right shopping mix…?"
Global Eagle, meanwhile, does still have a unique position in terms of being a major distributor of non-theatrical content primarily serving airlines. "Our global library has been a unique differentiator for Global Eagle against other CSPs. In fact, we provide content to almost all of our competitors that they in turn place with their customers," noted Marks during the company's earnings call.
Indeed, Global Eagle, among other licenses, holds the rights to offer Lionsgate content. And, as reported by Global Eagle in the past, the firm has lab deals with Paramount, Disney, Warner Bros. and Lionsgate. No other CSP has a supplier network of Global Eagle's caliber and size. Even so, in the third quarter Global Eagle's content distribution revenue to third parties was down $5.7 million year-over-year due to two factors.
"First, we focused our studio relationships to maximize available slate and box office traction. This is a natural evolution as content production has disrupted by new entrants like Netflix and Apple and by studio consolidation," explained Marks.
"Second, and more importantly, we stopped acquiring content rights on an at-risk basis in the pre-sale film market. While attaining rights at a very early stage sometimes have positive outcomes, we found that betting on scripts at the development stage was hard to forecast and tied up cash for multi-year periods. Exiting these relationships and pre-sale commitments drives positive cash impact."
Related Articles: