When I booked an intra-Europe flight from Amsterdam to Madrid with Air Europa back in July, I had no idea that by the time my November departure date rolled around, the airline would be sold to British Airways parent company IAG. My first flight on Air Europa suddenly became what would likely be my last flight on Air Europa before the carrier is enveloped in the ever-expanding family of IAG airlines.
Because I like to make things difficult, my Air Europa flight was booked on Expedia as part of a KLM-ticketed codeshare, with two other flights being operated by Delta. Delta, KLM and Air Europa itself were unable to assign me a seat, but I was somehow able to do so on the Air France web site. Go figure.
Airline integration within the SkyTeam Alliance still leaves a lot to be desired. Just like on my recent Vietnam Airlines trip, the Delta and KLM apps were unable to provide any useful information about my Air Europa flight, not even flight status or boarding time. Shockingly, though, the Delta app was able to issue a boarding pass.
Unfortunately for me, the Boeing 787-8 I booked was switched out to an Airbus A330-200 on the day of the flight. Air Europa's A330 fleet is quite varied, but I knew this swap would mean a downgrade for passengers no matter which aircraft was assigned.
I ended up with EC-LQP, a SkyTeam-liveried A330. This is the very same A330 that partially shut down Amsterdam's airport two days prior after the crew accidentally sent a hijacking alert to air traffic control.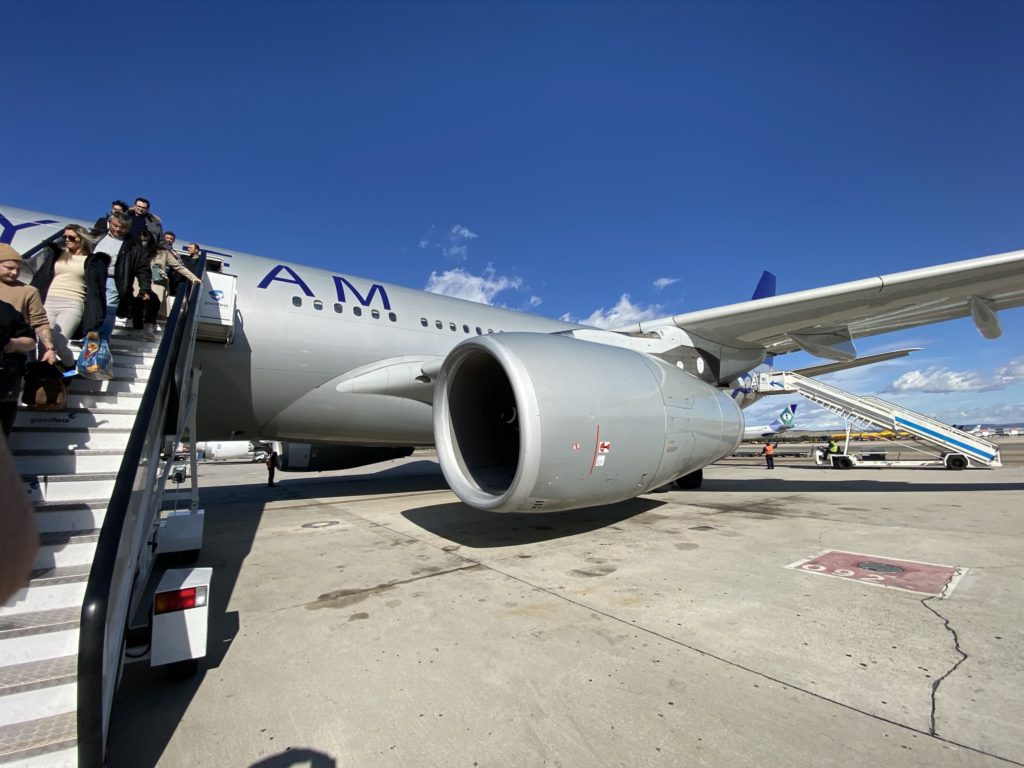 While the process of scanning boarding passes started on time, the actual boarding of the aircraft was subject to a 20-minute delay for unclear reasons. SkyTeam's Sky Priority boasts faster check-in and accelerated security. But on this trip, it just meant that I got to stand in a hallway longer than anyone else, which is less than great.
Once on board the Air Europa A330, I walked through the business class cabin; the seats are Stelia Equinox 3D and offer in-seat IFE.
Back in economy class, however, the aircraft has started to show its true age and it isn't pretty.
This nearly 17-year-old aircraft sports very old-school seats with thick padding, giant armrests and tray tables, but with just barely acceptable seat pitch. To be frank, the seats are in bad physical shape.
The wiring box under the seat in front of me kept coming loose. The headrest became completely detached and fell into my hands when I attempted to adjust it. Thankfully this flight was just a few hours in duration. I would not want to fly across an ocean in this uncomfortable interior, and yet the aircraft does just that quite often.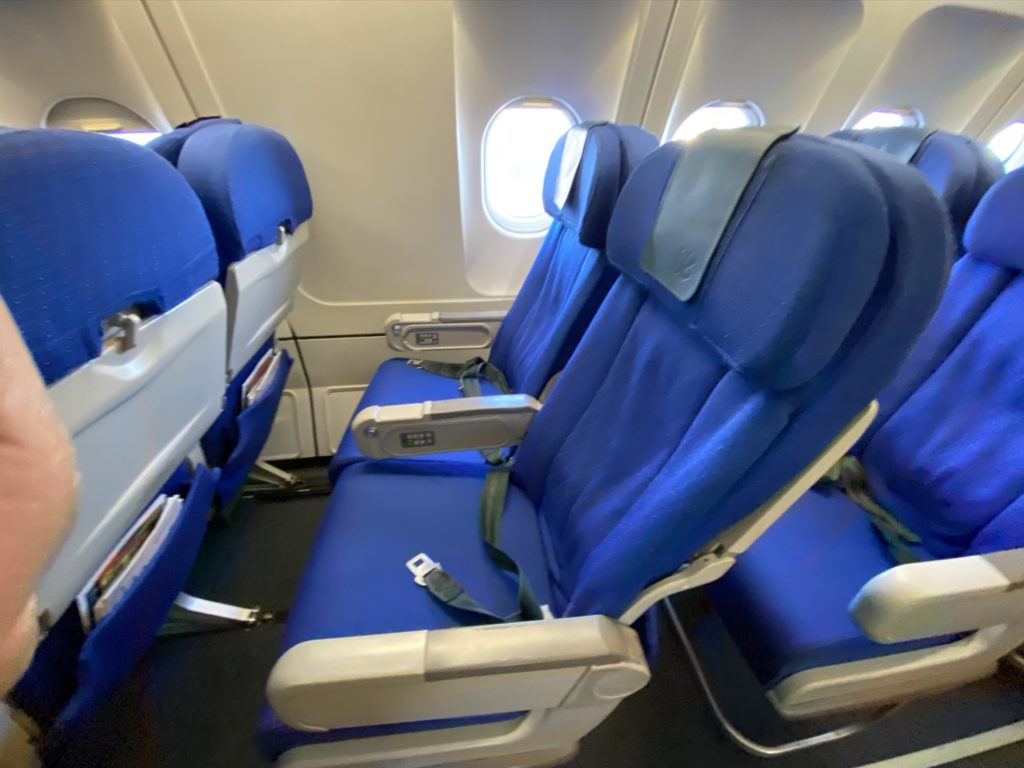 While the seats may have been from another era, Air Europa has attempted to offer some modern amenities. For one, every seat had USB ports installed recently. It would have been great if they worked, though.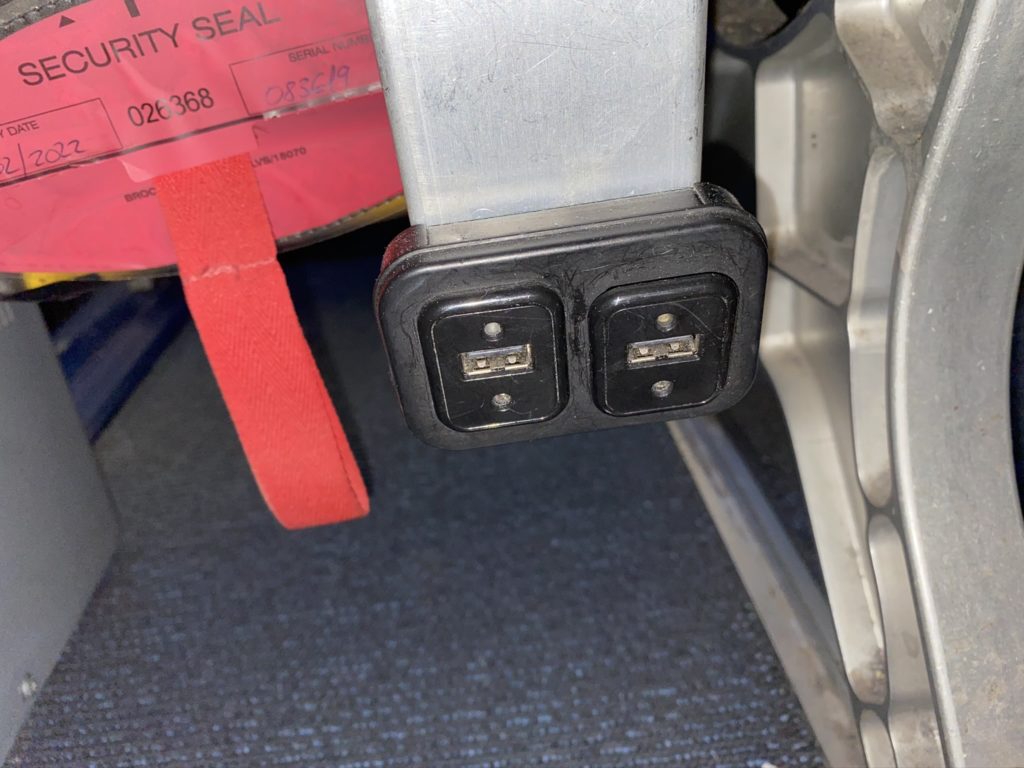 The aircraft also featured streaming IFE. A limited amount of content could be streamed via Air Europa's dedicated streaming app, but you had to know that existed to download before flying.
I was unable to get anything to play in web browsers on multiple devices.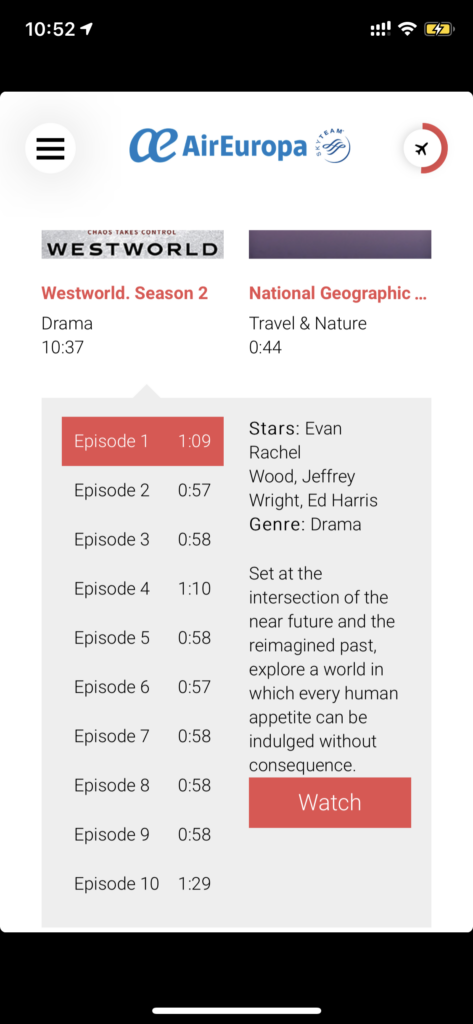 Lastly, Wi-Fi was available on this aircraft, provided by Panasonic Avionics. Pricing ranged from a €6 "basic" 30MB plan up to a €15 "premium" plan offering 100MB. A handy chart broke down what each service plan was suitable for, none of which touted "app downloads" or "video streaming" so kudos to the airline for properly managing expectations.
I didn't bother purchasing Wi-Fi as I would probably have blasted through 30MB in a single refresh of Twitter.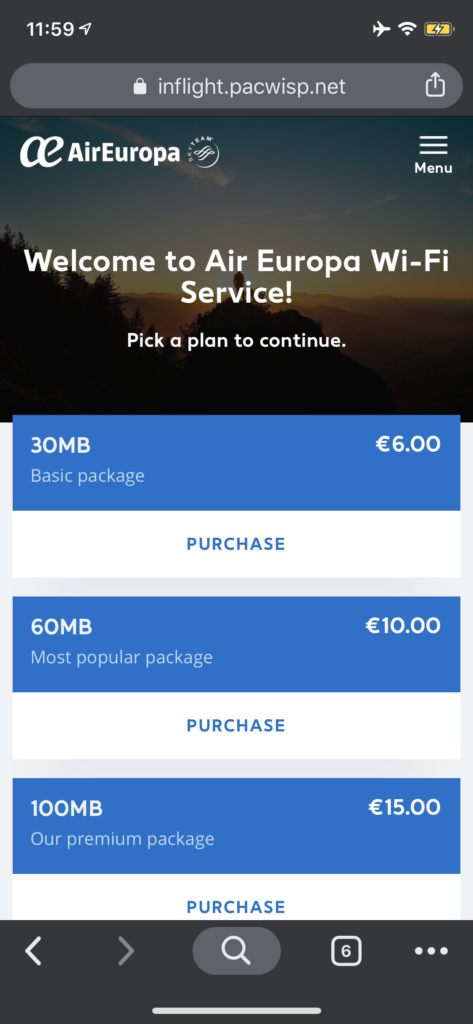 It wasn't all bad, though. The buy-on-board service offered quite a wide array of sandwiches, snacks and drinks. I took advantage of the combo option of a sandwich and soda for a slight discount.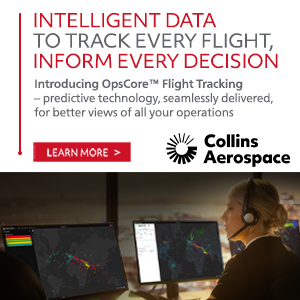 While the menu touted that credit cards and even Apple Pay were accepted, the flight attendant explained that the machines were either broken or missing, so credit card transactions were being processed manually, involving a slow process of writing down the credit card information on a paper receipt – a process ripe for fraud. The sandwich itself was decent enough to hold me over until lunch on the ground.
It's always fun to do a shorter hop on a widebody aircraft. I certainly wouldn't want to fly longhaul on this particular aircraft. The entire PaxEx proved to be an inconsistent crapshoot.
The A330s will slowly fade away from the Air Europa fleet as it takes delivery of additional 787s, and the carrier will be able to offer a much more consistently modern experience. In the long term, however, the fate of Air Europa is unclear under its new IAG ownership so the #AvGeek in me is at least glad I got to experience it at least once.
All images are credited to the author, Jason Rabinowitz
Related Articles: