Having had good experiences in the past with both WestJet and Air Canada – and given the simple fact that there is often very little difference between the transborder fares of Canada's two main carriers – I decided to book my annual roundtrip to the APEX EXPO on WestJet.
When I made the booking, I learned that the WestJet flight between Toronto Pearson (YYZ) and Los Angeles International (LAX) would be served with a Boeing 737-800, while the return was slated to be on the 737 MAX. But given the worldwide grounding of the MAX, WestJet ended up deploying the 737-800 on the return flight, much to my relief (yes, like many of you, I'm rattled by the cascade of troubling revelations about the MAX program).
After passing through what seemed like a surprisingly long customs line for 5:30am, the search for breakfast was on. Pearson's newly-renovated Terminal 3 still has rather limited concessions, and I found myself wondering if I should have booked Air Canada to ensure a departure from Terminal 1, which boasts better selections in my opinion. Avoiding allergens like gluten and nuts, as ever, I settled for the usual half meal for full price at Terminal 3, and went on my way.
Sitting at the gate, there was nowhere in sight to charge my devices prior to boarding. Thankfully, I knew the aircraft was equipped with Astronics' EMPOWER in-seat power ports.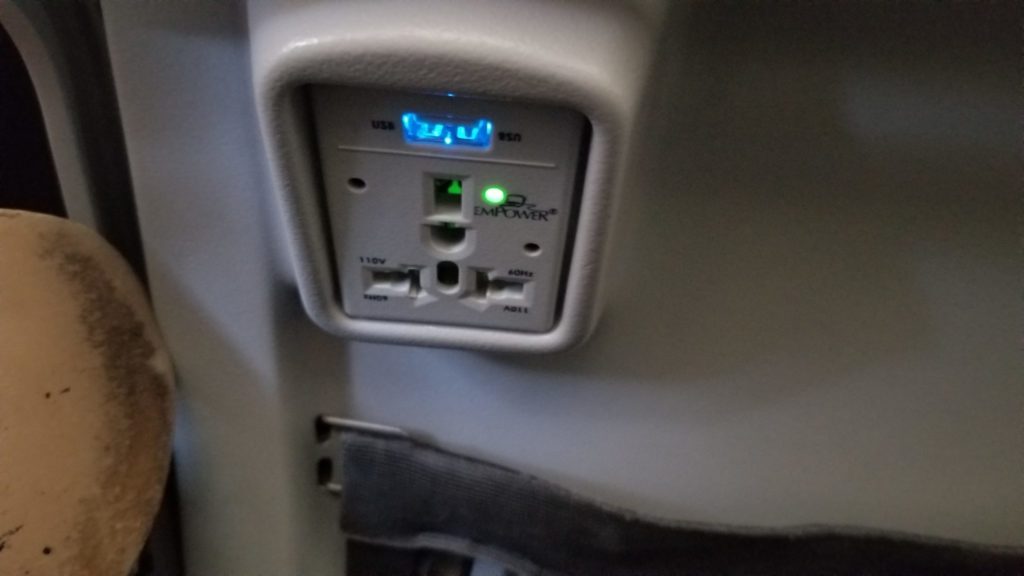 Once on board, I was disappointed to learn that the snack being distributed to passengers was not the mini MadeGood bar that was handed out on my last WestJet flight just a few months prior. I guess this allergen friendly snack isn't consistently offered after all.
Passengers can, however, buy a large bag of MadeGood snacks from the inflight menu, which was otherwise lacking on the safe snack front. Indeed, it seems as if WestJet has removed a number of great items from its menu. A 2016 partnership with McDonald's remains in play, though, and I availed myself of a pleasant McCafe drink on this early morning flight.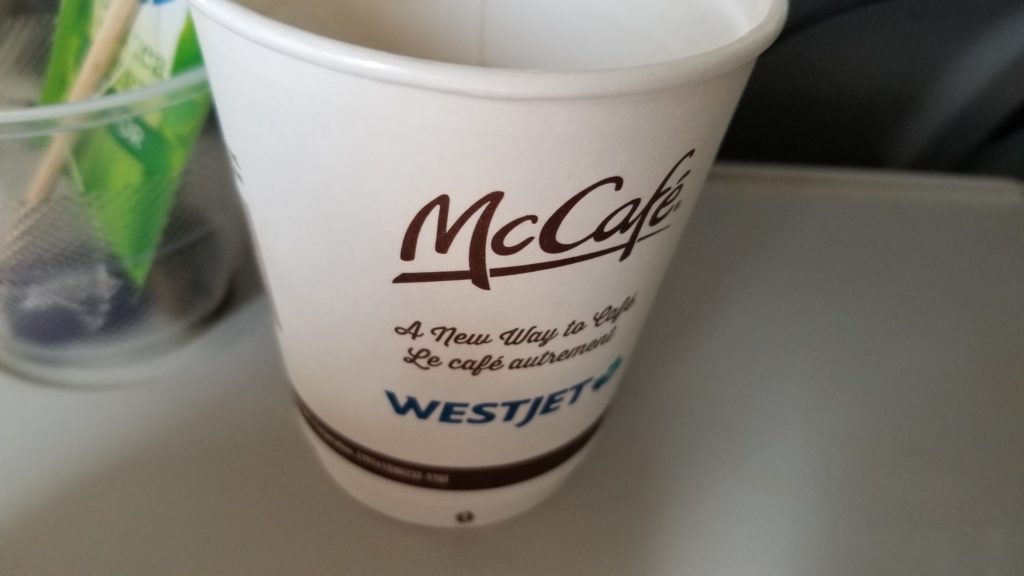 The Panasonic Avionics-powered inflight Internet worked well. I opted for the 90-minute package, and was able to get some work done at a price. I spent the rest of the flight on the WestJet app, watching an ugly cry movie, which in hindsight may have been a bad choice given the tight quarters.
WestJet says its standard seats are pitched at 31"-33", which to be fair is generous for a low-cost carrier. But while there was plenty of legroom for my shorter legs, the proximity of the seat in front of me made working on the laptop quite difficult. People with larger bellies might refrain from using the tray table altogether, as I did.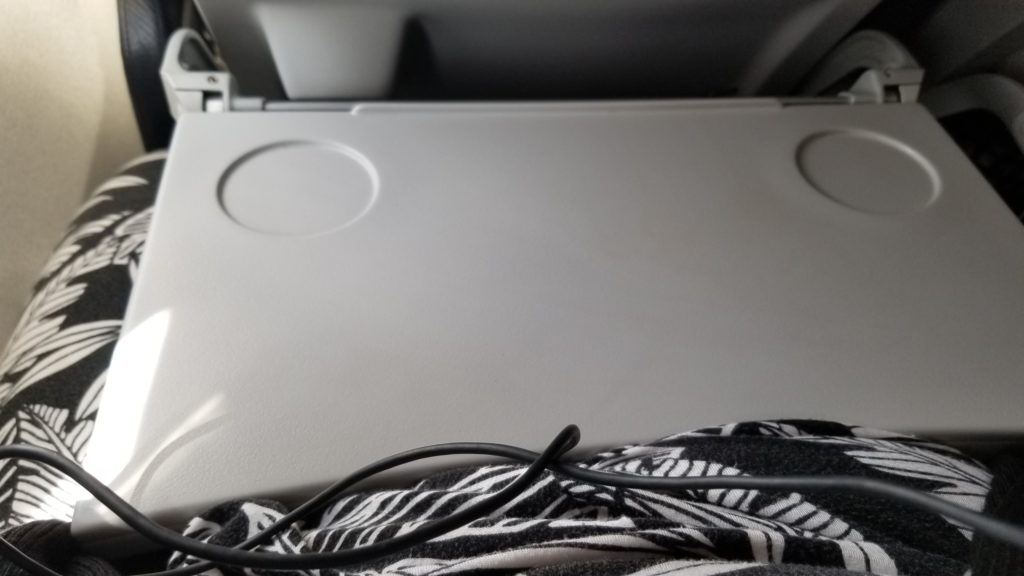 Traveling home from Los Angeles after EXPO, WestJet sent out an email urging passengers to arrive early, as we were to check in at one terminal but depart from another.
Check-in and luggage drop off was at Terminal 2; I then walked over to Terminal 3, which is in process of being renovated.
There was nowhere to sit in Terminal 3; it was standing room only with many people sitting on the floor and leaving almost no space to walk.
The bathroom line was very long, and snagging some food before the flight was nearly impossible. I waited for 35 minutes to buy a Starbucks coffee.
None of the available charging ports seemed to work, and I again found myself grateful for in-seat power on board. Indeed, in-seat power is starting to become one of my top needs and wants in-flight.
To be frank, I want power even before I want connectivity. And, I'd even be willing to pay a nominal fee for it (shhhhh).
I opted not to pay for connectivity on this return flight and just relied on WestJet's wide variety of streaming entertainment via the app.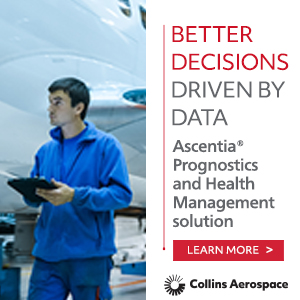 The advertising that popped up each time I started a new video – commercials about Hawaiian Papaya and Calgary Stampeder football – seemed highly irrelevant to me and even to my destination.
I know more can be done to better target and personalize the experience, and the Airline Passenger Experience Association is working on those standards as I type.
During my flight, I noticed that some Netflix originals such as Fuller House were offered; I love watching this show with my daughter so it was a treat to dive in on board.
I also enjoyed the funny airplane seat workouts titled "FlightFit Club" but I wasn't sure if my neighbor would appreciate me executing the movements.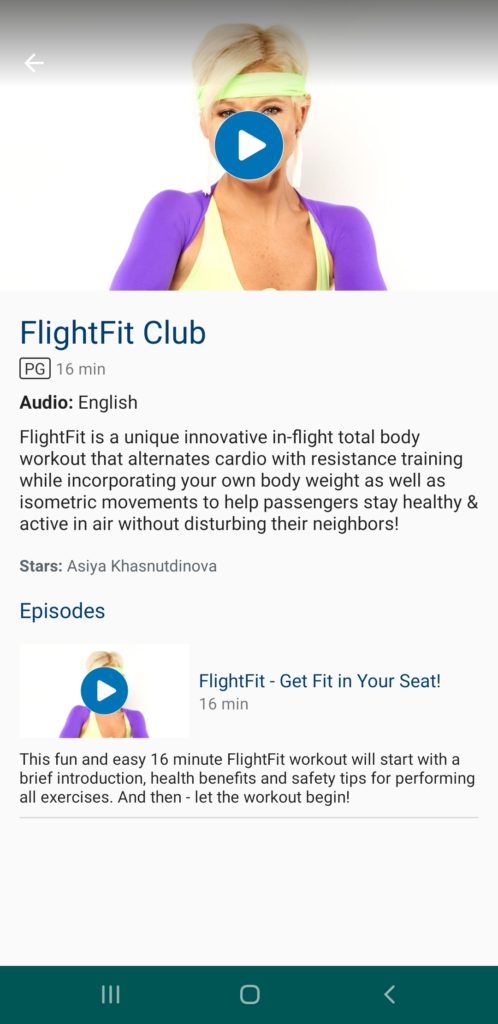 All in all, WestJet was as expected. Flights were on time, service was kind, the in-seat power ensured I had juice to both work and be entertained in-flight, the IFE selection was good and the Internet was solid.
That's a win for this passenger.
Related Articles: