Panasonic Avionics Corporation subsidiary, AeroMobile, a leading inflight mobile connectivity provider, is pleased to announce the launch of mobile connectivity onboard Egyptair Boeing 787-9 Dreamliner aircraft.
This launch marks a significant time for Egyptair; considered Africa's pioneer and leading airline, and the flag carrier of Egypt, as it responds to the ever growing demand for connectivity from travelers.
With this launch, Egyptair has achieved a major milestone by initiating the deployment of mobile and internet connectivity across its entire fleet of Dreamliner aircraft. In addition to the onboard Wi-Fi and live TV service, passengers will be able to access the AeroMobile network to connect their roaming-enabled GSM mobile phones to use mobile data services, send and receive SMS messages and emails, and make and receive calls.
Following the successful introduction of its first two aircraft with inflight mobile connectivity in Spring 2019, Egyptair are set to complete their roll out through Autumn 2019.
The B787-9 fleet with inflight mobile connectivity will serve destinations including Europe, America and Asia during 2019.
Egyptair is always keen on providing passengers with competitive solutions, especially in the field of technology. As connectivity becomes an increasingly important part of the inflight experience, the airline is pleased to now be able to offer passengers a similar connectivity experience in the air, to that which they enjoy on the ground. Through these connectivity services, the airline is providing industry-leading services to its passengers, with even more choice, convenience and added value, all delivered with true Egyptian spirit.
"We are pleased to provide mobile connectivity services onboard Egyptair's B787-9 aircraft. Egyptair has reached an exciting milestone through developing mobile connectivity to its passengers with seamless connectivity in most of the flight. The airline joins our ever-growing connected fleet enabling inflight mobile connectivity to become more accessible to travelers than ever before. We look forward to continue working with the team to provide a great passenger experience." said Kevin Rogers, CEO of AeroMobile, Panasonic Avionics.
AeroMobile provides technology and global coverage that allows the safe use of passengers' own mobile phones onboard aircraft.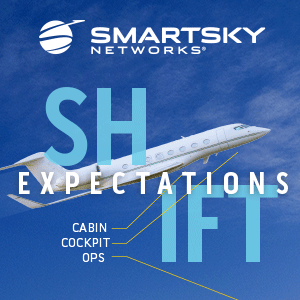 About AeroMobile
AeroMobile Communications Limited is a UK-based mobile service provider for the aviation industry. AeroMobile provides world class, proven, technology and services that enable airline passengers to use their own mobile phones for mobile data, texting and calls whilst inflight.
A subsidiary of Panasonic, AeroMobile's services are available for installation either at the point of aircraft manufacture (line fit) or on aircraft in service (retrofit) across both Airbus and Boeing aircraft.
The AeroMobile service is currently available on; Aer Lingus,  Alitalia, Air Italy, Air Serbia, Asiana Airlines, Biman Bangladesh Airlines, Cathay Pacific, Emirates, Etihad, EuroWings, EVA Air, EgyptAir, Kuwait Airways, Malaysian Airlines, Lufthansa, Malindo Air, Qatar Airways, SAS, Singapore Airlines, SWISS, TAP Air Portugal, Turkish Airlines, Uzbekistan Airways, and Virgin Atlantic.
Featured image credited to istock.com/JakeOlimb