Thailand is known as The Land of Smiles, so it was fitting for Indian operator Vistara to pay homage to its newest international destination when it launched service to Bangkok on 27 August.
The carrier's check-in counter at Delhi's Indira Gandhi International Airport was generously decorated with orchids, of which Thailand boasts 1,000 species. Vistara senior executives also participated in a traditional Indian ceremony, lighting a lamp at the airport because it is known to bring good luck before the start of a new venture.
Light is said to represent positivity, and I'd like to think it spread some divine grace as the launch flight between Delhi and Bangkok boasted an 80% load factor.
Thailand is a popular destination for Indian people. By the end of the year, the country will have received roughly two million visitors from India, and Vistara very much plans to be part of that story. Bangkok happens to be Vistara's third new international destination after Singapore and Dubai. The carrier, an Indian joint-venture between Tata Sons and Singapore Airlines, launched all three new services during the month of August.
The Airbus A320neo deployed on the Delhi-Bangkok route is configured with eight business class seats, 24 premium economy seats and 132 economy class seats. Vistara is the only airline offering a dedicated premium economy class cabin from India to Bangkok.
At present, Vistara operates well over 20 A320s, including 10 re-engined A320neos. But a fresh batch of A320neo family aircraft will start arriving in October. Deliveries of the carrier's first A321neos are expected to begin in 2020.
The mood lighting on board this A320neo plying Delhi-Bangkok reminded me of the Boeing 787 Dreamliner, for which Vistara is also a customer, having ordered six 787-9s which will be delivered beginning next year.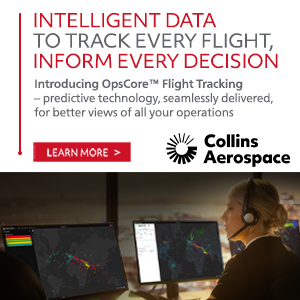 Bluebox Aviation Systems supports the "Vistara World"-branded wireless IFE on board the carrier's A320s, A320neos and Boeing 737-800NGs. On my flight, Bluebox's portable wifi box was placed above seat row 7, offering a nice selection of streaming content to passengers who had downloaded the Vistara World app to their personal devices.
But three days later, on 1 September, both Vistara and Bluebox celebrated the one-year anniversary of the launch of Vistara World by going app-free. Passengers are now able to watch Vistara's DRM-protected content from their personal device browser if it meets certain requirements, without downloading the app. Previously only DRM-less content could be viewed without the app.
When Vistara's A321neos and 787-9s arrive and are deployed on longer international routes, they will offer Panasonic Avionics' X Series embedded seatback IFE, which is being linefitted at the Airbus and Boeing factories to these aircraft types, Vistara confirmed to Runway Girl Network. Part-owner Singapore Airlines offers a similar product on its widebodies. Vistara CEO Leslie Thng said inflight connectivity is also in the cards, once all remaining regulatory hurdles are surmounted. But Thng refused to comment on whether customers will be charged for the Internet service.
Thng also revealed that Vistara has chosen a new business class seat for its forthcoming A320neo family deliveries. While the Geven seats on the present fleet will not be swapped out, the new seats will be delivered with the new aircraft and will feature in-seat power, which is presently lacking. "Just wait for another two months," said Thng.
Vistara is also betting on its trump card, its high-yield premium economy cabin, which features the same 3×3 configuration as in economy class, but with extra legroom and premium amenities.
Serving the premium economy cabin on the Delhi-Bangkok inaugural was an endearing crew member, Prachi, who obliged my seatmate with a second breakfast, helped another passenger log onto the Vistara World wireless IFE, and even knew the ingredients of a dish on the breakfast menu. This is crew training in the class of Singapore Airlines and Cathay Pacific.
There were three choices for breakfast, and I can confirm that the cheddar cheese omelette was very good indeed. Tempted to have a cocktail? Vistara offers whisky, rum, beer and gin on board, but it only served these alcoholic beverages an hour before we landed. "Since it's early in the morning we serve alcohol closer to noon," explained Prachi. I have a suspicion that this policy might change soon.
A colorful welcome by the Tourism Authority of Thailand awaited us at Bangkok's Suvarnabhumi Airport, featuring artistic flower garlands, chocolates and puppets. I was grateful there was no water salute as this is no longer considered environmentally friendly.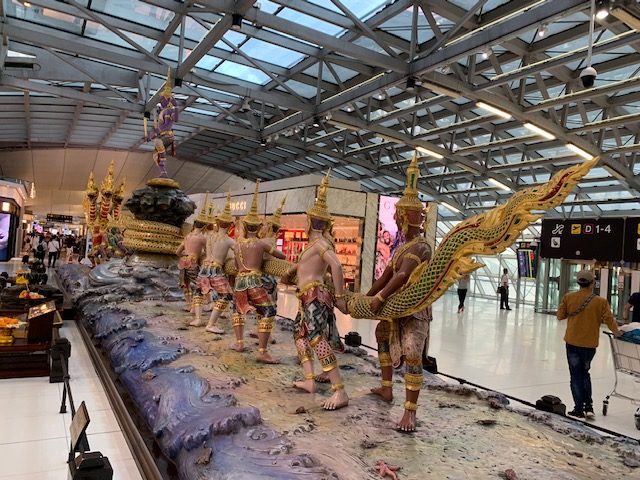 My return flight in business class a day later got me access to the SilverKris (SIA) lounge at Suvarnabhumi. Before that, I cleared immigration through Fast Track which lives up to its name.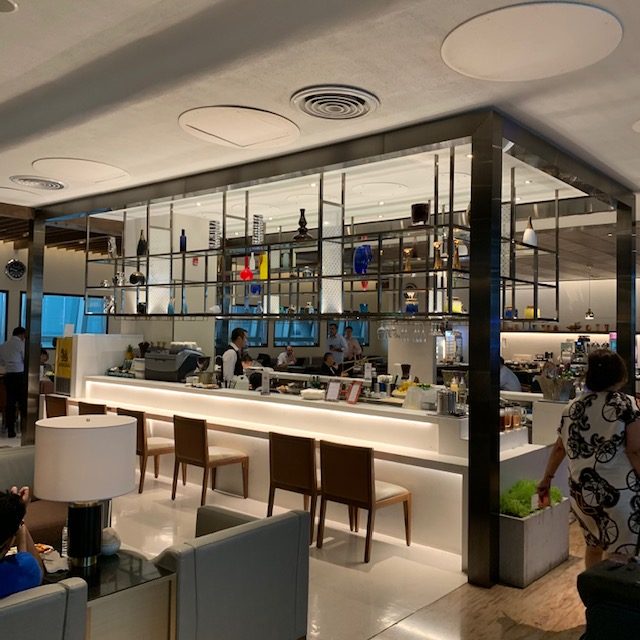 The large lounge has numerous stations. I headed for the bar. A well mixed Margarita and fresh buns with Brie were my gratification for the day. A spread of Thai cuisine – from duck to somtam, a papaya salad – proved to be a feast for the eyes.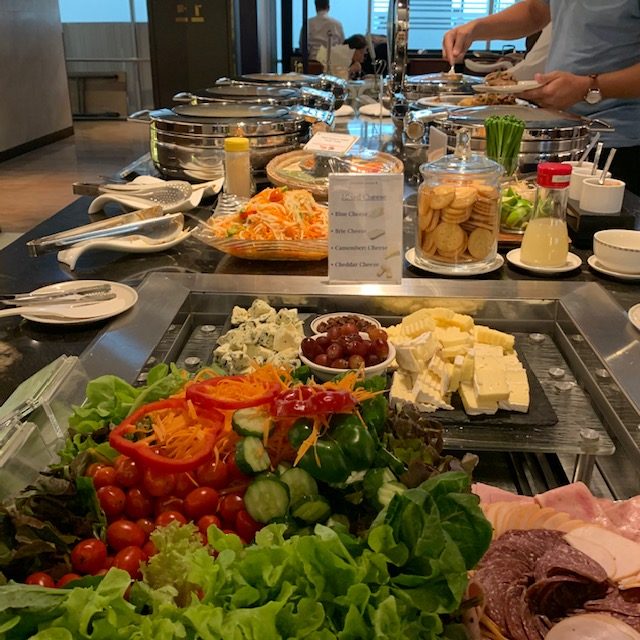 On board the A320neo again, hot towels, orange juice and smiles were served before takeoff in business class. For a four-hour flight, the choice of alcohol is pretty varied in this cabin. Having little to complain about, I was slightly disappointed that there was no sparkling wine on offer.
The airline's signature drink, 'Vistara Blue', features a mix of white rum, blue Curacao, lemon juice, sugar and soda. It topped the menu.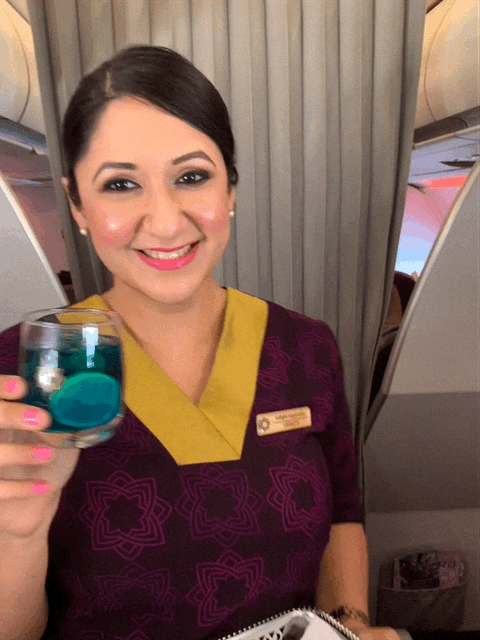 For me, the Château de Tresques Côtes du Rhône 2017, suggested by crew member Virakta, served as a good accompaniment to the excellent biryani dish. I do hope in the near future Vistara will bring Indian wines on board, as we Indians pride ourselves on our wine.
There were four options on the food menu including two Thai and two Indian dishes. The multigrain bread made at the Taj SATS Air Catering facility in Delhi was to die for. As was the biscotti, a Vistara trademark served with coffee.
I am told that Starbucks coffee, which is already served in premium classes on domestic sectors, is awaiting a contract to be signed for Vistara's international routes.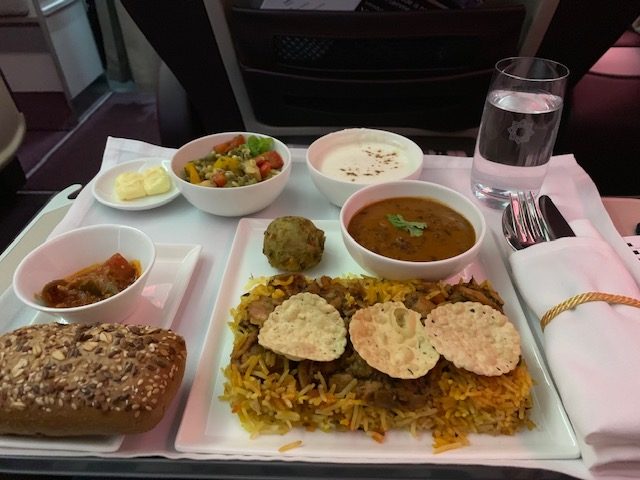 In Singapore Airlines tradition, there are no amenity kits provided on short flights unless specifically requested. I was a bit disappointed that the lavatory had no soft smelling fresheners, cream or face wash. Perhaps Vistara is in negotiations with a supplier. But I could not confirm this.
I asked Virakta how she moves around with the cabin crew during service in such a tight galley. A former Jet Airways flight attendant, Virakta disagreed that the galley is congested and proceeded to show me how, with a bit of ingenuity, the trays and space can be managed. Vistara seems to be hiring the right people.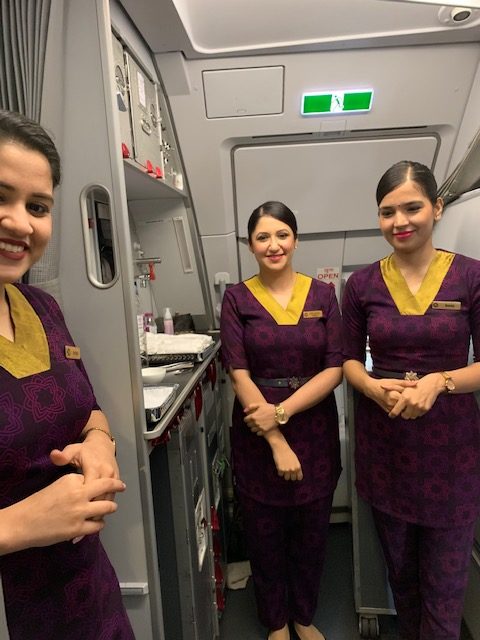 My seatmate, a known technology wizz with a US passport was a bit unhappy about not having a USB port – or indeed any power – to charge his devices at the seat. I told him to be patient with the airline, as the new twinjets will arrive with the new seat and in-seat power in October.
The service on this inaugural flight was top notch, and as usual, the Vistara crew members were pleasant and efficient. Just before the seatbelt sign went on, Virakta brought me a handwritten card thanking me for taking the flight. This kind gesture will remain etched in my memory.
"We want to keep our Indian identity as that is the profile of our passengers," said Thng. Cheers to that.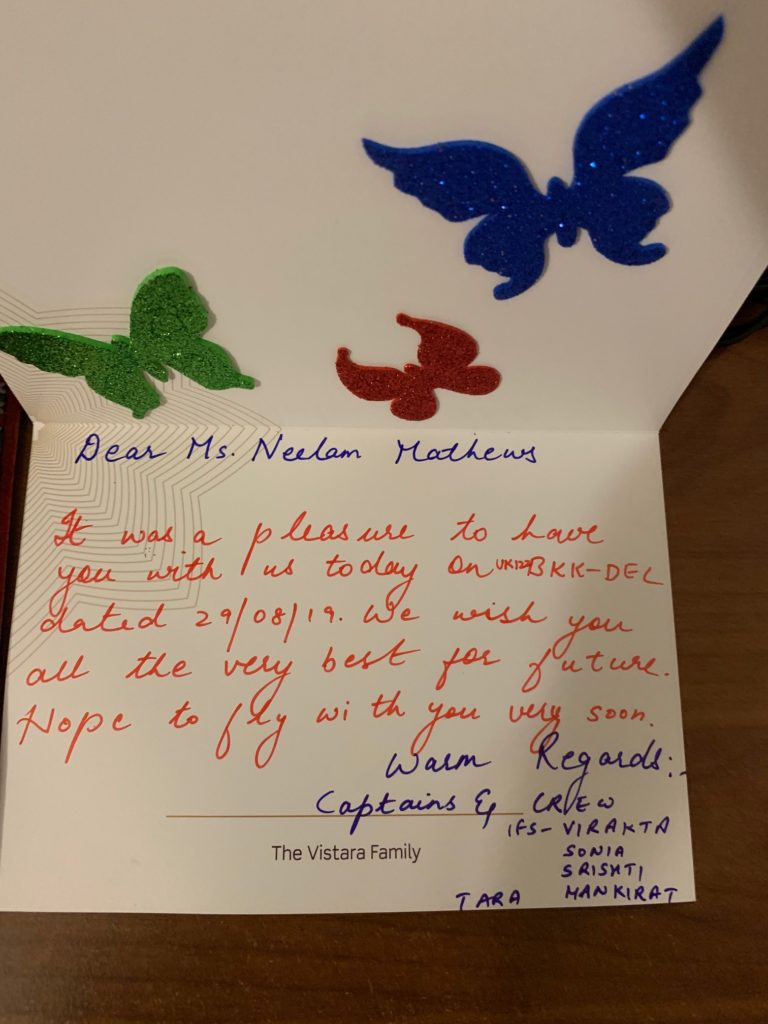 Neelam Mathews was a guest of Vistara on its first flight from Delhi to Bangkok and back. All images are credited to the author, Neelam Mathews, unless otherwise stated.
Related Articles: