Panasonic Avionics Corporation (Panasonic) has today announced India's best airline Vistara as the launch customer for its new Arc Inflight Map Platform and Games, part of its Theatre solution.
Arc and Games are newly-launched entertainment solutions developed by Panasonic to create an immersive and engaging travel experience for the 4 billion passengers that fly each year.
The innovative solutions will be installed on Vistara's fleet of Boeing 787-9 and Airbus A321neo aircraft from 2020.
Arc is a revolutionary, personalized 3D inflight map application and solution for Panasonic's inflight entertainment and connectivity (IFEC) systems. It brings a wide range of innovations to the traditional inflight map application, while expanding that into a fully integrated experience within its IFEC eco-system, in particular by aligning it with Panasonic's Theatre (inflight entertainment) and Marketplace (e-commerce) solutions, all backed by its NEXT Cloud infrastructure.
Arc's innovations include the industry's first personalized maps capability, new Map-as-a-Service technology that enables the development of applications utilizing the map engine and feature set, premium destination and point-of-interest content, monetization opportunities for airlines through Panasonic's Marketplace e-commerce platform, and the ability to integrate with airline advertising and promotions.
Games was launched by Panasonic in April 2019 to meet the needs of the 2.4 billion gamers worldwide as part of its Theatre entertainment solution. It will enable Vistara's passengers to play premium games created by globally recognized brands creating a fun and engaging travel experience inflight.
David Bartlett, Chief Technology Officer of Panasonic Avionics Corporation, says: "We know that passengers who are entertained and engaged in flight are happiest with their travel experience. Arc has completely re-imagined and revolutionized what an inflight map experience can be and Games fully immerses people of all ages inflight, reflecting the future of the passenger experience. Panasonic is honored to be working with such a forward-looking and award-winning airline as Vistara to launch these solutions."
Arc's technology is inspired by the latest design thinking of contemporary UX and high-definition gaming experiences, and enables airlines to leverage the high viewership of moving maps inflight.
It is available across all inflight displays including seatback, overhead, handset, and within mobile apps and web portals, and all map instances can dynamically utilize single data or multiple data sets, depending on their mission and audience.
"Innovation and thoughtfulness are the core values of Vistara. Introducing the Arc Inflight Map Platform and Games with Panasonic's expert capabilities reinforces our commitment to leverage cutting-edge technology for providing a seamless and enjoyable travel experience to our customers," said Sanjiv Kapoor, Chief Commercial Officer, Vistara.
A number of new and unique features of Arc have been developed in collaboration with FlightAware. Their market-leading services for global flight tracking will be integrated in the Arc platform to provide passengers with new ways to see air travel, and the globe, including an extensive airline fleet view during their entire journey. The relationship will further explore new features based on FlightAware's state-of-the-art predictive technology, giving passengers precise runway and gate arrival times as well as proactive information about connecting flight delays.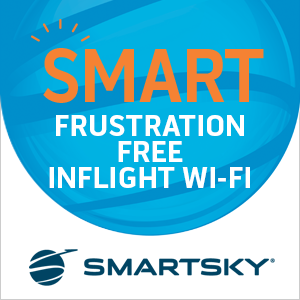 About Panasonic Avionics Corporation 
Panasonic Avionics Corporation is the world's leading supplier of inflight entertainment and communication systems. The company's best-in-class solutions, supported by professional maintenance services, fully integrate with the cabin enabling its customers to deliver the ultimate travel experiences with a rich variety of entertainment choices, resulting in improved quality communication systems and solutions, reduced time-to-market and lower overall costs.
Established in 1979, Panasonic Avionics Corporation, a U.S. corporation, is a subsidiary of Panasonic Corporation of North America, the principal North American subsidiary of Panasonic Corporation. Headquartered in Lake Forest, California with over 5,000 employees and operations in 80 global locations, it has delivered over 14,300 IFE systems and 2,200 inflight connectivity solutions to the world's leading airlines.
About Vistara (TATA SIA Airlines Limited)
TATA SIA Airlines Limited, known by the brand name Vistara, is a joint venture between Tata Sons Limited and Singapore Airlines Limited (SIA) with Tata Sons holding the majority stake of 51% in the company and SIA holding the remaining 49%. Vistara brings together Tata's and SIA's legendary hospitality and renowned service excellence to launch the finest full-service carrier in India aimed at creating memorable and personalized flying experiences for its customers. Vistara commenced its commercial operations on January 9, 2015 with an aim to set new standards in the aviation industry in India and it today connects destinations across the length and breadth of the country.
Featured image credited to Mary Kirby