Gogo's second quarter earnings conference call last month was remarkable for a number of reasons, not least of all for management's candor about what it will take to support free Internet browsing on Delta, i.e. more satellite capacity. But for those of us who are tracking the evolution of IFC from both a hardware and service perspective, one moment struck as particularly interesting.
In the Q&A portion of the call, William Blair analyst Louie DiPalma noted there is speculation in the market that Gogo is working with Gilat for its Ku-band tail-mount antenna for business jets. Gogo CEO Oakleigh Thorne responded: "We have not officially announced a tail-mounted antenna for the BA market, but we have a vendor who seems to have announced that prematurely. We hope that means that they will deliver the product prematurely."
To be fair to Gilat, the company hasn't announced an explicit deal with Gogo, but rather said in a 5 August statement that a high-speed satellite-based global connectivity service being developed by a Tier-1 business aviation service provider will be enabled by Gilat's 12-inch tail-mount Ku-band antenna, and its Taurus aero modem. The arrangement marks Gilat's entrance into the business aviation sector.
But to be fair to Gogo's Thorne, there aren't too many service providers building out a global Ku-band network for business aviation so it's logical for observers to suspect that Gogo is the customer. RGN has not received confirmation that this is indeed the case. But following the call, we put the question directly to Gilat. A spokeswoman with the firm stated, "Gilat can't confirm or deny the rumors."
So what can Gilat tell us about this new contract, and more broadly about its growth in the IFC sector? "The service will be global but as business aviation is mostly concentrated in North America we expect the most usage there," said Gilat in answer to a question about which region will be served with the tail-mount antenna.
Asked how many tail-mount antennas and modems are included in this multi-million dollar contract with the Tier-1 provider, and what business aircraft types will be equipped, Gilat said: "We cannot state the specific number but the potential is for hundreds of terminals. Target aircraft are any aircraft that can support a 12" tail mount."
In terms of how the tail-mount antenna will be differentiated from competitors (such as hardware at Astronics and Viasat) the Israeli company said it expects the antenna "to achieve market leading cost/performance. Gilat's innovative solution is unique in the market providing highest performance and spectral efficiency while providing the best SWAP (Size, Weight and Power)."
Regarding the passenger experience, Gilat is eyeing "potentially more than doubling highest achievable rates of the best in class service provider today". Readers will no doubt recall that Gogo intends to offer a 25 Mbps service with a new Ku-band tail-mount antenna, saying when it first announced plans for the high throughput service in September 2017 that it will offer a "significant leapfrog from what corporate aircraft have out there today".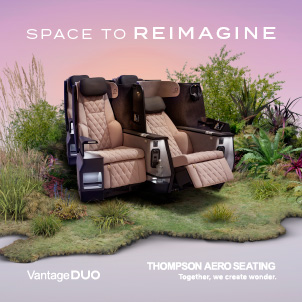 Asked by RGN if Gilat's antenna has been selected to replace another previously-selected antenna for this particular program, the company said it is "not replacing an existing antenna but rather augmenting an existing service using our antenna". Gilat expects initial commercial deployments within 2H 2020.
Gogo's original press release suggested its high-throughput Ku-band service for business aviation would be available in the second half of 2018. And indeed, Gogo's marketing materials continue to say 2018.
Of course, Gogo and Gilat already have a relationship, as Gilat's airborne modem powers Gogo's 2Ku service. So how many Gilat modems have been installed as part of the 2Ku package? And is the modem performing to Gilat's expectations?
Said Gilat:
Gogo have stated publicly that the number of 2Ku installations on aircrafts online reached 1,216 as of June 30, 2019. Gilat's install base is in that range or higher. We are receiving positive feedback from Gogo on the performance of the network and are working with them to continuously keep improving that performance toward the era of 'free WiFi'. It is it widely known that  Gilat's aero modem coupled with the Gogo service is providing to-date the highest performance in the industry. Having said that, we expect customer and airline demands to continue to grow and are hard at work developing the next generation technology which will provide even faster links per plane.
More broadly, is Gilat eyeing further business in the business aviation space? "We are definitely engaged in additional opportunities in business aviation. We believe there is great potential for growth in connectivity services to this market and we aim to be a major player. The business aviation IFC market demands exceptional user experience and product robustness in-line with Gilat's innovative technology," said the firm.
On the commercial airline front, RGN asked Gilat to provide an update on its work to support inflight connectivity in China, noting that, in a previous interview, Gilat's then VP commercial aviation Michael Barak said the firm's Ku/Ka hybrid terminal would be installed on aircraft in China, and that the hardware has shown itself to reach speeds of 130 Mbps with dozens of concurrent users during ground testing.
"We see tremendous opportunities primarily for our innovative aero modem and ground network technology to meet the connectivity needs of China's domestic fleets. While the China domestic fleet has not yet been vastly addressed, we believe that several separate efforts are in the process of converging to structure the in-flight connectivity for China's domestic fleets powered by Gilat's technology," said Gilat. "Our AeroEdge 6000 Ku/Ka Aero terminal completed DO-160 qualification in November 2018. At this time it is not yet flying commercially. It continues to show interest in relevant parts of the industry and we hope to see it outfitted for commercial aircrafts in 2020."
Gilat is working on other IFC projects, however. Earlier this year, Honeywell announced it has selected Gilat's Taurus IFC modem for its JetWave system. "The integration of Gilat's aero-modem will enable Honeywell to offer its JetWave solution within territories as well as to roam in-and-out of territories where Gilat's ground network is deployed. The Honeywell-Gilat solution will first be deployed in China over China's HTS Ka network for both domestic flights and flights going in-and-out of China, expanding later to additional regions around the globe," said Honeywell.
But in reporting a second quarter profit recently, Gilat referenced the new business aviation contract as a "milestone" for the company, as it "not only complements our leading IFC position in commercial aviation, it also expands our IFC product portfolio with an airborne tail-mount antenna in addition to our leading airborne modem".
Related Articles: