It's no secret that wireless inflight entertainment is a hotly competitive space right now. Two years ago, Runway Girl Network and others estimated that as many as 50 wireless IFE providers were working to secure clients. By the end of the first quarter of 2019, a total "25 service providers had installed their respective solutions on at least one aircraft, and more are entering the fray all the time", according to Valour Consultancy, a UK firm which has become a respected voice in inflight entertainment and connectivity market research.
The race is well and truly on in wireless IFE (W-IFE) in both commercial and business aviation, but who is in the pole position?
Inflight connectivity providers Gogo, Panasonic Avionics, Global Eagle, Viasat and Thales collectively account for just over three-quarters of all aircraft with W-IFE, Valour's latest research finds. That's because W-IFE shares largely the same onboard architecture as inflight connectivity, minus the terminals required for a live connection, of course. This wireless kit is fully embedded, and requires supplemental type certification (STC). As a consequence of their connectivity placement, IFC providers come into Valour's W-IFE rankings with a natural advantage. To put that advantage into perspective, Gogo today reported that its commercial aviation division had 2,443 aircraft online in North America as of 31 March. And on-demand W-IFE, often free for passengers, is offered as an option alongside Internet packages in virtually all of these instances.
Beyond this list of connectivity providers with W-IFE lies vendors offering W-IFE solutions with no live connectivity element of their own, although several have partnered with IFC providers to combine the two services, notes Valour. "Only five of these companies have equipped more than 100 aircraft with W-IFE; Lufthansa Systems, AirFi, Safran (Zii), Immfly and Bluebox Aviation Systems," it says. Notably, however, many of the airline contracts secured by these five companies are for either battery-powered, carry-on-board portable wifi boxes or indeed boxes that simply hook up to aircraft power, saving money on batteries and improving safety by securing the device. Neither solution requires a full STC.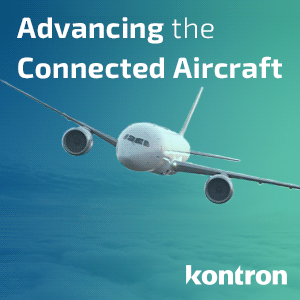 Needless to say, it can be difficult to determine exact market share for W-IFE especially if data isn't "apples for apples". One must consider what is being measured. Contracted tails? Airline trials? Already-deployed systems? The water is further muddied by the fact that portable wifi boxes might only be deployed on certain routes and during certain seasons if an airline wishes, and can be removed on a whim. Because of all these variables, leading #PaxEx data firm Routehappy does not track W-IFE vendor deployments, only inflight connectivity vendors as the market is hard to reliably track. Valour, however, is giving it a good college try. What is clear from its research is that the W-IFE market is growing and the vendors cited are enjoying strong momentum for both their portable and aircraft-powered solutions, especially.
For instance, Bluebox's Wow product has been a big hit with airlines. "Depending on who and what you ask, Bluebox has been ranked top three or top five in the portable W-IFE market, but what we do know for sure is that, regardless of current rankings, the market is still growing – with new customers, and new technologies and services on the platforms. It's an ever-changing picture," Bluebox head of marketing Catherine Brown tells Runway Girl Network.
Brown continues, "We're happy that we're benefitting from that growth and development of the market, and that our committed deployment figure of around 250 aircraft across the world in Q1 is expected to be considerably higher by the end of this year. Happier still that our customers enjoy working with us and continue to develop their IFE offering together with us in collaboration, which is critical as things continue to move and change so quickly."
German technology specialist Kontron is also seeing growth. Earlier this year, Kontron announced the production availability of its portable Cab-n-Connect P100 wireless streaming platform, which has already been white-labeled by Lufthansa Systems for its BoardConnect-branded portable W-IFE. Though Kontron is one step removed from the airlines – its hardware supports integrators' solutions – it agrees that portable W-IFE boxes are a sort of gateway drug for airlines.
"I think it's an entry point where some low-cost carriers will roll out, say for a small to medium-sized fleet with the portable units, but there might be a roadmap from there to say a cabin wifi system, a traditional embedded wifi system; and then eventually connectivity," says Kontron VP system & program management, avionics, transportation and defense Andy Mason. Lufthansa Systems head of passenger experience solutions Jan-Peter Gänse confirms that the new Kontron-made system "is really good", citing improved storage, processing, and streaming capabilities.
Echoing what other W-IFE providers are seeing in the market, Gänse notes that many carriers start out with a battery-powered portable box and then graduate to the aircraft-powered solution for logistical reasons. But generally airlines are not installing fixed server-and-access-point systems for just W-IFE. If they're going to go to the trouble of securing an STC, he suggests, they'll likely go the additional mile and offer connectivity to boot. Crucially, the same software is used, whether the W-IFE offering is portable, aircraft-powered, fully embedded, or embedded and serving as an augment to live inflight connectivity. And software and digitalization is where W-IFE providers are increasingly focusing going forward.
AirFi is also proud of the adoption figures revealed in Valour's latest report, and is now laying claim to being "the fourth largest global service provider across both fixed and portable variants and the only portable provider in the top five".
Valour senior consultant Craig Fosters tells RGN that when you look at total commitment of each vendor (aircraft equipped and those under contract) AirFi is, indeed, in fourth place. "However, when you look at the company's share of aircraft equipped with W-IFE as of the end of Q1 2019, AirFi's share was 4.9%, putting them in seventh place and behind the IFC players" mentioned, he suggests.
In this hotly competitive space, it's important to get the numbers right. But it's also true that those numbers are difficult to track. Because of the sheer volume of players, Valour is now predicting further industry consolidation.
Related Articles:
Free accessibility plus connectivity-lite coming to Bluebox customers