It's no secret that a growing number of airlines are expressing a desire to offer free inflight connectivity to passengers beyond a free messaging tier. JetBlue Airways got the ball rolling for passengers years ago through a creative relationship with Amazon and high-capacity Ka-band connectivity provider Viasat. But Delta Air Lines' interest in implementing free Internet browsing is spurring further contemplation by competitors, and likely some partners. Consequently, IFC service providers are also prepping to meet the need.
Delta's recent two-week trial of free Internet browsing on select Gogo 2Ku-equipped aircraft was educational. For instance, Gogo observed that provisioning for a "full free" model in the US via Ku-band satellites will require growth in satellite capacity, said company CEO Oakleigh Thorne during a second quarter earnings conference call.
If and when Delta proceeds, Thorne expects take rates to climb dramatically.
"Our take rate today has a blend of both paid browsing sessions, paid streaming sessions and free messaging in it. If things go free, free messaging kind of goes away, and we expect a very large jump in the browse sessions and potentially a jump in streaming sessions," explained Thorne, suggesting that Gogo sees 30% take rates on free fleets in Asia right now, "and they could be higher in North America, where there are longer routes".
But it's also true that many passengers in the US hope that wifi service will not degrade under a free browsing model.
Astronics' traditional Ku-band antenna hardware supports connectivity on Delta longhaul, and interestingly the company is "heavily involved" in the carrier's new DFP homegrown seatback IFE effort, according to management. During Astronics' second quarter earnings call, president and CEO Peter Gundermann said take rates would probably go through the roof with a free browsing tier, and that this would put a lot of competitive pressure on everybody else to do something similar. If that starts happening, he said, Astronics would expect a big increase in connected airplanes, propelling airlines that are disconnected to become connected, and even those that are connected to upgrade their kit.
Though additional satellite capacity would be needed to support the free browsing model on Ku satcom-equipped aircraft, as Thorne highlighted, Gogo is also bullish about its ability to scale and meet this type of demand via air-to-ground connectivity when its nextgen 5G ATG network launches in 2021. Thorne cited "our proprietary spectrum and our ATG infrastructure, which can provide redundancy and cost savings as we deploy Gogo 5G", as drivers.
The company has started talking to operators of regional and business aircraft about the 5G ATG service and reports it is getting "a very positive response" on both fronts.
Meanwhile, SmartSky Networks is already in the process of installing its nextgen ATG kit on its first aircraft operated by JetSuiteX, which has rebranded as JSX (Joyful, Simple, Xperiences). It says its solution is fully capable of supporting free IFC, where take rates soar. To wit, JSX, which provides publicly available charter flights on 30-seat jets from private terminals, intends to offer the Internet service for free to passengers, as is common on business aircraft.
In an interview with Runway Girl Network, SmartSky chief commercial officer Nancy Walker said the firm has easily supported the transmission of gigs of data on recent demo flights and feedback has been very positive "so we're very comfortable" with the free model.
"To us it's all about user experience and that's where we really exceed in the marketplace because of our unique bidirectional low latency performance," she added.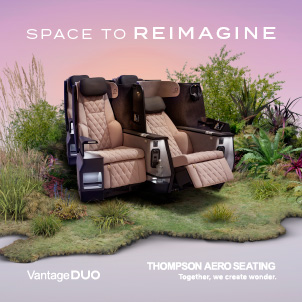 While SmartSky's entrance to the IFC market will be the business aviation sector, including via JSX, the company is also "really looking at regional airlines" for which it believes it can offer a "tremendous" value proposition. This is a tree on which Gogo has already borne fruit, having equipped ATG service to RJs flying on behalf of American, Delta and United. Complaints about wifi on legacy ATG-fitted RJs are not uncommon, however, especially when paid models are in play.
As airlines increasingly offer two-cabin and even three-cabin RJs, SmartSky sees an opportunity to provide a better IFC experience to passengers. There also remains a large number of 50-seat CRJs and ERJs flying without any connectivity to speak of.
"What we're mainly excited about is where we see traction happening in the regional airline market," said Walker. As a business traveler who frequently flies on regionals, she also said she wants airlines to start addressing and bringing RJs up to speed "because your work doesn't stop when you're on those aircraft", and passengers increasingly want the same level of IFC that's expected on larger, satellite connectivity-equipped aircraft.
The regional landscape in the US is, as reported by The Air Current, undergoing a bit of a transformation as Delta consolidates across three regional airlines. "Once an afterthought, regional operations have become increasingly important with a consolidated hub structure that flows traffic from smaller cities into larger airplanes and a sharper focus on a consistent passenger experience across the carrier," writes editor Jon Ostrower.
SmartSky's Walker noted that the regional traction she is observing is happening at a time when airlines are expressing a desire to offer free IFC to passengers.
Notably, while SmartSky's hardware and network have been built to interface with a wide variety of routers and servers, the company will rely on its partners to bring a wireless entertainment component to operators. "That's one thing that our partners and VARs [value added resellers] understand and one of the things they're very strong at, wireless entertainment systems, as well as all the other VAR services they provide," noted Walker. Honeywell was recently selected by SmartSky as VAR for North American carriers, but Walker said to expect further VAR announcements in the commercial space.
A free wireless IFE component – whereby cached content is streamed from a server – is increasingly offered to passengers in the US. This helps to pull eyeballs away from the live Internet connection.
Related Articles: