Airlines don't always move quickly to address airworthiness directives. And on occasion, some carriers miss AD deadlines altogether. That's why air travelers will be heartened to learn that most Honeywell Phase 3 display units on Boeing 737NG and 777 aircraft have been upgraded since the US Federal Aviation Administration in 2014 issued an AD to address their susceptibility to RF transmissions.
"We have already upgraded 8,000 DUs, leaving less than 400 to be converted under the AD at no cost to our customers," says Honeywell spokesman Scott Sayres.
The remaining 400 units "might represent 70 or fewer aircraft" and "many of them could be on retired aircraft or simulators", Honeywell notes in a statement.
Industry is working against a 5 November 2019 deadline to convert any remaining affected DUs still flying.
Honeywell Phase 3 DUs first showed themselves susceptible to "blanking" several years ago on the ground, during electro magnetic interference certification testing of wireless broadband systems on 737NG aircraft. The news – which was first exclusively reported in 2011 by your author for her then employer Flightglobal – stymied certain inflight connectivity installs for a spell.
As a condition for receiving supplemental type certification for inflight connectivity systems, some 737NG operators placed placards on the flight decks, instructing crew that Wi-Fi devices had to be powered off. That inhibited them from bringing Wi-Fi capabilities to pilots' electronic flight bags, which is considered a key way to drive operational benefits from inflight connectivity.
The FAA "approved certain STCs with such limitations as a means of compliance until a permanent solution was available", the agency admitted in its 2014 AD. "However, we intended those limitations as interim action until permanent corrective actions for the unsafe condition became available for the baseline airplanes. We do not consider it adequate to leave those operating limitations in place permanently as the sole corrective action for the unsafe condition."
As such, 737NG and 777 operators with Phase 3 DUs were incentivized to get moving on the avionics upgrade.
To wit, even though all-737 operator Southwest Airlines saw a negligible level of risk, it was among the first carriers to begin retrofitting its flight decks with new avionics, starting as early as 2013 when the FAA issued a notice of proposed rulemaking in advance of the AD.
Southwest spokeswoman Michelle Agnew says the airline removed the last affected display unit in September 2018. Asked by RGN if Southwest has ever observed blanking on the ground or in-flight due to Wi-Fi or cell interference, Agnew says, "We're not aware of any reports of interference."
Importantly, as Honeywell said in 2011 – and as the aerospace giant reiterates now – there "has never been a report of our DUs blanking in-flight because of HIRF/Wi-Fi interference".
That message may have been lost when Bloomberg on 19 July published an article that, among other assertions, appeared to conflate the Phase 3 DU issue with reports found in the Aviation Safety Reporting System (ASRS) database about avionics blanking in-flight.
These pilot reports "are completely unrelated to the Wi-Fi and cell phone issue", insists Honeywell in a strongly worded response to Bloomberg's article.
"Pilots have reported blanking incidents that could arise from a variety of causes, including aircraft power interruptions or display reconfigurations. Upon learning of these incidents earlier this year – which were reported at a small number of remote airports and only on a particular flight path – Honeywell swiftly and extensively investigated the issue, which has been remedied through operating manual updates and pilot training for those affected airports. We have already developed a software update that is currently in flight testing and we expect it to be FAA certified this year," says the firm.
Moreover, the ASRS reports are difficult to verify since most of the data that Honeywell needs is scrubbed. "There is no way for us to tell the specific instances Bloomberg mentions are actually issues related to our units," notes Honeywell's Sayres to RGN.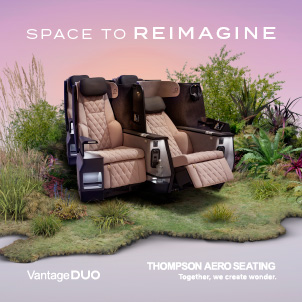 So do cell phones pose a safety risk on aircraft due to interference with avionics? It seems careless to answer with a definitive 'no, that's impossible' given that an admittedly limited number of aircraft still carry the Honeywell Phase 3 DUs, which were shown to be susceptible to RF transmissions during on-ground testing.
Equally, however, Bloomberg seems to have taken some speculative liberties in its article, and has since corrected the piece, though a fair amount of information in its report has been known for years.
It should be noted that the FAA received pushback when it first proposed rulemaking on the issue, including from airline trade group A4A. This prompted the agency to respond that: "We do not agree that no problems have occurred on in-service airplanes, since the Wi-Fi STC testing that disclosed this susceptibility was conducted on an in-service airplane equipped with phase 3 DUs."
Related Articles: