Pioneering business aviation company Clay Lacy Aviation offers a range of services, including private air charter, aircraft maintenance and FBO services. But the Santa Ana-headquartered firm also provides piloting and engineering scholarships to students at several institutions, including nearby Orange Coast College (OCC), California.
"We're growing quickly in Orange County. Located just five minutes from John Wayne Orange County airport, OCC is a natural fit. Now in its third year, the OCC scholarship program continues the example [founder] Clay Lacy set during his career, exposing more young people to the wonderful world of aviation," says Clay Lacy vice president of marketing Scott Cutshall.
He tells Runway Girl Network that Clay Lacy is delighted to see more women choosing aviation careers, some with the help of scholarships. Recipients of the company's latest OCC pilot scholarships, Katie Kirby and Taylor Wilson, spoke to RGN about what inspired them to pursue aviation careers, and how scholarships are helping them to achieve their goals.
Kirby is typical of a new generation of highly motivated, determined, talented women coming to aviation, although her route was unusual. She joined OCC's Aviation Science program – through which students earn their Associate of Science degree in addition to their private, instrument and commercial pilot licenses – after a 17-year career in hairdressing. Previously head of education at Toni & Guy, she naturally enjoys nurturing and encouraging people.
The Clay Lacy Aviation sponsorship is helping Kirby complete the 50 hours of cross-country flying she needs for her commercial license, but she also uses the time to take younger students flying. She is co-captain of the OCC Flight Team, which competes against other college flight teams.
Kirby's inspiration came from a retired corporate woman pilot, who was among her hairdressing clients. "I knew I wanted to move into a career requiring math or science. A friend encouraged me to become a flight attendant, but Southwest turned me down. My client said: 'Katie, you need to fly the plane!'
She continues, "I'd always been excited about planes but didn't think it was possible for me. Then I did some research and realized it was attainable. I hadn't planned to do the OCC course, but went to their summer ground school and realized these were my people. Now it's like I don't ever want to leave! After I've got my commercial license, I'd like to work at FlightSafety, sitting in the right seat in the simulator. Do that for long enough and you get a type rating. One of my friends got three type ratings that way and her first Citation job with just 500 hours on her license."
Taylor Wilson, among previous scholarship recipients, meanwhile is working toward her private pilot license checkride. "This isn't something you can do on the side and casually study. I've learned to be more disciplined, to study and be on top of everything. But I've always known what I want, and I'll do what it takes to get there," she says.
Wilson's aviation introduction came through a high school mentorship. Knowing she wanted to work in 'travel', Wilson contacted a pilot. "He gave me insight into his career and exposed me to general aviation; that's when I fell in love with it. He took my mom and I up in his Bonanza and I didn't want to stop after that!"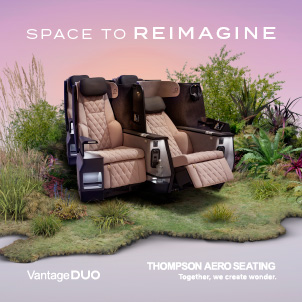 But learning to fly is expensive. "The scholarship helped me get through my solo and first-stage check. It can be difficult staying motivated if you're stressing about money; the scholarship allowed me to forget about that and fully focus." Nonetheless, she's still "working two jobs and picking up random side jobs here and there".
Wilson, a modern young woman has, on occasion, been asked: "Can women be pilots?" She finds it bizarre. But generally, she says, "I think society no longer puts boundaries on women's careers; most people are excited to hear about my training."
Kirby agrees. "Times are changing. When I discovered ten years ago that my client was a corporate pilot it was like, 'Wow!' But now there are so many more women pilots."
Related Articles: