TAP Air Portugal has been on a growth spree of late, adding a handful of US cities along with introducing the newest Airbus aircraft types to its fleet – the A330neo and the A321neo. On Sunday, 1 June, TAP added Chicago as its fifth US destination, and RGN was invited by the airline for its inaugural voyage from the Windy City to Lisbon.
On board, TAP's A330neo features the new Airspace by Airbus cabin, with larger stow bins, the latest in LED lighting, and, importantly, a two-lavatory, rear-complex solution which accommodates persons with reduced mobility.
In the forward cabin, there are 34 Executive Class Recaro CL6710 business seats. The CL6710 is Recaro's foray into longhaul business class, boasting a fully flat bed with direct aisle access for every passenger.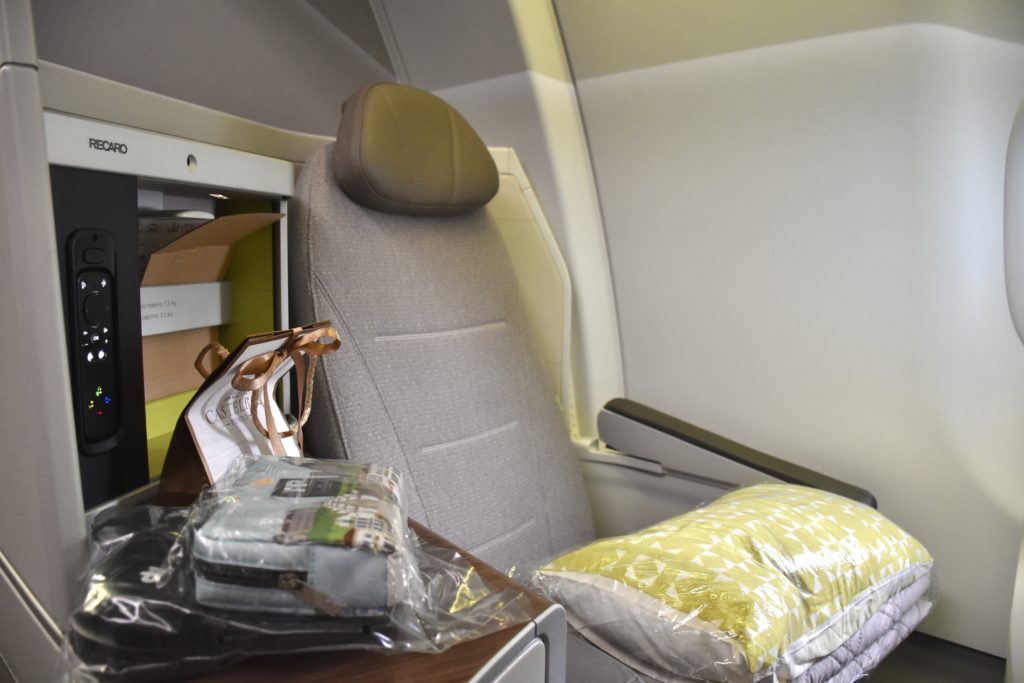 The window seats have a staggered configuration; odd-numbered rows see seats positioned closer to the windows and offer more privacy from the aisle. Center cabin seats on odd-numbered rows are paired side-by-side, ideal for those traveling with a companion.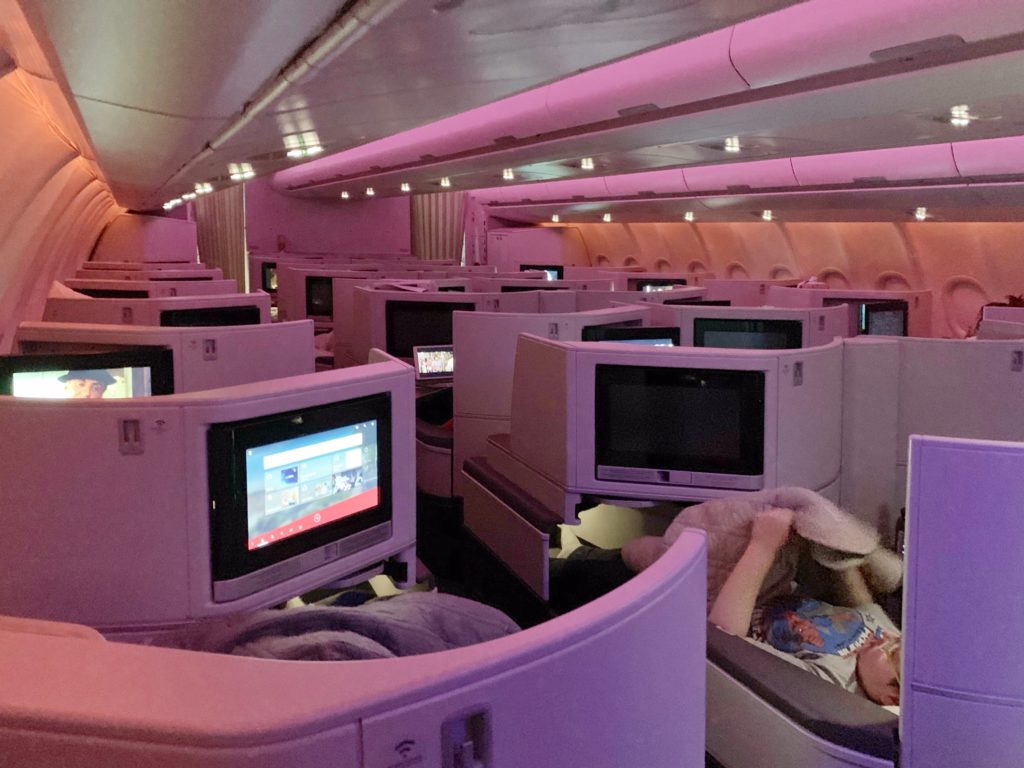 Executive Class passengers are greeted at their seat by a pillow, blanket, noise-cancelling headphones, and a canvas amenity kit by Castelbel of Porto which showcases some of the sites from around Lisbon. Prior to departure, water, orange juice, and sparkling wine are offered.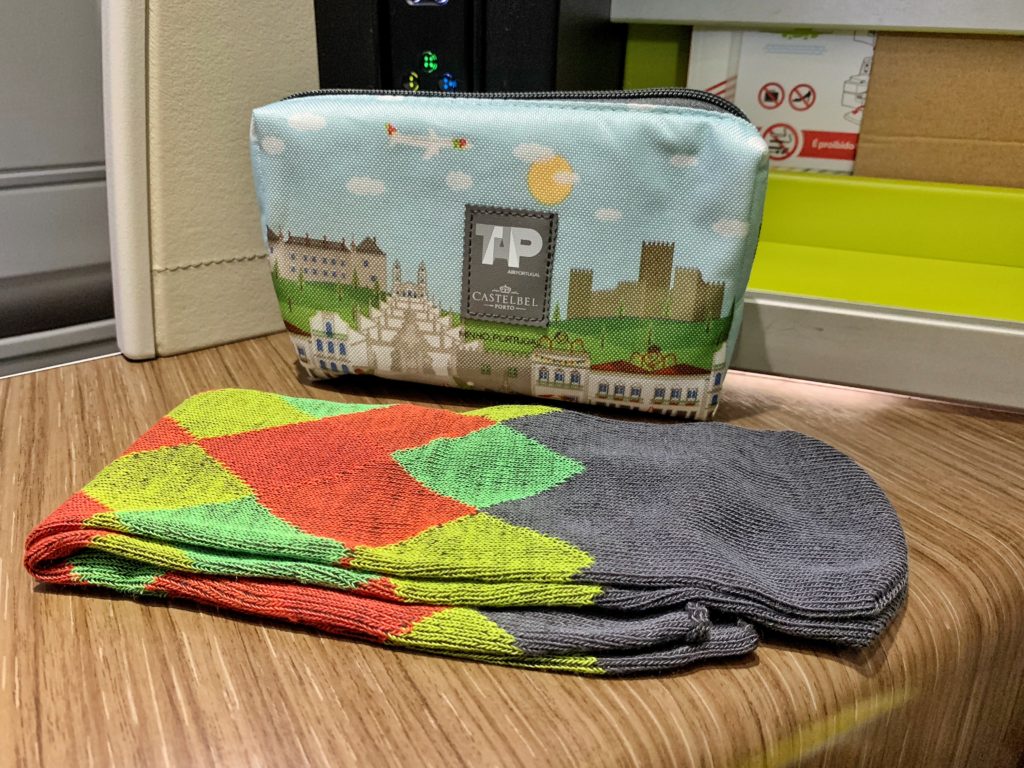 The inflight entertainment (IFE) system in Executive Class has an incredibly quick response time on the 16-inch touchscreen, provided by Panasonic Avionics. There is also a small tethered remote control in the small storage cabinet at shoulder level to the seat. Entertainment choices ranged from a hearty selection of new and classic movies, TV shows, games and music.
The seats are trimmed with grey fabric coverings, while the work console has a woodgrain laminate. It would have been a relevant touch for these wood coverings to have been cork, for which Portugal is well-known.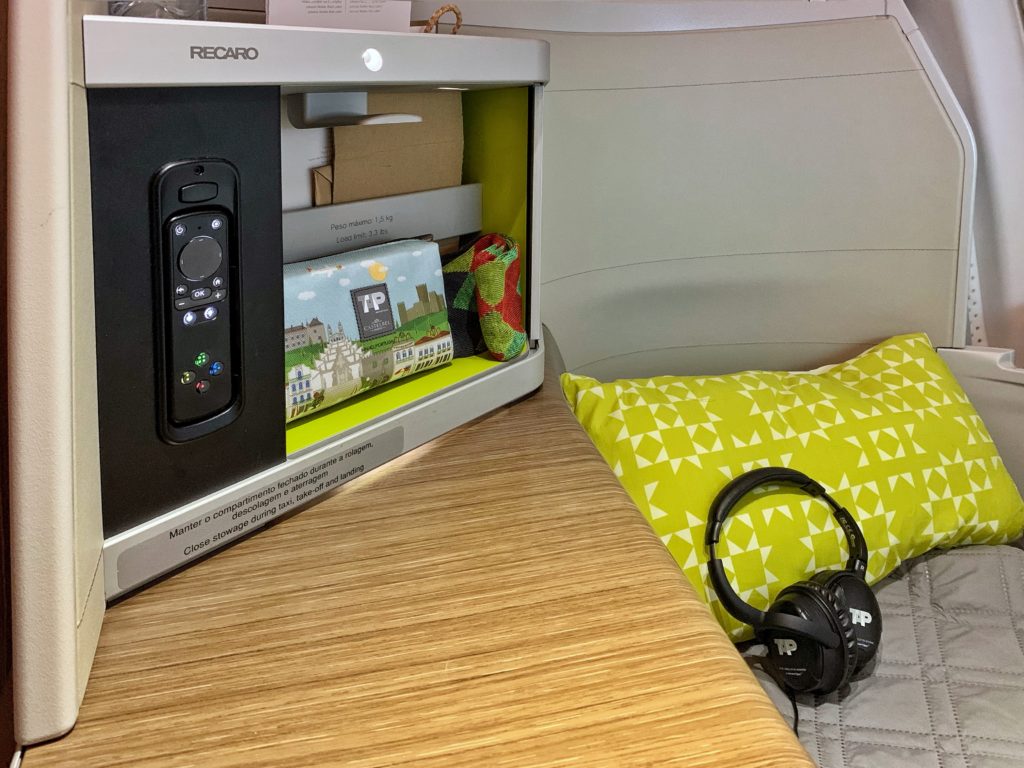 The dining menu included a canapé with a slice of seared tuna on cream cheese and mixed nuts, followed by a salad, minced pea soup and an entrée choice of either roasted filet of beef, seared salmon, or herb roasted chicken breast.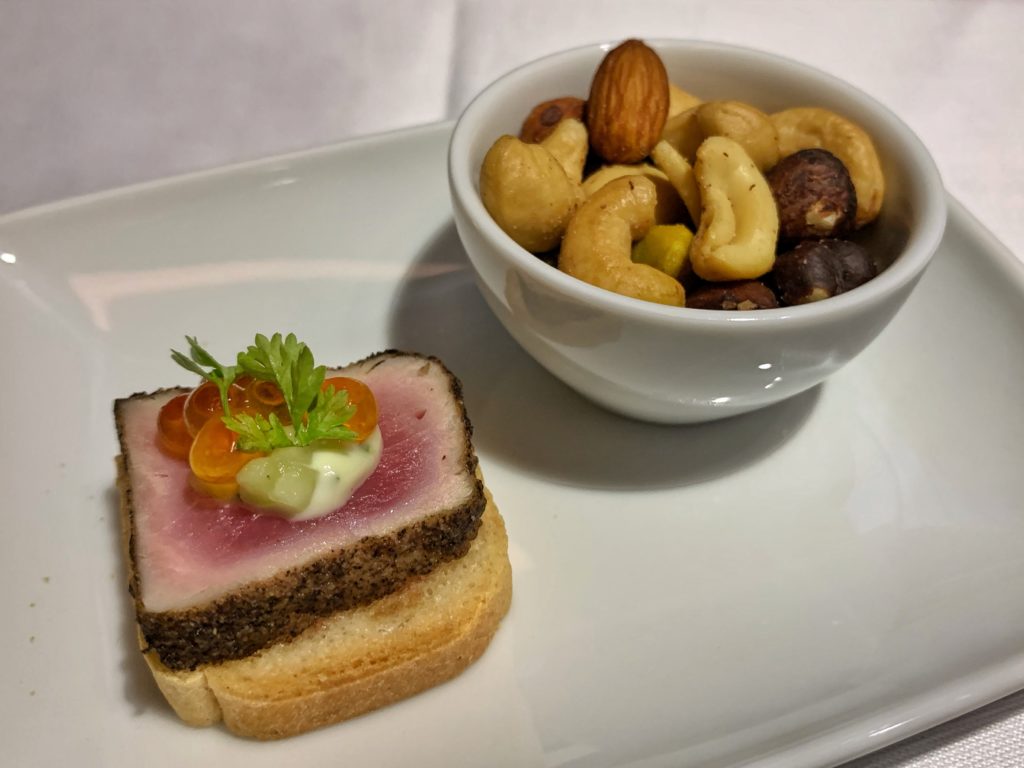 Dinner service took an excessively long time, starting well into the flight despite the tardy departure from Chicago due to weather and taxi time. Dessert service was not completed until three hours into the flight.
Dessert offerings included a plate of cheeses, fruit, and strawberry ice cream. Following dessert, Port wine was offered.
The food was overall quite good, and the beef filet was very tender, though it could have been improved by a shake of salt and pepper, which were not included on the tray. All other aspects of the cabin service were great, easily meeting expectations for a transatlantic business-class crossing.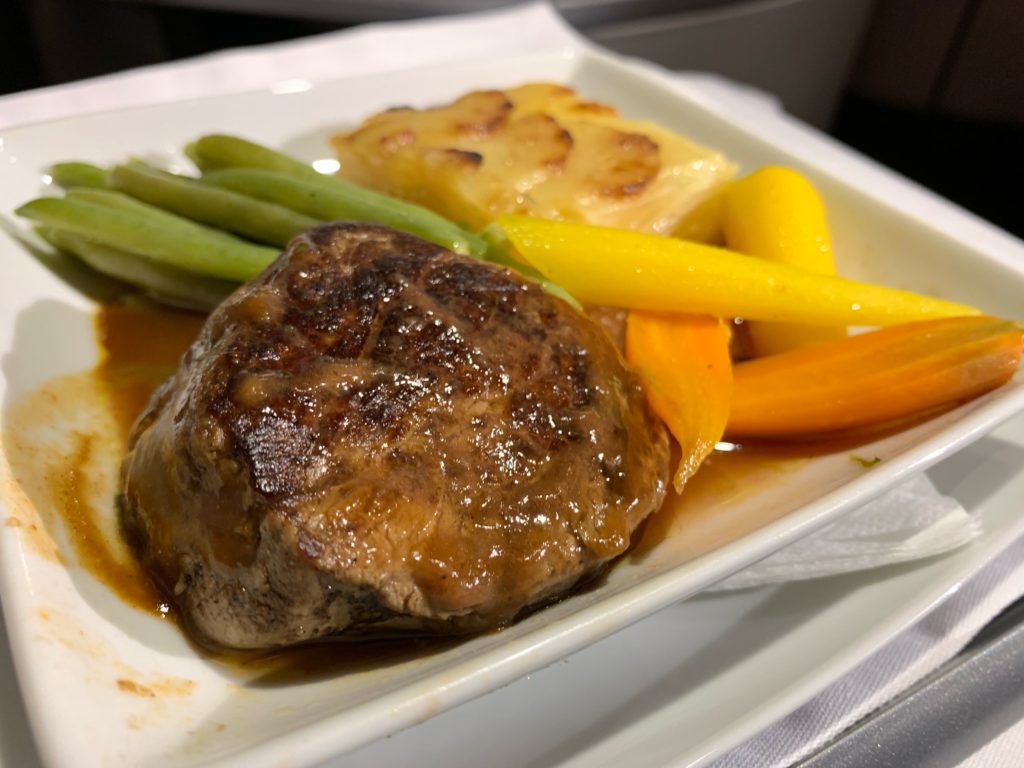 Sleep was easily found, thanks to the quiet hum of the Rolls-Royce Trent 7000 engines, the earplugs from the amenity kit and the full-flat surface of the Recaro CL6710. A light breakfast was served prior to landing, which included cold cuts and cheeses, fruit, and a selection of pastries.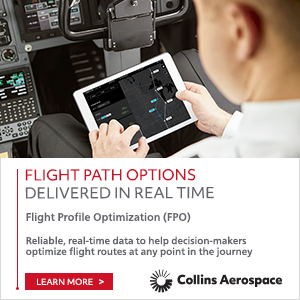 TAP also began service to San Francisco on 10 June with the A330neo, and will begin serving Washington Dulles on 16 June with its A330-200. The airline has experienced a 21% growth since 2015 by adding 25 aircraft, and has grown its US presence more than any other European airline during that time.
TAP has an additional 70 planes on order to be delivered by 2025.
An interesting note – TAP was an early customer of the A350, making an order in 2005 when the design was essentially an A330 with new engines, prior to the design evolution that we know today. The airline replaced its 12-aircraft A350-900 order in 2015 for 14 A330-900neos.
Photo credit: All photos are courtesy of the author, Paul Thompson. Disclaimer: The author was a guest of TAP Air Portugal and was provided round-trip airfare to and from Lisbon, as well as hotel lodging while in Lisbon, in partnership between TAP and Visit Lisbon. All accounts, descriptions, or observations of the flight belong solely to the author.
Related Articles: