Portugal's Hi Fly is confident passengers will pay up to €2 ($2.26) more per long-haul flight to travel on an airline that has eliminated single-use plastics from the cabin. It believes carriers that do not follow its lead will lose customers to competitors that have taken visible steps to help reduce the scourge of non-biodegradable waste.
The charter and wet-lease operator has committed to ridding its aircraft cabins of all single-use plastic items by the end of this year. It has also pledged to become carbon neutral by 2021, through a combination of operational efficiency measures, fleet renewal and offsetting.
Hi Fly's owner, the non-profit Mirpuri Foundation, is funding an "ocean regeneration" program which it says will cultivate seaweed and kelp in large, offshore "marine forests" to absorb the carbon dioxide emitted by its aircraft. The plan is to eventually offset the airline's emissions without any financial cost to passengers.
It even claims that if the seaweed is harvested and fed to cattle, greenhouse gas emissions in the form of methane will be 90% lower than those produced by grass-fed cows.
Positive as this sounds, Hi Fly is also expanding its fleet at a time when environmental groups are urging the airline industry to address its impact on climate change by reducing the number of flights, instead of continuing to grow and paying to offset emissions elsewhere. But this philosophy appears to be at odds with that of the carrier's management.
"We need to face reality. People are flying more and [environmental campaigners] are trying to tell young people they can't explore the world. If you offset the emissions, a significant part of the problem is solved," Hi Fly chief executive and Mirpuri Foundation founder Paulo Mirpuri tells Runway Girl Network.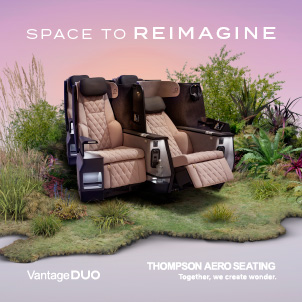 Rather than curbing air travel, Mirpuri's strategy involves positioning Hi Fly as a beacon of sustainability – the operator has literally painted Turn the Tide on Plastic in large letters along the side of one of its Airbus A330s – and urging other airlines to become as environmentally-friendly as possible.
Hi Fly conducted the world's first plastic-free trial flight in December and eliminated 350kg (772lb) of single-use plastic items, including drinking straws, cutlery and packaging around in-flight magazines, blankets and amenity kits, from the cabin. According to IATA, the airline industry produced 5.7 million tonnes of cabin waste in 2017, 20% of which was plastic.
While Hi Fly was easily able to get rid of plastic straws and replace plastic cutlery with sustainable alternatives such as bamboo, Mirpuri says the most difficult single-use plastic item to replace on board is the water bottle. In order to find a solution, the Mirpuri Foundation is sponsoring a "multi-million dollar" research project with a Portuguese university to find a viable alternative.
Under study are bottles made from biodegradable materials and onboard water storage units which can be used to fill recyclable paper cups. Mirpuri says he expects results from the research program to be presented by the end of this year.
He estimates that the steps taken to eliminate single-use plastic will add €1-2 per passenger to the cost of a return long-haul flight – a price he believes consumers will be willing to pay: "Passengers might be willing to pay a little bit more for airlines to move in this direction. Once 25% of airlines start offering plastic-free flights and passengers have the option to choose a more sustainability-conscious airline, we think the majority will be willing to pay €1 more."
A number of other airlines, including Ryanair, Etihad Airways and Delta Air Lines, have publicly committed to removing single-use plastics from the cabin, and Mirpuri says momentum is building.
"Our hope is that within three years a significant number of airlines will have eliminated single-use plastic from on board [their aircraft] and will have much better waste-management procedures," he notes.
But while plastic-free flights, more fuel-efficient aircraft and less flatulent cows are all positive steps, the airline industry is coming under increasingly loud pressure to do more to address the fact that it is one of the fastest-growing sources of carbon dioxide emissions in a world which the vast majority of scientists agree is facing a climate crisis.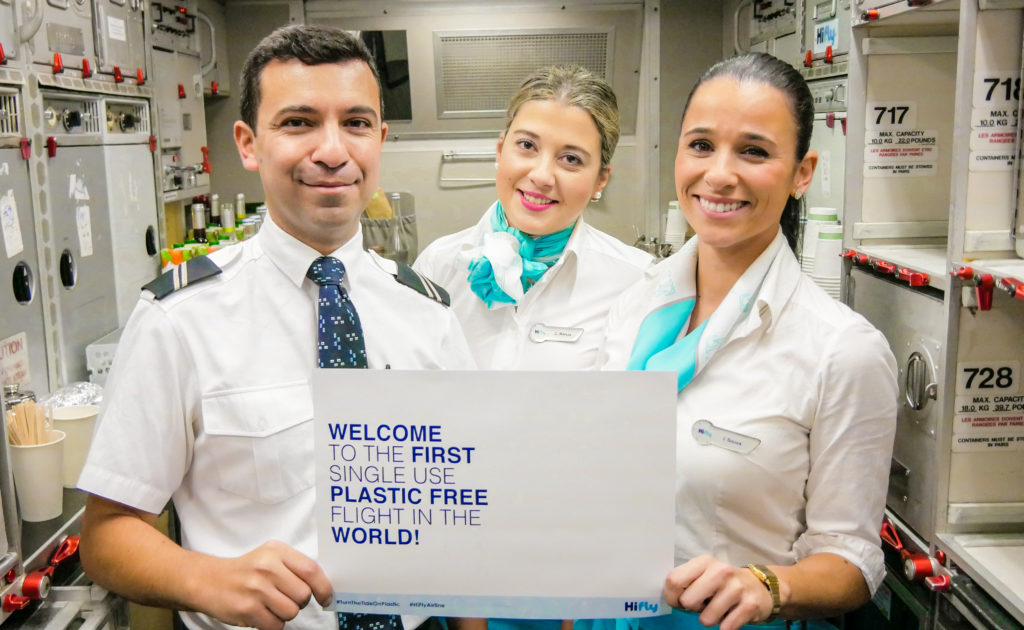 Related Articles: