With SmartSky Networks "laser focused" on launching 4G LTE air-to-ground (ATG) connectivity with 5G features this year in the United States, and Inmarsat and Deutsche Telekom in the midst of rolling out a hybrid S-band/ATG European Aviation Network (EAN) for IAG member airlines' short-haul fleets, W. L. Gore & Associates has found itself in the rather unique position of supplying high-grade cables for two of the most prominent new nextgen inflight connectivity programs underway at present, on both sides of the proverbial pond.
Because SmartSky's mission is to produce the most reliable 'best-in-class' IFC system, the US firm "really understood the value of having a sealed cable" which provides protection against the ingress of water vapor, jet fuel and other contaminants, says Gore product manager, aerospace fiber optics Jeremy Moore in reference to why SmartSky selected Gore's 7 Series microwave/RF assemblies for its IFC system.
The ingress of moisture can mean the difference between a functioning and nonfunctioning IFC system, and the difference between a positive and negative #PaxEx. "You can't have a great passenger experience without quality components and a quality installation. The Gore reliability and consistent performance is a differentiator for us," says a SmartSky spokesman. "Commercial aviation can be an unforgiving environment."
Indeed, the cost associated with trying to fix inferior cables after the fact "is crazy", and a major headache for operators, notes Moore.
SmartSky's spectrum reuse radio technology enables the air-to-ground sharing of the 2.4 GHz unlicensed frequency band. Company president and co-founder Ryan Stone says the reason why SmartSky's patent story is so strong – it has been granted 128 patents and another 90 are pending – is to ensure it can make a network function properly in the unlicensed band, including in areas of dense urban population where there is high wifi noise.
Gore initially designed cables for SmartSky's King Air testbed aircraft, which has demoed the IFC service in the unlicensed band for owners, operators, media and other industry stakeholders around the country. The King Air install was executed on a frigid winter day in Chicago. "There is a lot of hard work that went into that," recalls Moore. Since then, Gore has provided cables for the Embraer ERJ series supplemental type certificate (STC) secured by StandardAero to initially support the equipage of SmartSky IFC on two ERJ-145s.
Now SmartSky is in the final phase of its rollout and expects to go live in a couple of months.
"If you think about the market that SmartSky is going after just in the US, it's enormous," says Gore's Moore, noting that the firm is tapping into the regional jet and business jet market "so to have the frequency that they have and the reliable system that they have just in the United States, it has huge impact potential."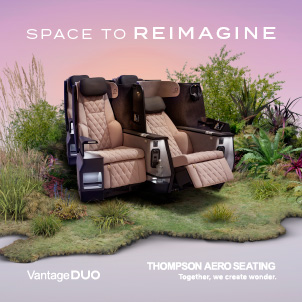 Prior to securing SmartSky's business, Gore was tapped to provide its microwave sealed airframe assemblies for EAN installs in Europe. That program is progressing, with British Airways in March implementing a "soft launch" of EAN-supported inflight connectivity service on a handful of A320s. So soft is the launch that passengers have to actively seek-out the service on equipped aircraft, though frequent flyers are working to keep track of BA's rollout on Flyer Talk.
Gore's message – that a vapor sealed cable "from the connector to the other connector" – resonated with both firms, Moore tells Runway Girl Network.
It's a feather in the cap that Gore has secured cabling business from two new entrants on the ATG and hybrid ATG scene. "It's all about reliability like I have been talking about for, you know, years now and I think more and more companies have recognized and appreciate the value that we are bringing in the products," says Adrian Milne, global product manager – civil air cabling and aircraft connectivity products at Gore.
As time moves on, and more cable reliability issues bubble up on account of moisture ingress, "suddenly our messaging can resonate and people go 'ah that's what they are talking about.' And that is kind of cool from our perspective."
Related Articles: