Runway Girl Network has favored the phrase "the gloves are off" to describe the war of words amongst certain inflight connectivity stakeholders over the years. But you'll surely forgive us for using it in reference to the battle playing out on the nextgen air-to-ground (ATG) IFC front in the United States.
SmartSky is committed to rolling out its 4G LTE network with elements of 5G technology this year, a timeline that has moved to the right. Gogo plans to launch a 5G network in 2021, representing fresh messaging after the ZTE debacle early last year caught Gogo mid-stride as it was developing its nextgen ATG system.
Each firm believes it has a far better mousetrap than its rival.
He said, He said
Suggesting that Gogo knows "a lot more about how to do this than they do", Gogo president and CEO Oakleigh Thorne tells RGN in reference to SmartSky: "They've made a lot of noise for a long time. They've failed to deliver. At some point they may; we're comfortable with them if they do deliver. We have a better product, a redundant network with 4G and back-up if there is interference in unlicensed spectrum. SmartSky won't have that backup."
SmartSky co-founder and president Ryan Stone admits that the company's EIS timelime has slipped to the right, saying: "We found that the technologies out there alone are insufficient to make an ATG network perform reliably in the unlicensed band, unless you have our innovation patents." Specifically, there was one component – a remote radio head – that SmartSky "wanted to make sure met our performance and reliability expectations and now that it does, we're off to the races and putting that component up on sites", he reveals to RGN.
That's why SmartSky published a press release on 30 May. "What we've announced is our final phase of the plan; that's what we're in. When we say we're going live in a couple months, that is what we mean," says Stone.
Stone contests the notion that SmartSky needs back-up for the 2.4 GHz of unlicensed spectrum it is using, noting that the reason SmartSky's patent story is so strong – it has been granted 128 patents and another 90 are pending – is to ensure it can make a network function properly in the unlicensed band, including in areas of dense urban population where there is high wifi noise. That is technology "that Gogo doesn't have", he suggests.
Rather, he says, Gogo is effectively saying 'we will fall back on our ZTE system', a network that is "already congested in the areas where they think they have to fall back on. So, their performance is already poor and would remain poor…"
"We're about an exceptional user experience", says Stone, adding: "You don't need band redundancy if you can do that in the unlicensed service."
With specific regard to SmartSky's patent portfolio, Gogo's Thorne says, "We are very comfortable with our position and the technology we have and do not feel that they have any patents that apply to us and are valid."
Gogo's winding path to 5G
Gogo has been technically working on a nextgen ATG solution "since 2010 or 2011", notes Thorne, though there have of course been different flavors to the solution. The company invested significant time and effort in pushing for access to the 14 GHz spectrum band (used by Ku satellites), which was expected to be licensed by the FCC. However, numerous objections to a 14 GHz secondary license auction, including from the Association of Flight Attendants, ultimately saw the FCC take no action, leaving Gogo without the new spectrum it desired.
"Then, we and SmartSky, at about the same time, figured out the government regulations around access to the 2.4 GHz spectrum so we started pursuing a beamforming solution using the unlicensed range and having our [4 MHz slice in the] 850 MHz spectrum to back that up. That was going to be an LTE 4G solution," recalls Thorne for RGN. He says Gogo "got very close" to implementation, having developed 10 towers which it tested on flights between Michigan and Colorado. Gogo saw peak speeds of 100 Mbps and median speeds of 30 Mbps.P
When the news dropped last year that the US government had implemented a trade ban on ZTE, Gogo was "literally about to take delivery of 50 towers to install the nextgen ATG system in LTE format", confides Throne. But internally, some Gogo engineers had been "already egging to get into 5G and were a little upset" when management didn't pursue it earlier.
"So they've been working on that [5G] since the government first raised issues with ZTE early last year," he says.
To date, Gogo has done a lot of basic R&D work, and selected vendors for its 5G network. But how much of the former nextgen ATG plan can be retained? Thorne says the firm spent $25 million on the ZTE/2.4 GHz approach "and we had a lot of good learning out of that and can apply some of that for the 5G network. However, in terms of designing the equipment, that sort of thing, we'll have to spend money in designing equipment. I don't know how much of the $25 million of learning we can use but we spent it and we're not giving it back." But on a go-forward basis, he says, Gogo is deep in design right now, and as it gets through each phase – PDR [preliminary design review], CDR [critical design review], etc, – it will come out with more specifics on timing and speed and what the cost will be.
Outside of the obvious business aviation and commercial RJ applications, what are the opportunities for Gogo 5G ATG in the commercial airline space? Thorne says that while US carriers have satellite solutions for a lot of their mainline aircraft, there are still some with smaller mainline aircraft that haven't installed "so there might be some opportunity there".
What about augmenting satcom with 5G ATG, RGN asked? Gogo's grounded ground-to-orbit (GTO) solution, which combined satellite and terrestrial services and "was like the Ford Edsel of Gogo history", quips Thorne, might be something that Gogo would look at exploiting. "It's a possibility but there is no firm plan for that right now."
Made in America
Thorne assures that Gogo's partners for the 5G network "are all United States based on this one". After all, the Trump Administration is not alone in its concerns about Chinese tech giants, with Thorne noting that Senators Schumer and Rubio are always trying to add legislation.
Yet, like other US IFC providers, Gogo is hoping to break into the satellite-supported IFC market in China. Should it be concerned about barriers on the Chinese side? "The environment is so uncertain. I don't think you can really answer that question," says Thorne, noting that while Gogo's relationships are strong in China "things could change at any minute as you know" under the current climate.
Strong words
Though SmartSky's 4G LTE network has some 5G components and features including software defined radios, network function virtualization, network slicing, beamforming, primary Internet gateway relocation and low latency architecture, Stone is not concerned that customers will make unfavorable comparisons between what SmartSky is doing and Gogo's announced plan.
In a gloves-off moment, he tells RGN that SmartSky's customers "can see through phantom announcements to see who is actually doing things and who's ahead, and we're a few years ahead of our competitor's announcement.
"We're doing this right now. Instead of hyping 5G, we try to show them [our customers] where we use it and where we're not. I don't want to create an expectation – as has been done in the past – [whereby someone says] here's the speeds you're going to get and nobody gets it and they're disappointed. Others have marketed 3G EVDO Rev as 4G, so we don't like to do that, and instead we are going to help keep people informed, and show them [in terms of] the technologies that come out, we have the capabilities of both leading and continuing to grow."
He adds, "The goal isn't about what do you call the network, it's what's the most compelling user experience."
Nextgen ATG and telco partnerships
Both SmartSky and Gogo can envisage creative telco partnerships with airlines that would ensure passengers have a far more seamless service.
"You're already seeing that take place in the market itself, the first experiments. If you go around the world, it's done differently," says Stone. "You can use your phone as a login device, a sponsorship or integration; that's been done. I think that's where we're headed. Our primary focus this year is getting the network launched, and once we have done that, we can spend a little bit more time on how to make it easier to interact with all the other devices out there relative to logins. I know a lot of the airlines we talk to are in some ways handling that at their level, single sign-in, so we're already seeing that. I think the Seamless Air Alliance is a great effort. We're not yet members but we're well aware of what they're doing and I think it's a notable goal." In terms of selecting value added resellers for its service, SmartSky has made continued progress.  Honeywell is the first SmartSky VAR to be announced, and will serve airlines in North America.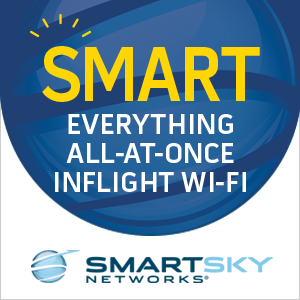 In reference to seamless roaming, Gogo's Thorne tells RGN, "We could roll out a very seamless experience right now; it comes down to the commercial relationships between telcos and airlines to really enable that, the technologies around right now to enable that, and we think that would be terrific. We view ourselves as a technology enabler for those relationships and as airlines value IFC more and they want to be more in control of that, our job is to provide them the tools with that, and our job is to provide that seamless technology in order to do that if they want to make those commercial relationships. And I think it would be very good for the industry generally."
He says Gogo had some issues with how the Seamless Air Alliance wanted to handle intellectual property "and they didn't want to change their agreement for us so we decided not to join". On top of that, he says, Gogo doesn't really view the alliance as necessary to facilitate the seamless roaming described. "That technology exists today. Frankly we don't think there is much to develop." If Gogo's partners want the firm to join, says Thorne, "we probably would, but we haven't had any pressure to do so."
Related Articles: