When the CEO of SITAONAIR suggests that the combination of top quality inflight connectivity service, very low cost, and maximum adoption doesn't exist "except maybe JetBlue found the magic wand", his statement could certainly be seen as either a vindication of what Viasat management has been saying all along about its high-capacity Ka-band satellite service, or – perhaps more likely – a veiled suggestion that JetBlue enjoys a uniquely creative arrangement with Viasat.
Irrespective of how JetBlue and Viasat managed to pull it off – with sponsor Amazon serving as cost-offset fairy godmother – competitive pressure is mounting on US majors to support free Internet browsing beyond a simple free text messaging tier.
Delta is, of course, the latest to move in that direction after CEO Ed Bastion promised last fall that the carrier was working hard towards offering free Internet. On 13 May, Delta launched a trial that gives passengers the opportunity to browse for free on certain Gogo 2Ku-fitted birds plying roughly 55 domestic flight segments per day. It's not a free streaming class of service as found on JetBlue, mind, but Delta passengers are largely applauding the carrier's trial efforts on social media, with some saying they feel "blessed" when they find themselves on trial aircraft and even vowing to "never fly anything but Delta again".
Journalist Harriet Baskas in an important article for CNBC suggests that Delta's test of free inflight Internet may shame other airlines into offering the service. It's certainly true that, in making good on its promise to offer free connectivity, the juggernaut that is Delta Air Lines has raised the stakes. But let's give credit where credit is fully due – JetBlue and Viasat got the ball rolling, with Viasat CEO Mark Dankberg accurately informing RGN last year that there is now a "drum beat heading towards free" inflight connectivity. Southwest Airlines has long studied how it might do the same, a source tells RGN.
Did you hear? Delta is currently testing free WiFi on several domestic flights, but they're not the first; JetBlue has had complimentary WiFi at all seats since 2016. #Traveltips pic.twitter.com/SW6THUYJzR

— Rick Seaney (@rickseaney) May 20, 2019
Should American Airlines feel compelled to join the freebee fray, the carrier is well-positioned to bring the love to passengers aboard its Viasat Ka-fitted domestic fleet and indeed the cluster of narrowbodies equipped with Gogo 2Ku. But American hasn't announced a plan, with a spokeswoman telling RGN: "We're always looking at those options and how to provide customers the best experience but [we have] nothing to share with regard to free wifi right now."
On an aside, rumors are swirling that American is considering offering seatback IFE on domestic flights. If this were true, it would perhaps be the greatest airline #PaxEx u-turn in history, as Doug Parker is somewhat notorious for disliking embedded IFE solutions. "It is just a complete waste of your fare to give you a movie you don't want to watch and charge you for it," he once said, years after US Airways unceremoniously ripped out overhead video monitors on its domestic fleet. However, American's spokeswoman insists to RGN that the carrier is "not rethinking" its decision to focus on wireless solutions for domestic aircraft.
RGN is compelled to take her at her emphatic word here, despite fervent Twitter chatter to the contrary, but thinking out loud … if the US major were to provide a truly compelling seatback IFE offering, it would pull passengers' eyeballs away from the Internet, and perhaps make free surfing more viable. JetBlue currently enjoys take rates of 30-40% for its FlyFi-branded WiFi, according to Viasat, but it is also flying with clunky, legacy live television systems that are only gradually being replaced. Will FlyFi take rates go down when the new Thales AVANT TV system reaches critical mass on JetBlue's fleet or will passengers simply double-screen?
In any case, with the dominos falling – first with JetBlue, now with Delta – would anyone be surprised if American and United find a way to offer free Internet browsing in time? Judging by passenger comments on Twitter, the chase is well and truly on in the United States.
Routehappy by ATPCO ranks Viasat Ka and Gogo 2Ku service in the same "best" Netflix-streaming-capable category. But when asked by RGN which IFC service comes the closest to Viasat Ka, Viasat vice president commercial mobility Don Buchman doesn't mention Gogo. In terms of capacity, he says Hughes Network Systems are "the ones that are investing in the satellites that have similar economics".
He adds, "Hughes has got a very similar background to us, you know Jupiter, Jupiter 1, Jupiter 2. They've been playing catch-up to us in the states. I don't know what the roadmap looks like."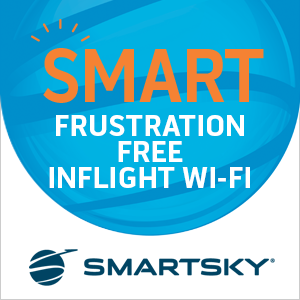 For Hughes, the Spirit Airlines project being executed with Thales provides "a tremendous opportunity", says Royce Hernandez, national sales manager aeronautical business for the firm. "We're very proud they [Thales] selected Hughes and our Jupiter technology and we think everything is on track. We're really excited to see that move forward."
Once the IFC #PaxEx aboard Spirit is clear to passengers and industry, does Hughes expect to score more business in the US? "Well, certainly, we'd like to think there's more opportunity. I'd have to let Thales really address who those customers may be and what those opportunities might look like," Hernandez tells RGN. But from an inflight connectivity perspective, Hughes believes it has the "best" technology.
"Our Jupiter technology is third and fourth generation now. Hughes is the global leader in VSAT communications, so we've been developing hub technology, modem technology for a long time. Our Hughes Jupiter ModMan is very specifically designed for aero. It can support up to 600 mbps. It has got our own customer-developed ASIC [application-specific integrated circuit] in it and we think it delivers the best performance and the highest efficiencies in the market. And so with that, and with our hub tech paired with it, we think we have the best technology out there," says Hernandez.
The Hughes executive agrees that passengers expect to have access to a streaming class of service, and assures that "our technology can do it all." He adds, "Again, if you look back at the Jupiter platform, it supports 1.3 million consumer broadband customers as well as hundreds of thousands of enterprise customers, who perform all of these applications. So there's enterprise streaming, there's consumer, there's IoT, so our platform has no restrictions. Ultimately, the restriction comes down to the capacity, the deliverables, and the SLAs that the service providers set but our platform [is not inhibited]."
Viasat, meanwhile, had 1,312 commercial tails in service with its high-capacity Ka-powered IFC by the end of its fiscal fourth quarter and expects to install on 490 additional commercial aircraft under existing contracts, getting close to the 2,000 mark of in-service aircraft. This includes installs outside of the US, at multiple airlines including El Al, Finnair, SAS and Qantas.
"Our success in North America is helping us engage with airlines on a global basis," says CEO Mark Dankberg. "The approach of ViaSat-3 helps a bunch. Our target launch dates for the Americas and EMEA satellites now line up well with new widebody deliveries for many international and global airlines with Asia-Pacific not far behind. Our partnerships in important regional markets can help accelerate international narrowbody and widebody growth and our commercial version of the very successful US government dual-band Ku/Ka-band terminal is an attractive solution for intercontinental routes."
He continues, "We're already flying on international 787s and see good opportunities with the 777X as well as Airbus widebodies. The investments we made in supplemental type certificates, geographic expansion to Europe and Australia and end-to-end operational support in prior years were stressful at the time but they clearly catalyzed our success and our rapid growth."
Last month, Viasat announced it has forged a strategic partnership with China Satellite Communications to jointly provide IFC services within China for domestic and international airlines. Under the arrangement, airlines under contract with China Satcom will use the China Satcom network while operating over mainland China. But Viasat is tailoring its IFC equipment for use on the China Satcom network, and this technology will be forward compatible with ViaSat-3. "These aircraft when flying outside of the China Satcom airspace will be able to roam onto Viasat's global network of Ka-Band satellites," explains a Viasat spokeswoman.
Interestingly, Dankberg says Viasat's rollout at JetBlue is proving pivotal to the firm's discussions with Chinese operators. "A lot of them say, 'we'd like to have what JetBlue have – that's the experience that they have – that's a free service that all the passengers can use', so they see that as somehow representative of what they'd like."
State-side, with ULCC Spirit planning to charge a low cost of roughly $6.50 for streaming IFC options, and with JetBlue and the Delta trial offering free wifi, pressure grows on US legacies and indeed Southwest to bring the magic to passengers.
Related Articles:
Featured image credited to istock.com/AleksandarNakic