Lufthansa is eager to offer a consistent inflight connectivity experience for passengers, irrespective of whether they're flying on long-haul aircraft equipped with Panasonic Avionics' Ku-band satellite-supported Internet or short- and medium-haul aircraft with Inmarsat GX. But without service level agreement (SLA) standardization in place, Lufthansa is encumbered in its ability to really judge how they're faring, according to Lukas Bucher, head of connectivity at MRO giant Lufthansa Technik, which has a long history of installing connectivity systems for airlines. This lack of standardization is among the reasons why Lufthansa Technik is participating in the Airline Passenger Experience Association's (APEX) Connectivity Working Group (CWG), which aims to establish uniform measurements for the effectiveness of inflight connectivity (IFC).
In terms of service quality, said Bucher, "the most important part" is to make the airline happy by ensuring it has aircraft "that are online and reliably online and preferably always online, which has been a big headache with respect to quality of service as such over the last few years, many years, and that is getting better. [It's] still not where it is supposed to be so we are – outside of doing operational projects and product improvements [and] whatever we can support to make that happen – also working on standardization as part of the APEX working group for SLA standardization."
The APEX CWG is chaired by Lufthansa Technik manager strategy and business development Dr. Stephan Schulte. "We chose a bit more than a year ago to head that activity because we do believe that there is so far limited interest by the existing big connectivity providers to standardize because they all have their pros and cons and if you standardize, that is going to go away to some extent," explained Bucher to RGN at the recent Aircraft Interiors Expo in Hamburg. "So even though they are working along, I guess we are the ones with some others that think that this is absolutely crucial to make that a better situation."
He refrained from judging or comparing the Panasonic Ku solution with Inmarsat GX, noting: "I don't think it would be smart to comment on that because eventually it would be a very subjective opinion since there are no standards to measure SLA."
Last fall, Panasonic and Inmarsat agreed a strategic collaboration that will see Panasonic sell the Ka-band GX solution to airlines, whilst still investing in its own Ku network. Will the fact that Panasonic is now selling GX as a creative partner make life easier in terms of standardization work, RGN asked Bucher. "I don't know," he said flatly. "Honestly I believe that they do not know exactly how that will work out. We are certainly working with both. We've been working with Panasonic for years. We have been working with Inmarsat and Honeywell [the GX terminal unit provider] extensively. And we do see that there might be some merit of that partnership. How exactly that is going to work out for the airlines and the end customer, the passengers, I am not yet certain, but certainly it seems to be on the right track."
At the end of the day, however, it's really up to Panasonic and Inmarsat "to be jointly better", said Bucher, "because eventually they're still in competition with others". Those competitors include providers that will exploit shared satellite networks involving LEOs or MEOs together with GEOs, which in turn will add complexity to APEX's standardization work because, traditionally, the conversation has been around GEO-only constellations supporting IFC. "Nowadays latency as such is of – well nobody likes it – but it is of less relevance because satellites are far away, they are geostationary and the time for light to get there and back hasn't changed," noted Bucher with a smile. "So only if we do see new constellations we will see changes which might have an effect and should be considered as part of an SLA…"
Lufthansa Technik's partners are already preparing for this new world order, which will require further investment, said Bucher. "Eventually they all will have to move forward. With the current economical situation, some of the big ones out there that might be a bit difficult for them. They also probably wouldn't tell you at a show like we are right here. But somebody who is cash strapped might have a different situation then somebody who is well positioned. And there will be investment required not only by those parties but many other parties to make the new ecosystems happen."
While deep pockets are still clearly required to play in IFC, Bucher believes airlines may increasingly "take more of a stand on what they really want to do, maybe also including some financial aspects but really nobody knows how that is going to work out I guess".
Relative to whether airlines might bring more connectivity work in-house, he added: "Well there has obviously not been any decision or anything like that but depending on how the situation evolves – and don't forget about data protection rights, which are changing an aspect when it comes to what does the business model look like – certainly it is smart to look at the situation. It is certainly smart to think about how could it be done differently and whether that would include having more parts done internally and be more vertical or not. I guess that is an open and maybe only starting discussion."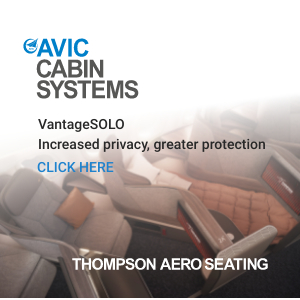 Yet, as next generation IFC systems, services and models emerge, Lufthansa Technik feels well-placed to meet the MRO needs of airlines, with Bucher noting that "one thing that is currently about to start is – and we do see that very slightly – is that there are airlines with various aircraft types out there that do have some type of connectivity solution flying and they are some way or the other approaching the end of their contract or the end of their patience maybe also and therefore are looking for alternatives which eventually very physically requires some changes to the aircraft and there is not really that many airlines that had to do that. Maybe the only real big known campaign was ourselves because we had to somehow modify Connexion by Boeing after [it shuttered] to be Panasonic suitable."
So, Lufthansa Technik is readying for connectivity system transitions that will see airlines swap one system for another. Such work has already started in the United States, with Gogo air-to-ground systems being replaced by satellite solutions (be that, for instance, Gogo 2Ku or Viasat Ka) and Southwest Airlines' recent announcement that it is removing Panasonic IFC systems from its aircraft.
But Bucher suggests that others in the US, plus some European carriers "and some in Japan might be getting to the point that they are more and more facing that issue and I guess that is one of the areas where we are very fortunate to have a lot of experience already. So we might see some business."
Related Articles: