Today, the cost of a traditional Ku- or Ka-band satellite antenna for aero is roughly $175,000 to $200,000. When you add in the cost of installing it on an aircraft, and initial service charges, "you're looking at a $300,000 number you have to get out from under. [Yet] not a single aircraft in the world today is grossing more than $16,000 per month."
So said Isotropic Systems founder John Finney, who explained during an interview with Runway Girl Network that he arrived at the $16,000 max monthly figure for airtime revenue after speaking with many airlines.
Aiming to "completely change" these satellite economics by taking advantage of optical beam steering, Isotropic in a few years expects to roll out fuselage-mountable aero antennas that will be a fraction of the cost of traditional antennas. "We are targeting to be in the order of 50% lower than [the] competition in terms of price," said Finney, a former founding member of O3b Networks.
"Our terminals will be able to talk to multiple satellites at a time, and not increase the cost. There's a moment where you need … when you look at our competitors, I won't name them but pretty much all of them, they are single-link solutions – one connection to one satellite. That was okay ten or five years ago but in a new world with LEO, GEO, MEO, that will not cut it anymore."
A solid start
Isotropic first flew onto RGN's radar screen at the big Satellite 2018 conference and exhibition, where the London-headquartered start-up made a series of announcements for various terminal applications with Avanti, OneWeb and Inmarsat, the latter of which tapped the firm to develop a state-of-the-art, all electronic scanning antenna for potential use with GX satellites. The partnership underscores Inmarsat's "confidence in Isotropic Systems' disruptive optical array technology and its market-focused business plan to expand the range of future mobility applications" supported by GX, said Inmarsat at the time. Separately, SES named Isotropic as a technology partner for its O3b mPOWER network.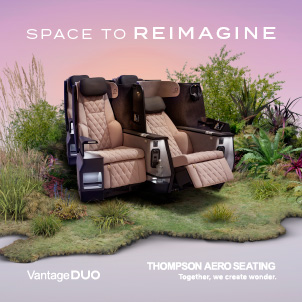 But Isotropic saw further lift in January 2019 when it announced it has raised $14 million in a Series A round of funding led by Boeing HorizonX Ventures, with participation from WML, Space Angels and Space Capital. "This latest investment will connect the Isotropic team with Boeing experts and resources to help advance the development of its terminal solutions," said Boeing.
Though the Boeing announcement was fairly broad, Isotropic's Finney confirmed that the work will feed into aero terminal applications. He explained: "It's general development but because we're taking this modular approach where beamforming units are across all the product lines …. all roads lead to aero in that it's the most advanced product and ultimately one of the products that comes out in our product release strategy and will require one year of full certification work. But in terms of money, it's going into beam forming module development which will ultimately be a very key component of the aero terminal."
The Isotropic executive added that every single one of the firm's forthcoming aero terminals "will support two beams as standard".
During our interview, Finney shared his thoughts on why Isotropic is keen to see its system offered linefit on aircraft, noting that this is "something of a holy grail" for all antenna companies. He expressed hope that having Boeing as "a highly active" strategic investor would create those types of possibilities. In a post-interview email, an Isotropic spokesperson stressed to RGN that:
Boeing sees a strategic link between low-cost terminals and expansion of satellite services.
Boeing has agreed in principle to allow Isotropic to access Boeing's design and test capabilities to progress the development of Isotropic products, details of this relationship need to be worked out.
Once Isotropic has successfully developed a qualified terminal Boeing can consider inclusion of Isotropic capabilities in Boeing's products and services.
While specifics are apparently being thrashed out, Isotropic's ambitions are clear. "We're focusing in aero on being the world leader in terminal performance especially at extreme scan angles," said Finney, noting that while Isotropic's enterprise terminals look circular and fairly flat, when it delivers an aero terminal, Isotropic wants to "take advantage of the maximum amount of space available on the aircraft, and that's the inner surface of the radome".
He said Isotropic's optics will contour to the inner surface of the radome so that they'll be truly conformal to the shape of the structure "so when the aircraft is trying to point to the horizon, even though half the array is no longer in view, what is left in view has a very large aperture area, and the optical devices are almost pointed straight to the satellite. If we boil it down, it means that regardless of where the aircraft is pointed in relation to the satellite, the level of bandwidth performance to aircraft will far exceed anything available to the market today."
Fuselage integration?
Further down the road, Finney believes there may be an opportunity with composite airframes to be truly conformal by potentially removing the radome altogether (effectively integrating into the fuselage).
On this point, I'm reminded of a March 2018 interview with Kymeta chief strategy officer Bill Marks who suggested to RGN that in ten years "we will only see flat panels on planes and they will be all over", as there are "materials that are being thought about right now where you put the antenna inside and it will transmit through the skin of the airplane. So you know if you want to get the 600 Mbps, which they all want to do, we can't do it the way it is happening right now." Of course, Kymeta was once the hot new thing in flat panel tech for mobility before it lost a bit of its luster in the eyes of former partners.
Timeline for release
But back to Finney. At present, he said, Isotropic is very focused on existing customers, "so particularly Inmarsat, SES, Avanti and OneWeb so for the aero solutions the first products we release will be Ka [in 2021], then Ku, and that will be our first generation product, a Ka line and a Ku line, but all delivering low-cost multi-beam support, unrestricted bandwidth." The second generation product is expected to be a dual Ku/Ka band multi-beam antenna.
Fully certified aero terminals are not expected to arrive until 2022, however, and Isotropic is fully cognizant of the fact that many longhaul routes and premium airlines will already be connected by that time, having paid a fair amount of money for the pleasure. "So the pipeline for the service providers will be short-haul routes, single-aisle aircraft with high passenger loading and that will be an even tougher nut to crack," said Finney.
He also sees fresh opportunities in Latin America, Africa, parts of Asia and Australasia, and in general countries where broadband penetration is already high or quickly growing. Brazil, for example, is a "huge opportunity", he suggested.
Evolving #PaxEx
From a passenger experience perspective, Finney believes passengers should be able to acquire wifi well before they board, when buying extra baggage at booking, for example; and their mobiles should be able to roam on the aircraft. In short, it should be much easier for people to access inflight broadband in the first place. "I guess this is kind of more of a personal opinion. The way I view aero connectivity now is [like the] dial-up days of Internet. Take rates are very low on board, and I believe industry only has itself to blame right now."
He is not convinced that inflight connectivity service providers will always lead the IFC charge, given that some satellite operators are already going direct and that revenue share deals are brokered "highly in favor of the service provider" especially if they've assumed cost to get their kit on board. But he said Isotropic will provide its infrastructure "to whoever is the best to interface with the airlines".
Interestingly, Finney also suggested that there will come a time "when people talk about seatback IFE in the way they used to talk about smoking on planes. At the moment, the inhibitor is the lack of communication, quality of bandwidth and ease of accessing that [connectivity] service. I believe the power of personalized content will mean that take rates come up to such a level where all of that equipment on the seatback is dead weight … when they finally take those off, take rates will go up to 80%, that will take five to 10 years for that to cement."
He presently sees seatback IFE as "the enemy of broadband", which is somewhat surprising to your writer, given that passengers are embracing double and triple screening in-flight (or as RGN contributor Jason Rabinowitz says of Delta's impressively consistent inflight #PaxEx – there is no guessing as to whether I'll have seatback IFE, live TV or streaming to my own device entertainment. I know I'll have all three.)
Related Articles: