Hawaiian Airlines is to install an Adient Aerospace's Ascent outward-facing herringbone seat in the premium cabin of its Boeing 787-9 Dreamliners, with the Collins Aerospace Aspire fully-featured economy class seat further back in the aircraft. Hawaiian is the first announced customer of the Adient-Boeing joint venture, and is working with Adient and design house Teague on the integration of the seat, which will be what the airline calls "a modular premium lie-flat seat featuring double suites and designed specifically for the wide- body cabin of the 787-9".
Renee Awana, Hawaiian Airlines' managing director of product development, confirms to Runway Girl Network that "as configured this will be a 1-2-1 outward facing herringbone."
Notably, the "suite" part is still under development, Awana says, explaining that "we intend to pursue a door feature. We are currently working through the certification plan for the seats with Adient and Boeing, so it's still too early to share details about how the system we are envisioning would work."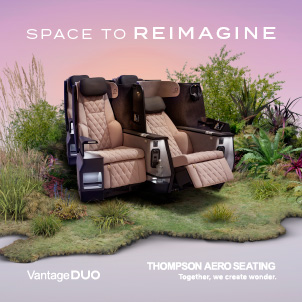 Nevertheless, says Awana, "the Adient platform creates a great mix of privacy and shared seating options. The center doubles, in particular, are going to offer a really fantastic 'suite' experience that we think will be well received by couples. Adient is also committed to working with us to bring in design details and CMF that richly evoke Hawaii in a sophisticated, contemporary way. We're working closely with Adient and Teague to bring the details of the seat to life."
Adient succeeds Italian seatmaker Optimares as Hawaiian's business class seatmaker, with the incumbent Maxima seat a customized seat offering "courtesy aisle access" in a 2-2-2 configuration.
"Our partnership with Optimares has been very successful, and guests who have experienced our Airbus A330 Premium Cabin continue to give us great feedback on the lie-flat seats now featured on the interiors of all 24 aircraft in that fleet," Awana tells RGN. "Each time we look at a new aircraft type, we do so with a view of the latest in technology and innovation. Seats have a long life on the aircraft, so we try to aim as far ahead of the current state of seating as possible while managing risk. In this case, we evaluated a range of options—including the latest designs from Optimares — and selected Adient for the comfort and flexibility of the platform and the opportunities to customise the experience for our guests."
In particular, Hawaiian appreciated the customizability of the Ascent platform and the fact that Boeing and Adient designed it with the 787 in mind. Hawaiian's premium leisure-focused front cabins also played a part, Awana says. "If you look inside our premium cabin, you will find a good proportion of guests such as couples or families who value a shared travel experience. They may be entering our aircraft to begin a honeymoon, celebrate a 50th wedding anniversary, or enjoy an annual family trip – but they are all embarking on a special vacation that they want to enjoy and create memories together. We design the entire cabin experience with their unique preferences in mind, while making sure the seat has everything a traditional business traveler would need, but with an island-inspired design."
Yet Adient is a new aviation seatmaker, and new entrants have not always covered themselves in glory in certification, delivery time and quality. RGN asked Awana how Hawaiian has satisfied itself that Adient will be able to deliver the seats as planned. "We did an extraordinary amount of due diligence in coming to these selections, and are comfortable that Adient brings the right expertise, partnerships and commitment to deliver what we need," Awana said, calling the construction and actuation "quite robust".
"With each new program we do we incorporate lessons we have learned from previous programs," Awana notes, but this is only Hawaiian's second flatbed product, and its Optimares seat was not without criticism of its design and build. The proof for Hawaiian, for Adient, and for Ascent, will be in the production.
Related Articles: