Having received a Flight and Maritime Connectivity license from India's Department of Telecommunications, Hughes Communications India Ltd (HCIL) will initially support Ku-band satellite-based broadband services for Indian and foreign airlines and shipping companies operating within Indian airspace and territory, HCIL senior vice president – network business Shivaji Chatterjee tells Runway Girl Network.
HCIL, a majority-owned subsidiary of Hughes Network Systems, recently laid claim to being the first company to be granted the FMC license in India. However, Nelco's Tatanet Services followed closely behind, announcing that it has received the same license, after the Indian government last year finally gave the green-light to allow inflight connectivity in Indian airspace under certain stipulations.
Chatterjee tells RGN that HCIL will exploit three existing Ku-band satellites that have specifications and coverage over the country – SES-9 (which replaced NSS 11), NSS 12 and GSAT-16. "Existing satellites and existing hubs" will be used, he says, and "if we choose another satellite, awarded through the Department of Space, we could use another one too".
The way in which the government regulation was drafted and released provides a lot of power and support to in-country providers like HCIL, which in turn will partner with inflight ISPs.
Chatterjee explains:
In the aero world, it's quite a complicated end-to-end service which needs to deliver Wi-Fi on board, and that's what inflight connectivity providers Global Eagle, Gogo, Thales and Panasonic have developed. We expect that all of these providers will work with companies like us and be able to provide services to domestic and foreign airlines into and over the country.
In order to be an inflight ISP licensed in India, these firms "need to be an Indian entity" and must have a relationship in place with an Indian satellite operator/provider to support inflight Internet, stresses the HCIL executive.
To that end, a couple of them "are in a better state because they've already been providing inflight entertainment to domestic Indian carriers and they are one or two steps ahead of the others who don't have an in-country presence".
One of the next steps for HCIL and inflight ISPs is to understand which IFC business models will be pursued. Noting that the aforementioned providers are presently "evolving and being more careful", he says the time has come "to work out the right strategy, the right balance of risk and investment". The financial health of Indian airlines is also a factor to consider, as some – including Indian Airlines and Jet Airways – are seeing losses mount.
Global Eagle CEO Josh Marks referenced these challenges during the firm's recent fourth quarter 2018 earnings conference call. Noting that Global Eagle's wireless IFE customer Jet Airways is in the midst of restructuring, Marks said antennas will not be installed on aircraft until Jet Airways works through its fleet plan with aircraft lessors.
India's Jet Airways is in the midst of restructuring. Given the carrier's present challenges with aircraft lessors, Global Eagle needs to confirm which aircraft are going to be in the Jet fleet long-term before moving forward with IFC install plans, says @GlobalEagle CEO. #PaxEx

— Runway Girl Network (@RunwayGirl) March 14, 2019
A variety of different IFC business models are being discussed "to make it viable for all", including "a convenience fee for each and every passenger" or bringing in a mobile operator as a partner "who would be interested in branding" both the plane and the Wi-Fi service "and they could in turn fund the equipment" for the first few proof-of-concept aircraft, suggests HCIL's Chatterjee.
He believes we'll see some limited trials first – within the next three to six months – with commercial service "in some form" launching by the end of this year. The final business model, he says, will likely "evolve maybe a year later".
While HCIL is initially focused on supporting Ku-band satellite-based connectivity, Chatterjee expects "everything Internet eventually has to go Ka spotbeam satellites" as these offer "more capacity at a lower cost".
He notes that the big GSAT-20 satellite being developed by Indian Space Research Organisation Satellite Centre and Liquid Propulsion Systems Centre – is forthcoming "and there are also other Ka-band satellites over the country like SES-12, O3b with its mPOWER satellite coming up, so there will be Ka-band capacity. It's a matter of time, maybe a year it will be available, and I see the aero industry picking it up."
Indeed, many of the initial asks from airlines are for hybrid Ku/Ka-band systems, he reveals, telling RGN:
If I was to advise a solution for an Indian airline, I'd be definitely telling them to take the hybrid antenna so that they have a future path for Ka.
HCIL feels "well positioned" to support the aero side as it evolves and "quite uniquely because we have spent a lot of time in understanding this segment and building up infrastructure for multiple [Indian] cities and satellites". However, from a competitive standpoint, Chatterjee suspects Inmarsat will eventually look at extending its arrangement with Indian government entity BSNL to include GX service for airlines. Inmarsat expressed the same to RGN in 2017. And indeed, GX terminal unit provider Honeywell has been prepping for this scenario, as previously reported by RGN.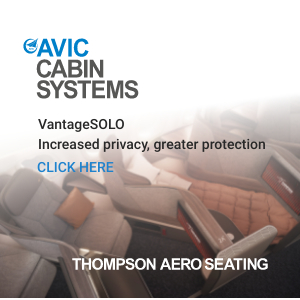 To be clear, as ever Hughes has no intention of going direct to airlines. "We don't really have all the competence to be able to provide a direct service," explains Chatterjee.
"The only thing I can think of, if for some reason these inflight connectivity providers don't get registered in India" and Hughes needs to front end, "then we will front end". But even in this scenario – which will only happen "if forced" – HCIL would endeavor to partner with these service providers.
HCIL's FMC license has been granted for a period of 10 years, and HCIL will pay spectrum charges to the Indian government based on revenue earned from providing the services.
An inter-ministerial working group is incentivized to see IFC aboard Indian operators' aircraft this year, as they are presently disadvantaged.
Says Chatterjee:
I think the Indian international airlines are losing out because they don't have the service because clearly all their peers have it.

All the foreign airlines have a blackout [in Indian airspace], they want to have it, those that fly over the country, they are the ones pressing the most.

But also the government really wants the domestic airlines to have it on all their planes on board. I think airlines, based on their individual health, will adopt it differently, but I definitely expect that certain proof of concepts and certain airlines will do it.
Now that the licenses are being granted, "people are ready to allocate bandwidth", he adds.
The HCIL executive reiterates that "Gogo, Global Eagle, Panasonic and Thales" are well-placed "to really now enter the market and make things happen" but given the "business model changes that they're going through" it remains to be seen if these things will happen as fast as hoped.
Related Articles: