British Airways has implemented a "soft launch" of European Aviation Network (EAN)-supported inflight connectivity service on a handful of aircraft, Inmarsat CEO Rupert Pearce revealed today.
This week's quiet launch of inflight Internet on BA narrowbody aircraft was "a momentous event as it means EAN is now officially in service and billing, finally", Pearce admitted during an earnings conference call to report fourth quarter and full year results.
Asked about the pricing structure and billing process that BA will adopt for the whole fleet, Pearce said data is being sold to BA on a per-MB model.
"In this particular instance, every MB they use, they pay us a price, a wholesale price. Think of them as a VAR, and then they onsell it to their customers and they get to decide how they monetize it, and I guess they'll evolve in their thinking," said Pearce. He noted that other carriers under the IAG umbrella might pursue different pricing and billing models. Low-cost carrier Vueling's fleet is nearly fully installed with EAN hardware, and both Iberia and Aer Lingus will roll out service this year, he said.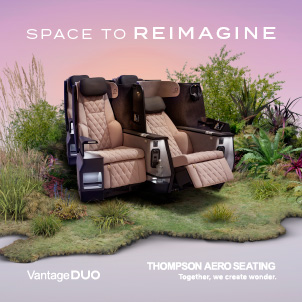 IAG's decision to fit Vueling aircraft with EAN kit represents a pivot for Vueling, which originally gravitated towards Ka-band satellite-supported connectivity service from Thales via the KA-SAT satellite in Europe. But in 2017, IAG announced plans to equip in excess of 300 aircraft with EAN, mentioning Vueling in the announcement.
The hybrid air-to-ground/S-band satellite-based EAN, which was launched in partnership with Deutsch Telekom and other European parties, has faced protracted legal challenges from Viasat and Eutelsat. Recently, a Belgian court punted questions to the European Court of Justice (ECJ) about the timing of Inmarsat's deployment of the S-band satellite portion of the EAN.
Pearce described the punt today as "not a meaningful decision for or against" the EAN, and assured it is not affecting the EAN rollout on aircraft. "We do not see this as a major event, and we're confident in any event that our regulators will prevail," he said today, noting that UK telco regulator Ofcom previously cleared the service.
Capturing a leading position in IFC, and realizing the full potential of the EAN remains a chief goal for Inmarsat, which reported a 7.6% increase in group revenue to $378.7 million in the fourth quarter, driven by growth in its Global Xpress Ka-band satellite broadband service offering, especially in Aviation. During the full year, Inmarsat saw an 85% increase in GX revenues, specifically (from Aviation, Government and Maritime).
Given this strong result, Inmarsat today reiterated its medium-term guidance, and Pearce said: "We're confident IFC will become the largest global aviation segment for mobile satellite communications in the future and we've gained significant positive momentum in building a compelling market proposition, winning new contracted customers, installing those customers' IFC systems and bring them into service."
A collaboration agreement forged last fall with Panasonic Avionics "is expected to further cement our leadership position in IFC over the longer term", he said. Panasonic recently told RGN that it is working on three campaigns with Inmarsat involving GX.
Inmarsat now has around 1,580 aircraft under contract for inflight broadband connectivity (GX customer Lufthansa Group presently represents the lion's share of installs), and there are another 450 aircraft either under option or committed to linefit GX for new aircraft purchases. "That figure stood at 175 at the end of 2017 so we've added another 275 last year, representing a significant acceleration, especially in new linefit orders being signed. As the figure has now become meaningful, we record it here for the first time," stated Pearce.
Inmarsat agrees with certain other IFC providers that there was an industry-wide slowdown in the volume of IFC contracts awarded by airlines in 2018 and consequently its own new contract wins were sporadic, "but we don't read anything significant into that in terms of long-term attractiveness of this emerging market," assured Pearce.
"Within our contracted aircraft number, there are now over 450 GX and EAN installed aircraft, which includes over 100 aircraft now in service using GX, generating high-margin airtime revenue."
The firm expects "to win a large portion" of the new IFC business which is in the pipeline for the industry. Its GX distribution partners include Honeywell, Thales, Collins Aerospace, Zodiac (now Safran), Indonesia's Mahata and SITAONAIR, in addition to its special collaboration with Panasonic.
Related Articles: