Zodiac Aerospace's well-reported production challenges bled over into the Airbus A220 program. But some quick thinking on the part of Airbus mitigated the procurement issues, according to Airbus management.
Now owned by Safran, Zodiac is a key supplier to the A220, providing an interior package that includes bins, galleys, monuments, lavatories, linings, lighting, seats, the waste system and other elements.
But procurement challenges arose for the program which was then known as the Bombardier C Series. In July 2018, Aviation Week reported that quality issues with some Zodiac components led to production-line bottlenecks, forcing Bombardier to outsource some of the interiors installation work to Montreal-based Avianor to help keep aircraft moving.
Once Airbus got involved after acquiring a majority stake in the program, it "did exactly the same" as it did when faced with Zodiac-focused issues on the A350 widebody program, Airbus head of A220 program Florent Massou explained today during an Airbus North America media briefing in Mirabel, where the A220 is assembled. Airbus employees who had been tasked with helping Zodiac recover on the A350 were immediately assigned to the A220, said Massou.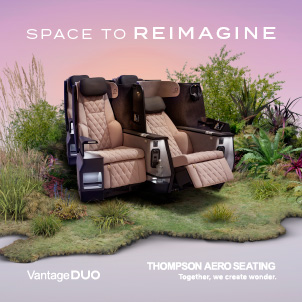 Ramping up is always difficult, he noted, and Zodiac "did struggle". But thanks to the switchover of talent, Airbus was able to help Zodiac quicken the pace and "make sure they would recover".
So Airbus was able to leverage its experience on the A350 to aid the A220 program, and as a result the A220 is "currently benefitting a lot". Some 33 A220s were delivered last year. Without this Airbus initiative, "it would have been a much more painful exercise", said Massou.
A total 57 A220s are now in service. Airbus also reported today that the A220 has received 180-minute extended operations (ETOPS) approval from the Canadian civil aviation authority, Transport Canada. Certification covers the two A220 variants – the A220-100 and -300.
"In addition, the engine has FAA ETOPS certification for Part 33," said head of A220 engineering & customer support Robert Dewar.
FAA and EASA ETOPS certifications for the A220 are pending.
Related Articles: