Lufthansa Group has selected Collins Aerospace ARINC GLOBALinkSM to implement an advanced air-to-ground aviation communications network in support of its worldwide passenger communication requirements. This group includes Air Dolomiti, Austrian Airlines, Brussels Airlines, Eurowings, Luftfahrtgesellschaft Walter, SWISS and Lufthansa German Airlines.
The ARINC GLOBALink service delivers highly secure and reliable voice and data communications between the aircraft and ground operations over a private aviation network that features 99.999 percent availability. The solution enables Lufthansa to use data link messages to improve departure control and turnaround, send and receive real-time aircraft and engine data to improve maintenance operations, and upload gate connection information to aircraft inflight entertainment displays.
"We selected Collins Aerospace as our new data link provider because of its comprehensive approach to flight deck communications," said Andreas Ritter, head of Flight Operations Procedures & Technology Group Airlines for Lufthansa Group. "The fact that we can now work with one company for our software, hardware and service needs is a major benefit to our airline."
As part of the agreement, Collins Aerospace also provided Lufthansa with Collins' data radios to ensure the cockpit hardware can communicate with the ground as efficiently as possible via enhanced network performance.
"Transitioning a fleet of 700 aircraft to a new network service is no small feat," said Michael DiGeorge, vice president of Commercial Aviation and Network Services for Collins Aerospace. "Working in collaboration with Lufthansa we were able to complete the migration without any service disruptions in just over three months. We believe a migration of this size in this short of a timeframe is an industry first."
Lufthansa is using Collins' entire suite of ARINC GLOBALink services, including Very High Frequency, SATCOM, and High Frequency Data Link to meet the airline's diverse range of aviation communication needs.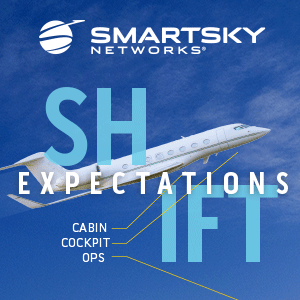 About Collins Aerospace
Collins Aerospace, a unit of United Technologies Corp., is a leader in technologically advanced and intelligent solutions for the global aerospace and defense industry. Created in 2018 by bringing together UTC Aerospace Systems and Rockwell Collins, Collins Aerospace has the capabilities, comprehensive portfolio and expertise to solve customers' toughest challenges and to meet the demands of a rapidly evolving global market.
About United Technologies Corporation
United Technologies Corp., based in Farmington, Connecticut, provides high-technology systems and services to the building and aerospace industries. By combining a passion for science with precision engineering, the company is creating smart, sustainable solutions the world needs.