When Inmarsat and Panasonic Avionics in September announced their new strategic partnership – and expressed intent to collaborate on the development of a next generation GX terminal for aviation – it came as a surprise to a number of industry stakeholders.
But while many were wrapping their heads around the implications, Carlisle Interconnect Technologies had already moved past the "why?" mindset and into a "here's how" mode, as the firm is eager to support this development with a satellite antenna mount.
"We'd love an opportunity to work with them," CarlisleIT director, sales – IFEC/interiors Kris Samuelson told Runway Girl Network at the recent APEX EXPO.
"Hopefully Carlisle can be in a really great place to help Panasonic and Inmarsat get this product to the market really fast," he added in reference to the nextgen GX terminal work being undertaken by the two firms.
RGN's interview with Carlisle was conducted on the show floor beside the firm's display piece, which featured a Carlisle adapter plate and CPI Radant radome that followed the ARINC 792 standard aimed at primarily addressing flat-panel and electronically steered antennas.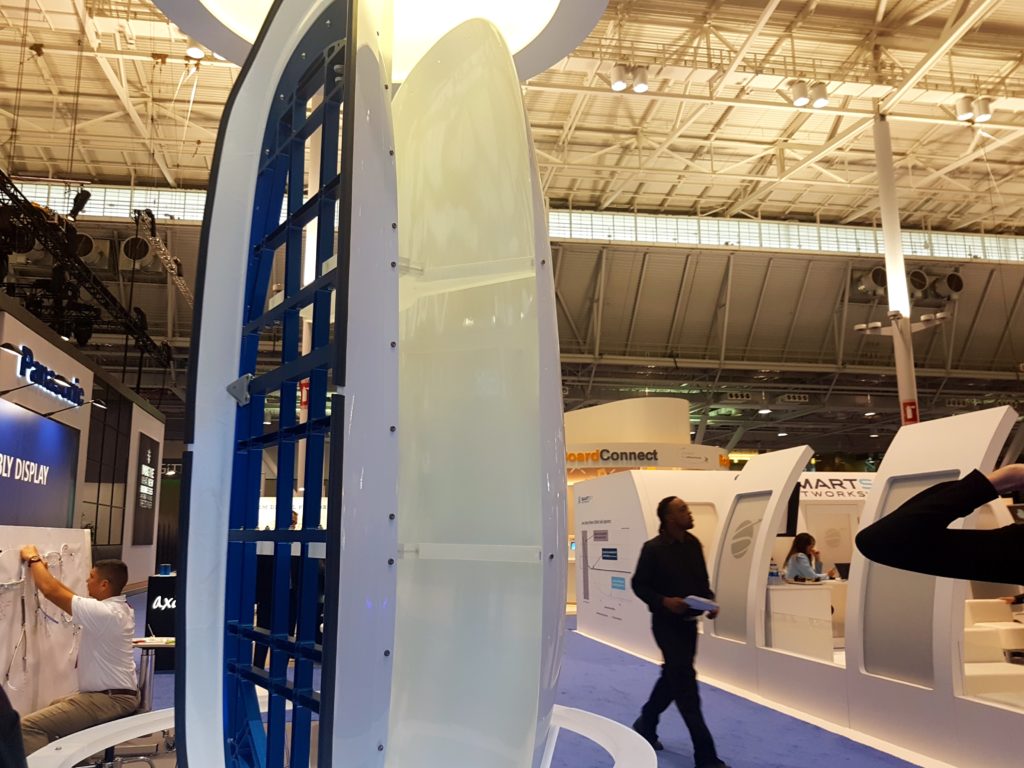 The 792 package would actually fit three or four of the current antennas being developed, noted CarlisleIT director of product management, integrated products Jeff Behlendorf, and is "targeted around most of the new entrants to the phased array market". That could include, of course, whichever antenna-maker is ultimately selected by Inmarsat and Panasonic.
Broadly referencing phased arrays in the commercial airline space, Samuelson said:
The reality is we know the market is going to go there. The argument is when and who, and who will succeed, but what we have been watching for the last couple of years – as I am sure you have as well – is the industry has gone from one to two to three to four and now we are at seven real players right now?

And what we all know is that their technology stops at the adapter plate, they are not always considering everything below that. Other than they know that it needs to be cooling down. So, it isn't represented in this display but one of the things we have been working with as well is how do we take what we know in terms of being able to install it on an aircraft and certify it, but then you have to incorporate a cooling aspect to these electronically steered antenna installations as well. In this case, it follows the 792 spec.
Clearly of low profile in height, the real estate for 792 appears wide, but according to Behlendorf, it's a little deceptive in that it actually isn't much wider than a 791 spec. "This one has been set up for installation on a regional jet. Such as a CRJ or MRJ. It's actually configured to fit that type of platform," he said, noting that the display was purely intended to show the shape to EXPO attendees and to generate interest. "It would be a very large radome on a CRJ for sure, but our customers are very interested in business and regional jet targets so we wanted to make sure that it was something that could be done. It can be done."
To be clear, Carlisle would absolutely work on a joint package with CPI beyond show floor displays. And indeed, CPI appears well equipped, having recently expanded its radome manufacturing facility in Stow, Massachusetts. "You bet. The interest is expressed," said Samuelson. "And if you have followed us prior – with the ARINC 791 Carlisle offerings – that was very much a Saint-Gobain/Carlisle partnership and it is still today."
The Saint-Gobain/Carlisle partnership has about 2,400 crown kits of some configuration or another presently flying. Even so, Carlisle is focused on being agnostic. "We don't want to show a whole lot of alliances with any one. I mean we work with all of the IFE providers and now we are working with all of the connectivity providers. And you just have to take kind of a 'we're here for everyone approach.' That's been our strategy," noted the Carlisle executive.
Carlisle's current relationship with Panasonic
Carlisle is certainly no stranger to Panasonic. In fact, Panasonic "is our largest customer" for embedded IFE-associated product, noted Samuelson. "1991, I think we got our first Matsushita avionics orders," he said.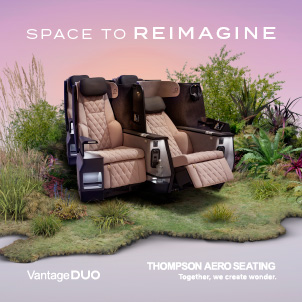 The Saint Augustine, Florida-based firm, a division of Carlisle Companies, also supports Thales' and Zodiac's embedded IFE solutions, though the casual observer wouldn't necessarily know the depth and breadth of Carlisle's work because it is not prime, and has largely operated under the radar for years.
"If you think about what we do in IFE, it's really more of a built-to-print or build-to-spec, rather [than] we are bringing a Carlisle solution, we are really producing their design. It's always had us at a lower tier level, but at one point we've probably produced 95-plus percent of all of the interconnect solutions for IFE, whether it was the racks, harnesses, or the cable assemblies that are going into the seats, sidewalls, shipsets," explained Samuelson.
"But there is a service level, an intense service level that's in our DNA and we know that we have got to be there with whatever it is they need and a lot of it is 24hrs, 24hrs, 24hrs. We are sending a driver down to inspect some cables and get them back up to Boeing and we are positioned right there between Bothell and Everett to just be ready to support it. It's over the years since 1991 we have built in our DNA what the inflight entertainment industry needs, and its rapid response. And I think some people get in there and they don't really understand that that's what you are signing up to do. So, that's where it is at and why we've been quiet is because again, it's not our product. It's producing their product for them."
While Carlisle is a long-time partner to Panasonic in IFE, Samuelson said the firm is not involved in PAC's Ku-band connectivity solution, as that "has really been their solution, not a partnership with Carlisle".
But now that Panasonic and Inmarsat are collaborating with each other, Carlisle hopes their partnership "actually opens a door to get a GX antenna working and put it on a plane where Carlisle has a 791 solution that is line-fit on all Airbus platforms". The line-fit solution is Carlisle's FlightGear universal satellite antenna installation, which was developed in partnership with Saint-Gobain.
What are Carlisle's thoughts on the hybrid Ku/Ka packages being brought to market, such as that on offer from Gilat, which has made the case for seamless roaming?
"You are crossing over satellite coverage areas and you are trying to patch together a network, it makes perfect sense for that application," noted Behlendorf.
Added Samuelson: "We have had a lot of fun working with everybody coming out of Israel. I mean there is such a hub of technology coming out of Tel Aviv and they have the same needs as many of the US base. They need to figure out how to install it, they need to know how to cool and in some cases, they need to figure out how to get it under a radome, it's everything around this where Carlisle could come in and provide assistance and we are just eager to see it break into the market.
"The prediction is that it will. It's just like several other things: when, and who is going to take the leap of faith on it? We just want to make sure we are there with … well we know what it's going to undergo from a load standpoint, we know what it needs to be certified, we know the level of substantiation that needs to take place and that's where Carlisle just always wants to be in a position to support the entrants into the market."
Related Articles: