In advance of last month's APEX EXPO, long-time rivals Panasonic Avionics and Inmarsat announced a strategic collaboration that will see Panasonic sell the satellite operator's Global Xpress inflight connectivity solution to airlines. The news immediately sparked industry speculation that Thales would perhaps pursue a potential relationship with Gogo, and announce it at the show.
Though an announcement never dropped in Boston, the new Inmarsat-Panasonic pact "increases Gogo's strategic value to Thales", William Blair analyst Louie DiPalma suggested in a 15 October report. And in a note published this morning, analyst Paul Penney opined that one of the main underlying drivers of the recent "hope trade" in Gogo shares is the growing speculation of a strategic partnership with an existing or aspiring inflight connectivity player, specifically Thales.
Driving some of the chatter in industry is a recorded interview between your author and Thales InFlyt Experience's new CEO, Philippe Carette, at the APEX EXPO, during which he said the firm could consider a collaboration with Gogo.
Stressing that "it's very difficult to comment because it's rumor, just rumor", Carette said:
Gogo's situation is well known. It's published in the news and so on. Thales is a key actor on that [inflight connectivity] domain. We're used to [managing] by ourself.

We do, time to time, some acquisition when we consider it makes sense for our developments. That means for sure it's one topic we could consider but nothing special to mention at that stage.
RGN then asked Carette to consider the following hypothetical scenario. Thales is committed to a Ka-band connectivity path, recently snagging Spirit Airlines as a customer for its high-capacity solution in North America, but if it were to find itself serving airlines with Ku-band connectivity, such as Gogo customers, would it seek to migrate the airlines to Ka?
Noting that he neither has the seniority to be very accurate on the topic nor the ego to provide a clear answer – given his very recent appointment to CEO – Carette answered broadly, saying:  "If we compare to IFE, the AVANT products that are today on the market [are] not the same one as the previous system still flying today. And we are addressing with some customers some upgrades time to time. I imagine for the connectivity, it will be similar."
He continued, "For sure, that Gogo for instance has a significant market share, with I would say a system [which] generates some capability and some performances, and definitely sure that the customer would expect to have later on some regrets with perhaps migration step by step to [a] Ka solution but that is, I would say, too early to share or to go in much more detail about what could be the plan."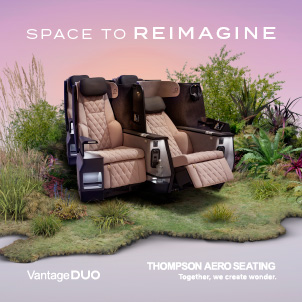 Thales and Gogo did in fact announce a partnership in 2013, so if they make good on their then stated plan to "combine Gogo's capabilities as an independent service provider and the leader in inflight connectivity with Thales' excellence in systems design, architecture, integration and support to bring a unique IFEC experience to airlines and their passengers", that could be very compelling indeed.
Even Penney, who is traditionally bearish on Gogo, admitted that a Thales/Gogo partnership could make sense as Thales has a stable balance sheet and adequate capital. "While there's clearly more speculation than facts here, we've always contended that an irrational/strategic buyer/partner is one of the greatest risks to our long-standing negative thesis."
Gogo management will no doubt face fresh questions about the likelihood of a Thales tie-up or strategic collaboration when the firm holds its third quarter earnings conference call on 6 November.
Related Articles: